Hollywood Stills are portrayed by an Australian artist Paul Davies, and they are coming to Hong Kong. Interestingly enough, the exhibition brings three continents together in a way, and that is only the first layer of the show's many-sided nature. The versatility of Hollywood Stills is made manifest through the aesthetics of these works, driven by Davies' unique sensibility, as he aims to explore the relationship between the opposing forces of different types of environments (the built and the natural ones, the abstract and the figurative, the permanent and the ephemeral).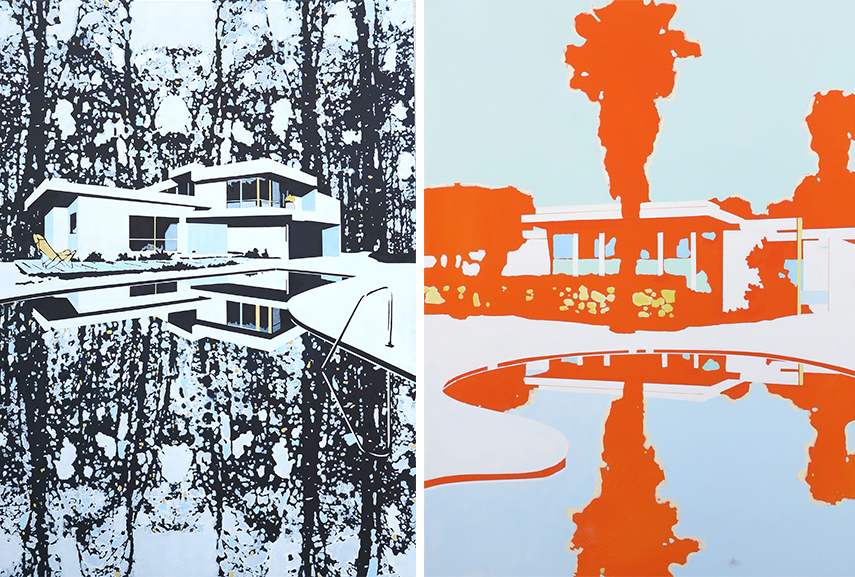 Contrast
It seems that everything related to Paul Davies' work is somehow addressing the concept of contrasting. Several types of contrast define the artist's paintings, starting from their visual appearance, the subject that they are dealing with, and even the way in which they are made. Davies combines different techniques, including painting, photography, stenciling and even sculpture, in order to illustrate the link between modern man and nature. The effect produced by stencils is a contrast in itself, but the message is clearly underlined by the artist's choice of subject matter. The buildings depicted by Paul Davies belong to the most representative, famous examples of modern architecture. Nature, on the other hand, is illustrated through depictions of trees, as one of the most implicit associations with nature, which makes the central motive even more apparent.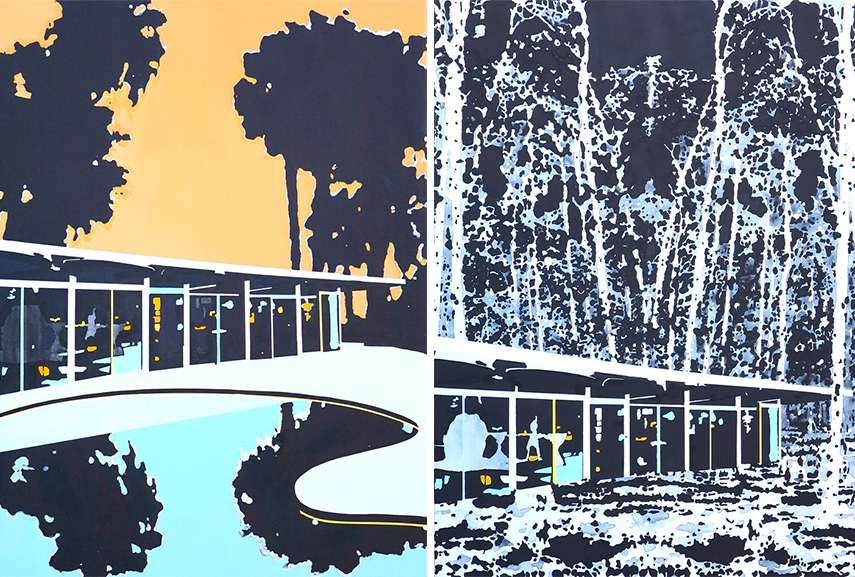 Swimming Pools
One of the most interesting, recurring motives in this particular series is the presence of water, which seems to reappear in each image. Most of the included mansions have a swimming pool incorporated, and consequently, the entire landscape is reflected in water. A pool could be regarded as a form of physical edge itself, contributing to the list of various contrasts, but also as an architectural device that brings the natural and the artificial together. Being that these are all private swimming pools, they also remind us of luxury and the sweet life that Hollywood aims to present to the world.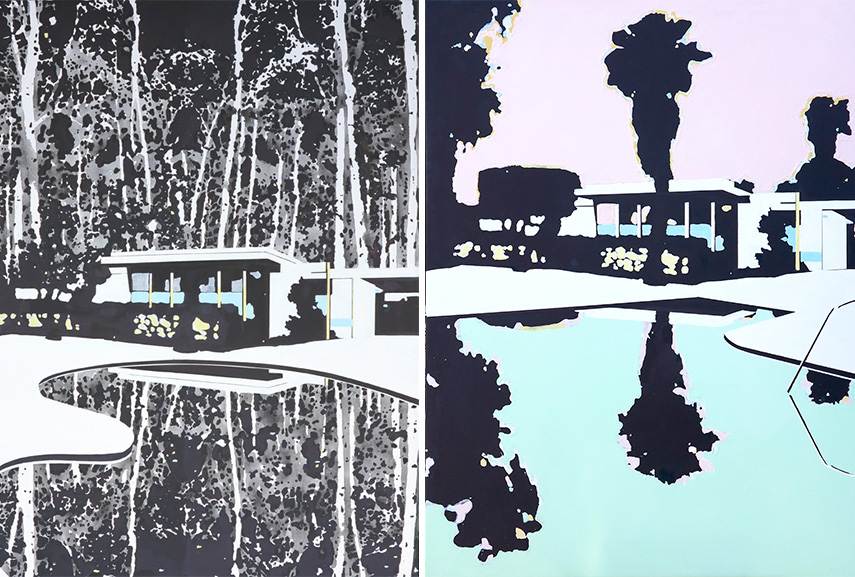 Paul Davies' Exhibition Hollywood Stills
All of the artworks on display will show original content derived from the artist's own archive of photographs, which he uses to generate stencils, sometimes cutting certain elements and collaging them. Paint is applied to the canvas afterwards, and so these idiosyncratic paintings are created. Hollywood Stills will be on view at The Cat Street Gallery in Hong Kong, from June 23rd through July 9th, 2016. The opening reception will be held on June 23rd from 6 to 9 PM. Cocktails included!
Featured images: Paul Davies - Home Mirror Flip, vinyl acrylic copolymer on canvas, 2015; Paul Davies - Sunset Flip, vinyl acrylic copolymer on canvas, 2016; Paul Davies - Palm Stencil, 2010 (detail). All images courtesy of The Cat Street Gallery.