Renowned American artist Paul McCarthy has just released a limited edition set of skate decks in collaboration with the Brussels based charity The Skateroom, which aims to raise money for a skate school in Johannesburg, South Africa. The Paul McCarthy skateboards have been released in a limited and numbered edition of 35, each containing 10 skate decks designed by Paul McCarthy plus a special hand signed deck only available with the set. Purchasers of the Paul McCarthy skateboards collectors set will also receive an original film created by the artist and son, Damon McCarthy, that will chronicle the whole project. The collector set is available for $30,000 while individual skate decks are available for €320 and come in limited editions of 250. You may remember Paul McCarthy for the controversial inflatable Christmas tree at Place Vendome that resembled a giant butt plug until deflated by vandals, read more in Highlights at FIAC.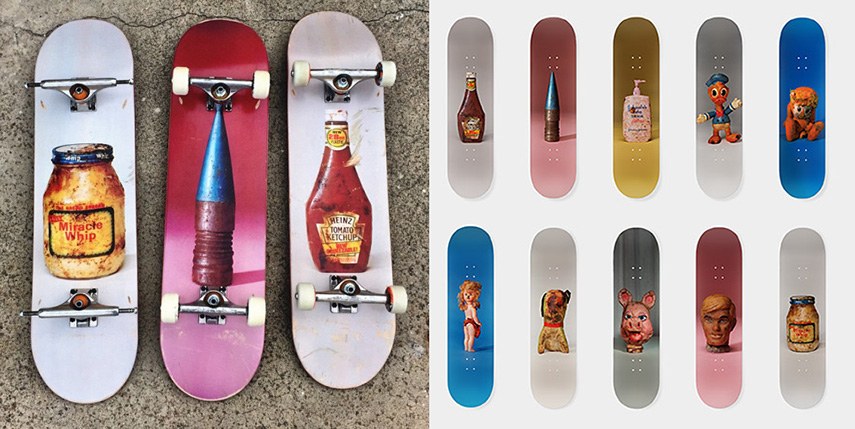 Paul McCarthy Skateboards
The Paul McCarthy skateboards that have been designed for The Skateroom, contain a number of images the artist used in performances between 1972 and 1983 such as bottles, uniforms, dolls, masks and stuffed animals. After the performances some objects were left behind and others stored in suitcases and trunks, these were then used for a sculpture piece in 1983 and again left in the trunks and suitcases. In 1991 Paul McCarthy opened the trunks and photographed each item and named the series of photographs PROPO which has lent its name to the McCarthy PROPO Skateboard Collector's Set. The wonderful images on the skate decks are described as soiled detritus, beautifully aged objects that include a bullet, a ketchup bottle, baby lotion bottle, a jar of Mayo and various toys that reflect McCarthy's interest in typically American themes such as Disneyland, B-Movies, comics and soap operas. Check out the 10 Best Street Art Skate Decks article and New Skate Decks at Uprise featuring Andrew Schoultz.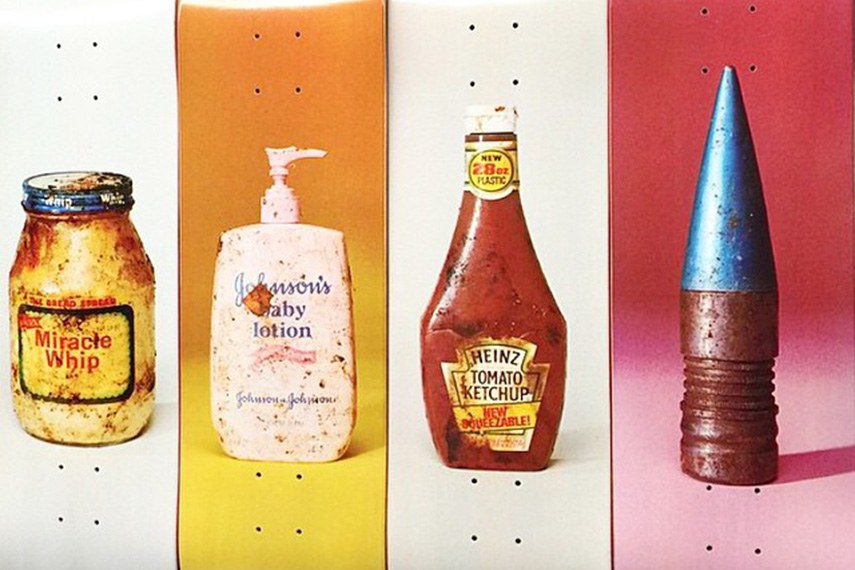 The Skateroom
Brussels based The Skateroom, is a project that promotes, produces and sells art on skateboards to aid youth-empowering organisations and have produced skate decks featuring the work of ROA, Jean-Michel Basquiat, Andy Hope 1930, Ai Weiwei and Nobuyoshi Araki to help fund various projects. The Skateroom supports non-profit projects that help to empower children through skateboarding and art by inviting contemporary artists to create art on skate decks, mixing the cultures of skateboarding and art with a good cause at the end of it, along with making contemporary art more affordable while also being useful at the same time.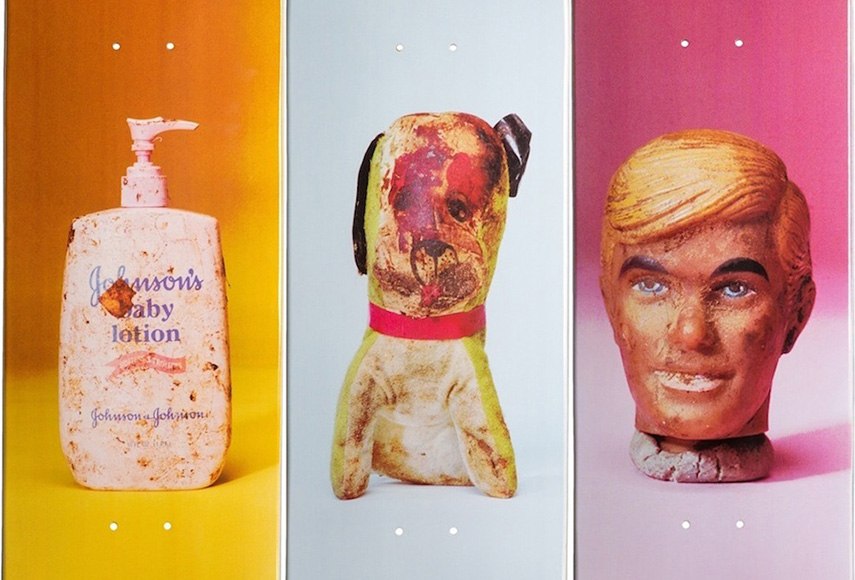 Skateboards for Charity
The very limited edition Paul McCarthy skateboards Collector's Sets, available for $30,000 from the MoMA Store, were created by the artist to entirely fund the building of the first Skateistan skate school in Africa. Skateistan is an NGO working in Afghanistan, Cambodia and South Africa that provides empowerment through skateboarding and education, the project with Paul McCarthy and The Skateroom will hopefully create a skate school that will connect vulnerable youth to educational opportunities and bridging socio-economic differences to the youth of Johannesburg.
Check out the MoMA Store for Paul McCarthy skateboards Collector's Sets, The Skateroom for their current projects & individual skate decks and Skateistan for their projects.
For all the latest news sign up to My Widewalls today!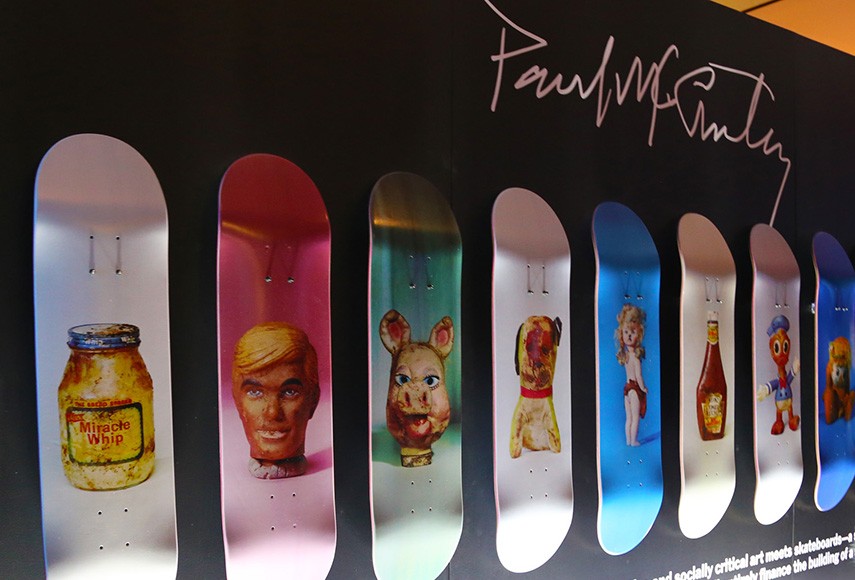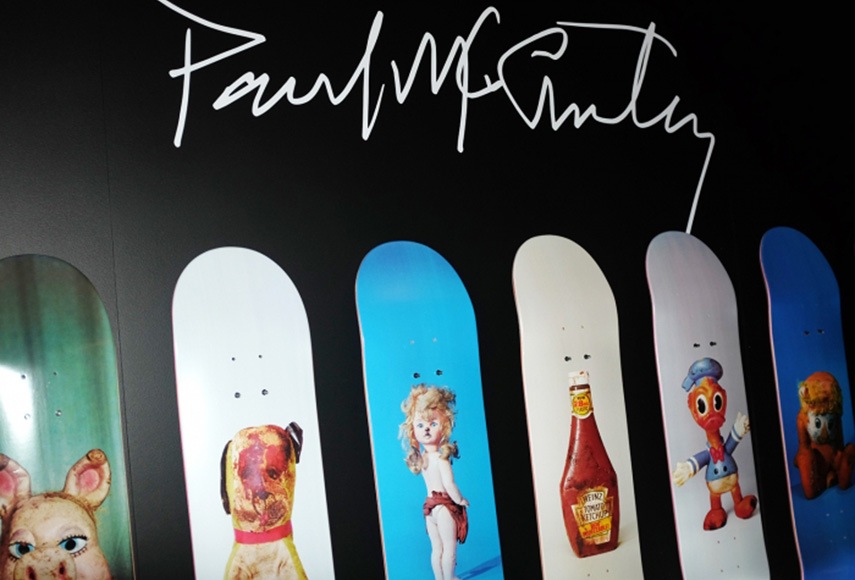 Images courtesy of MoMA & The Skateroom