What is gay anymore? What is supposed to be gay? Why do we need the boundaries, why are there limits, or definitions at all? Paul Richmond, an Ohio based artist, pours a bucket of issues in front of the spectator, unequivocally suggested through the subtle narrative of his new painting series. Similarly to homosexual artists such as Mapplethorpe, he explores ideas of sexuality and identity through artistic expression, he makes us rethink our ideas of moral, history and rightfulness. Provincetown Carnival Exhibition brought a new array of Richmond's work to Massachusetts, where the artist delivered naturally liberal concept through a very traditional medium. The same exhibition brought new male nudes by Kevin Peterson, for which the inspiration came from the same source - the gay aesthetics.
Paul Richmond
Paul Richmond graduated from Columbus College of Art (OH) and Design in 2002, and he worked as an illustrator, designer, draughtsman, muralist and painter since. After his coming out, he started investigating the gay side of his person, whereas he became an active member of the LGBTQ community. His work made it into the erotic art anthology entitled Stripped Uncensored, published by Bruno Gmünder, and in 100 Artists of the Male Figure issued by Schiffer Publishing. His work has been exhibited at numerous venues, including the Columbus Museum of Art.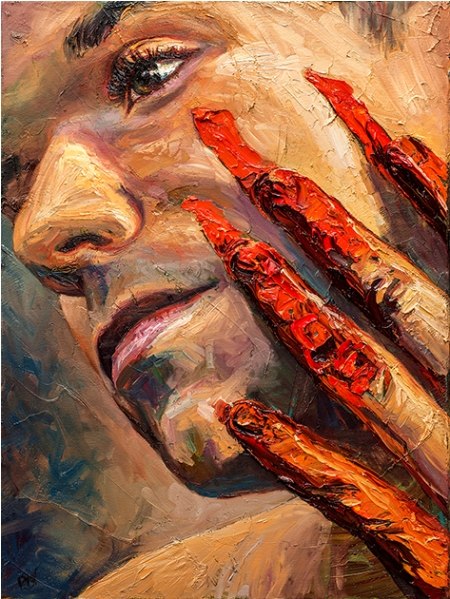 Richmond's Men
Playing with the perception of masculinity, Paul Richmond created a new series of canvas paintings, exploring the constituents of which the identity is made through hypothetical symbols of strength, power and aggression. Men he portrays in his most recent series War Paint are present in body, while distant in spirit, covered with bright nuances, beautiful, young, in an ambiguous clinch. They are pictures of imaginary gay perfection, smudged with chromatic symbols of heritage, extracting both the gentle and the inherently coarse on the surface. Questioning the preconceptions of both homo- and heterosexual viewer, Richmond takes us onto a journey of self-examination regardless of whether we identify with the models or not.
Spinning around the idea of body painting, which holds a prominent spot in numerous cultures, the War Paint series is build on the same abundant symbolism. Male nude is therefore a canvas within a canvas, while the paint on his body is the reflection of his emotional or psychological state.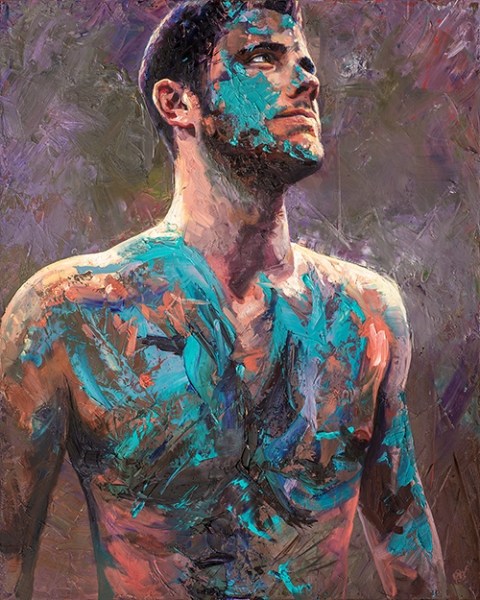 Suggested Narratives of Inner Male
Layered literally and metaphorically, the War Paint series unveils the depth and complexity of the human. Using a traditional painterly medium, amplified with heavy impasto and almost expressionistic approach, the artist marks a significant step aside from his previous pop-polished series, and introduces a novel contemplative and introspective chapter. Narratives are pertinent to Richmond's body of work. They are composed of evocative layers related to his own experience as a gay man, who comes from a conservative background. Dealing with adopted behavioral codes, he points out the absurdity of expectation, while demonstrating wide common ground for all sexual orientations, by twisting gender roles and established outlooks on the homosexual population. His work encompasses canvas painting, graphic design and illustration, while his style is representational, pop arty, colorful and overt.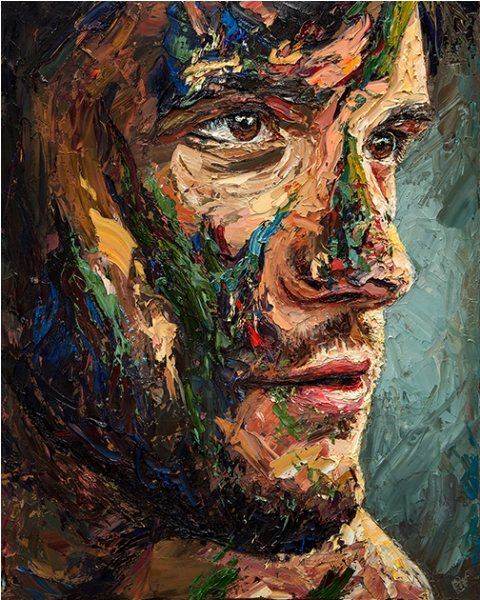 War Paint Show
War Paint exhibition opened at Lyman-Eyer Gallery in Provincetown on August 22, as a part of a two- man exhibition with Kevin Peterson, still on view for at least a day. The event was organized as a part of the Provincetown's annual Carnival celebration.
All photos courtesy of Paul Richmond website.