At first glance, the paintings of Paul Wadsworth seem quite abstract - bold brushstrokes, applied to give life to a dynamic composition of thick layers of paint. Upon a closer look, however, we start to recognize them: a bay of bright blue sea, waves crashing against a rocky shore, swirls of clouds over the horizon, lush greenery surrounding a beach.
We come to find out that the scenery depicts Cornwall, the artist's beloved home of over three decades that provides him with continuous inspiration. The atmosphere from the coast is craftily translated via rich hues, demonstrating a remarkable talent for observance, and interpretation.
The sense of immediacy and vibrancy carries on throughout the rest of Paul Wadsworth's oeuvre as well. Having traveled to and exhibited in the Middle East, his art is very much informed by it, relying on the colors of the surroundings and the memories made in them. If the Cornwall paintings evoke a certain kind of coldness expressed through blues and grays, the artworks inspired by Wadsworth's travels to India are much warmer, focusing on abundant landscapes, exotic seascapes, vivid figures.
And speaking of people, Wadsworth's brilliant series focusing on the Circus portrays an array of them, caught in an almost frenetic action. While landscapes may invite contemplation, these paintings provide excitement, adventure. These all represent fine examples of expressive painting, which Wadsworth also teaches as a course.
In an interview for Widewalls, Paul Wadsworth talks about the importance of color and memories, what each place he paints brings to the canvas, and where he would like to take his practice next.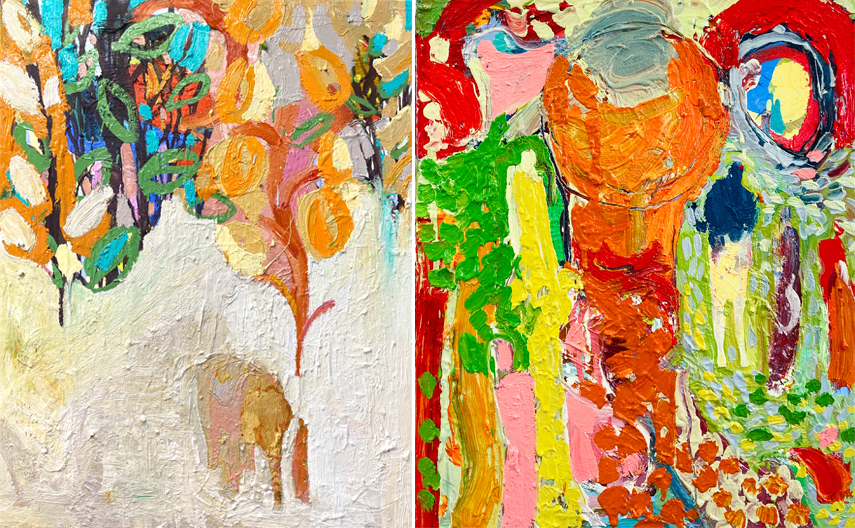 The Sense of Painting
Widewalls: You paint abstract images of your surroundings. Why choose abstraction? How does it inform your painting better than figuration would?
Paul Wadsworth: Do I see my paintings as abstract, probably not. I see them more in sense of colour, brush marks and rhythms of paint. I chose to use a subject be it landscape, seascape, the figure, circus or working from the memory from trips in India, as it allows me to focus and creates an intention.
I like to suggest things in paint, not illustrate. Leaving space for the viewer to feel and enquire and to insert themselves.
Widewalls: How does the location you are in, or that you are painting, influence the choice of colors in your painting?
PW: Colour is why you paint. Forever learning and experimenting with different combinations [of] emotion and feelings it creates. Maybe I've just got back from a winter trip in India. This brings me lots of colour to play with from the sketches and small paintings I do whilst travelling in this country of chaos calm and colour.
The clothes you see, the colour of buildings, the heat and sounds around you make you paint with a vibrancy and heightened sense of colour whilst trying to tell a story of my experiences.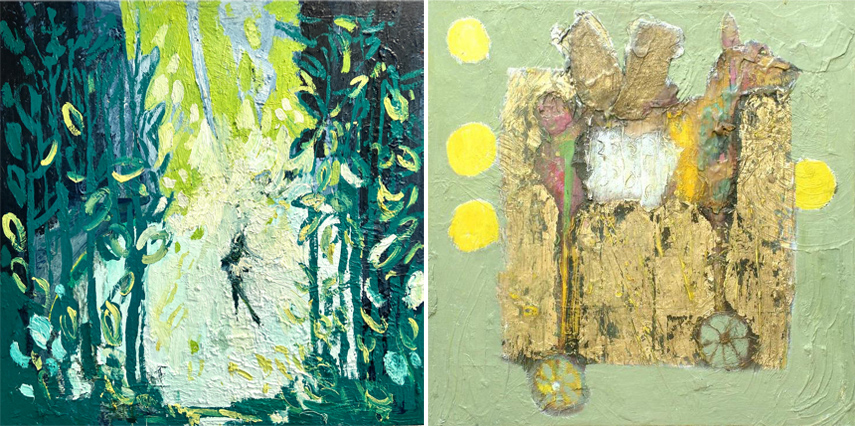 On Location
Widewalls: The depictions of Cornwall compared to those of Goa, for instance, evoke very different moods and emotions. Would you say that you have an affinity towards certain places compared to others?
PW: I have lived and painted in Cornwall for 30 years and [I] love living by the sea, it's a constant source of energy and space to paint from.
My colours change to the colours I see and feel whilst painting on location.
The difference between works from India and Cornwall is that one is more imaginary and used more out of context to describe what I felt and saw whilst working from the memory back in the studio - what I would call magic garden paintings where anything can happen, no rules no confines to what I'm trying to say.
Whilst when I'm painting on location in Cornwall, I'm more reacting to the day, is it cold is it windy, is it sunny or stormy. I'm trying to put on canvas a reaction to what I see and feel at that moment. [I'm] Not necessarily depicting the location but my feelings towards it so I'm using the colours around me at that time. Obviously [I] can use colour out of context to describe other emotions but generally, the colour becomes about Cornwall.
Widewalls: Is there a place you'd still like to visit and paint?
PW: There are so many places I would like and have painted. I spent 17 winters travelling and painting in the Middle East. Oman and the Arab Emirates. [I] Love painting in deserts. The open space.
When I'm in Cornwall, I'm drawn to the sea more than interior. It's the movement and rhythm of the water, the power of the waves, forever changing skies.
Places I intend to get to and paint at soon are the West coast of Scotland. I really love places when there is isolation and sometimes it's difficult to find so hopefully [I'll] find it in Scotland.
I guess that I like [also] sandy deserts. Also Morocco for its potential of storytelling in my paintings.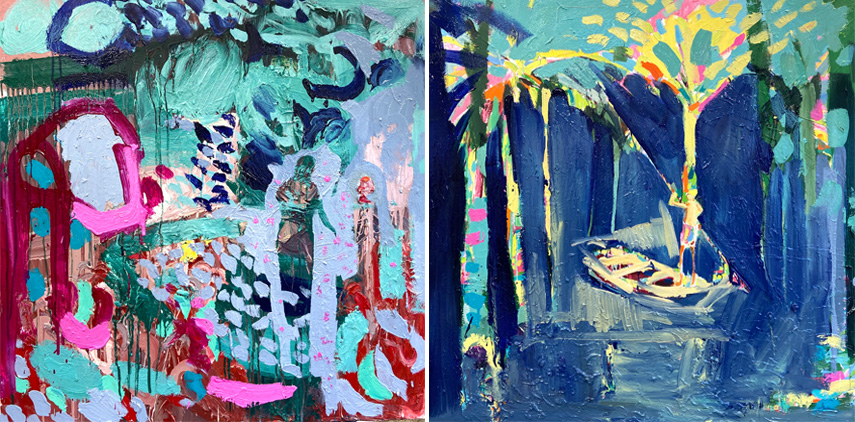 The Practice of Paul Wadsworth
Widewalls: There is also a series dedicated to the Circus, which introduces us to your portraiture. What prompted its creation?
PW: Circus painting is a kind of tradition in painting I guess. It's the experience and energy of performance allows me to engage easily with the subject. It's all there in front of you. The excitement of the crowd, the chaos of performance, the calm backstage, the stories of the performers.
I have always enjoyed drawing and painting the figure and this was also a way of bringing it back to my work.
Widewalls: What has the teaching practice taught you about art, and your own practice in general?
PW: I don't really see myself as a teacher, more as a facilitator of a situation that allows the artist to play.
A space, a safe place where it's ok to let go to experiment with failure and success. I provide the stuff the rest is up to the participants. Usually, I'm painting and I find this is the way people can learn. There are so many ways of approaching painting and I can only show how I approach it.
Running courses for 3 days, once a month allows a recertification of how I work and how I want to go forwards. Sometimes it's easier to see and tell others where they are going wrong rather than yourself! It grounds you and keeps a focus and makes you look at your own work with more searching eyes and keeping the feeling of play.
Widewalls: What's next for you?
PW: I'm currently working in studio drawing and printing from a model and from dried sunflowers. It's very playful at moment. Doing lots of mono prints just in black and white. Little colour at this stage. Still not sure where it's going but that's ok.
Travels planned to Scotland next year and if possible Sri Lanka and Morocco. Sri Lanka has good surf!
Featured images: Portrait of Paul Wadsworth; Paul Wadsworth - Blue Sari In The Sunflower Garden(2). Courtesy the artist and White Court Art.