A Canadian-Jewish electronic musician, an audacious songwriter and a sexually charged performing artist, Peaches is known for ripping social mores about feminism and sexuality since the start of the century. Over the past 20 years, she has been creating a comprehensive artistic oeuvre that focuses on music, performance and cross-media practices. A master of the uncompromising popularization of the avant-garde, she is as hardcore today as she's ever been.
On the 20th anniversary of her stage debut, this progressive musician and artist is currently presenting her first institutional solo exhibition at Kunstverein in Hamburg. Whose Jizz Is This? presents an expanded way of looking at and understanding Peaches' universe and the critical thought that informs her work.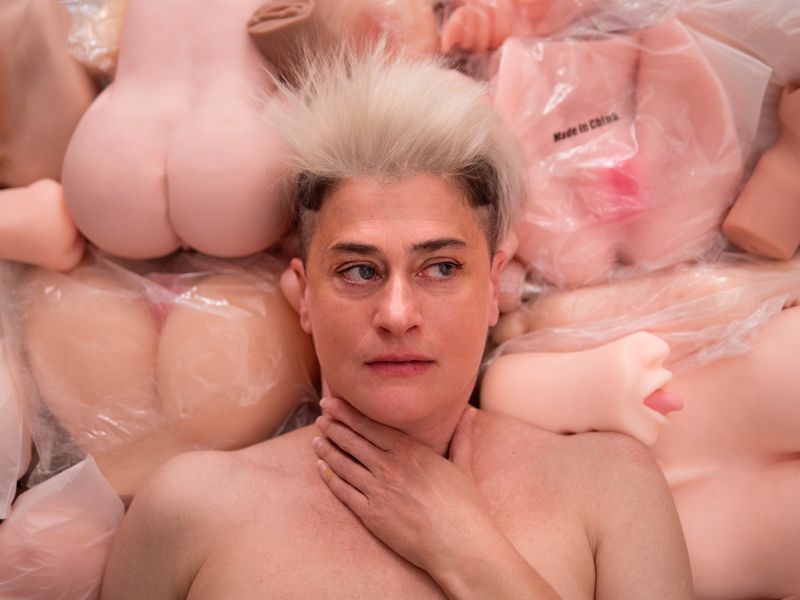 A Deconstructed Musical
Taking a trans-disciplinary and transgressive approach based on her many-sided practice, Peaches, whose real name is Merrill Beth Nisker, presents us with sculptural, photographic, film and text works in an environment which acts as a living organism of sorts. The artist took a bold and unexpected approach to the topics of sex, feminism, queerness, gender, and new millennium politics in a presentation which she describes as "a deconstructed musical with 14 scenes."
Combining live performance, musical intervention, visual art and historical reflection, ever adept at boundary-blurring, Peaches expanded the exhibition format by creating a truly immersive environment.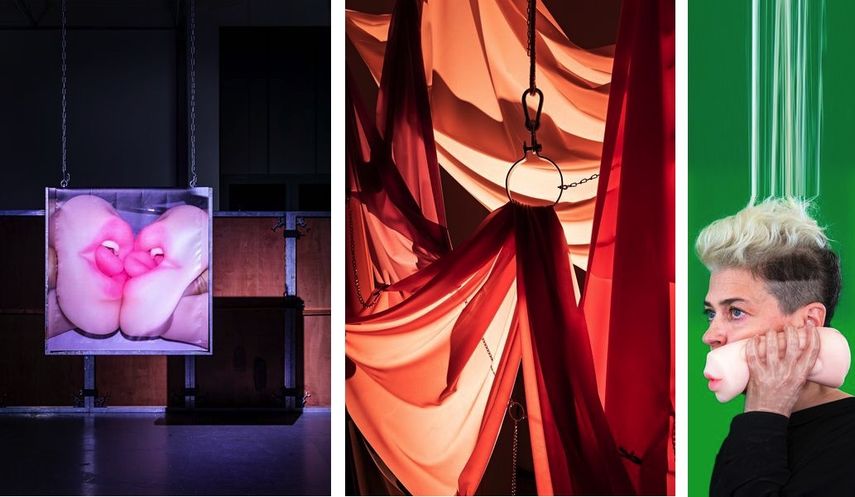 Fleshies and Their Struggles
At the center of the show is a group of sentient sex toys called Fleshies who are on a quest to find sexual equality among themselves, away from human interactions. Rejecting being reduced to holes in a passive state, these double masturbator, silicone sex aids seek to decentralize a destructive and narcissistic human world and start a revolution. Interested in the empowerment of the body, Peaches captures the struggle of these sex toys as they seek to become recognized in a sexually satisfied community.
The show also includes a theatrical and humorous soundscape Requiem for a Fleshie, a 14-channel, 30-minute composition where the Fleshies sing about their struggles, and the lightscape Our Future is Now. Throughout the show, Fleshies move from the Glory Hall to the Peepshow, go to an AA meeting, try to overcome the notion of being "jizzed" at the fountain, and finally, at the altar, overcome and create their own society, free of humans.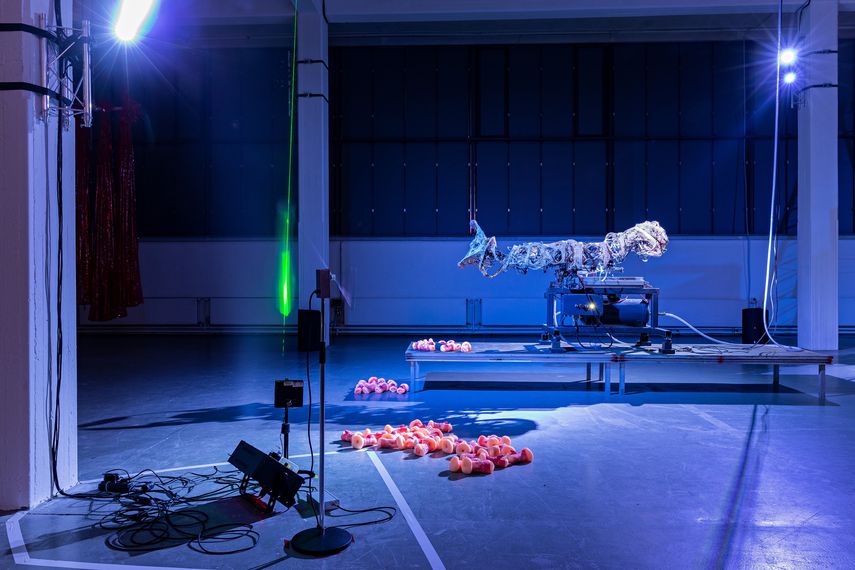 Peaches Exhibition at Kunstverein
The exhibition Whose Jizz Is This? will be on view at Kunstverein in Hamburg until October 29th, 2019. On August 24th at 3 p.m., the museum will host the Artist Talk.
On August 15th, Peaches will present There's Only One Peach With The Hole in The Middle, a futuristic stage happening as a world premiere for the Summer Festival featuring almost 40 musicians and performers on stage, including special guests such as sound and movement artists Hyenaz, aerial performer Empress Stah and New York artist and performer CHRISTEENE. Inspired by the variety shows of '70s LGBTIQ* icons such as Bette Midler and Liza Minelli and with costumes by avant-garde hair and fashion designer Charlie Le Mindu, Peaches will catapult her vision of the past, present and future of queerfeminism onto the grand stage. She will also present four club nights at KMH between August 14th and August 16th.
Featured images: Peaches, Whose Jizz Is This?, Installation View, Kunstverein in Hamburg, 2019, Photo: Fred Dott. All images courtesy Kunstverein Hamburg