Born in Redondo Beach, Southern California artist Kelly Vivanco spent most of her childhood in front of a sketchpad with a box of colors. She received her BFA with honors from Laguna College of Art and Design in 1995 and today she primarily works in acrylic on panel to create illustrative paintings with whimsy and play. Her fairytale-like, beautiful and dreamy protagonists take the viewer to a unique visual journey. Inspired by the creative spontaneity of fantasy and dream, her works capture a childlike sense of wonder: animals come to life, the inanimate is magically awakened, and nothing strange is improbable.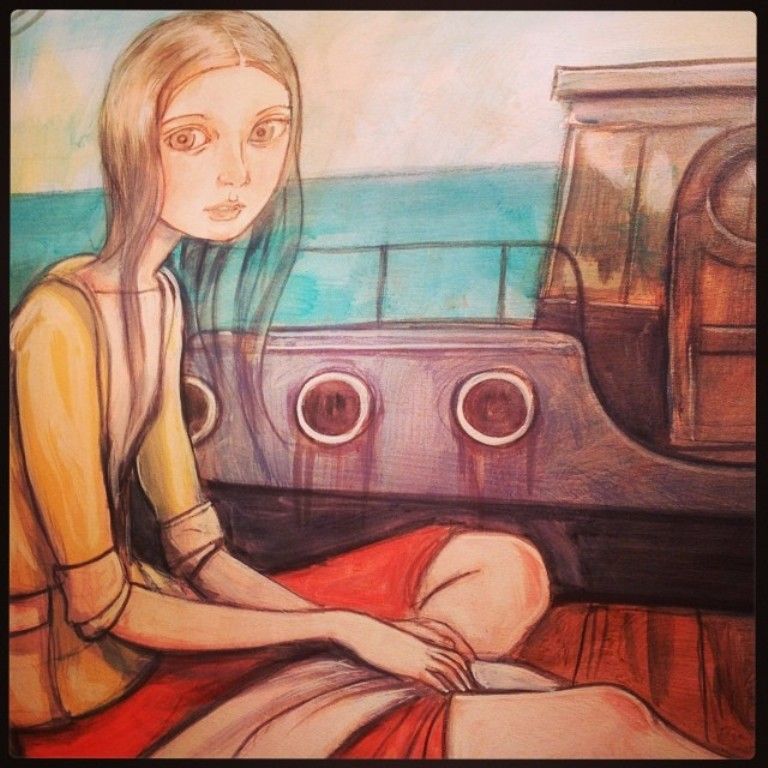 Dreamy Characters of Kelly Vivanco
Think of a mixture of Egon Schiele and Japanese Manga, combined with mannered portraiture and strikingly beautiful environments and you'll get the painting of Kelly Vivanco. Not unlike fairytale or folklore, her characters find themselves accompanied by sympathetic creatures in haunted forests, enchanted swamps, and in her newest installment of work, seaside and underwater worlds. Her subjects are charming, yet just dark enough to conjure adult associations; her worlds are evocative and personal yet they remain interpretatively generous in their use of open-ended metaphors. Vivanco's works offer endless threads from which to weave and imagine, inspiring the process of creative discovery in others, and recalling the often forgotten possibility of uncynical imagining. Both beautiful and strange, Vivanco creates emotional and nostalgic works that insist on active participation from the viewer. Drawing inspiration from vintage photographs, memory, dream and childhood fairytales, Vivanco creates her works intuitively, allowing the subjects to evolve on their own terms. Her paintings tend to feel both otherworldly and strangely nostalgic, but are always amply relatable with association and empathy.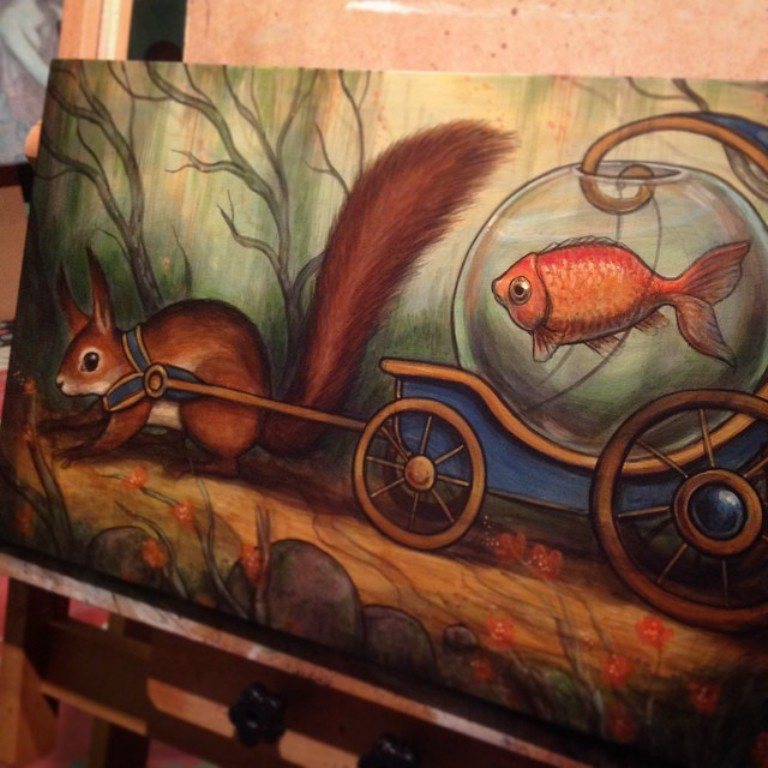 Peculiar Tides
Like lucid dreams, an awareness permeates Vivanco's paintings. Suspended somewhere between half sleep and waking, they feel somehow distant and yet close. Her subjects, beautifully exaggerated as they are in their childlike quality, retain an innocence and a simultaneous self-possession. This often ambiguous feeling of opposition animates Vivanco's works from within. Her figures display both strength and delicacy, and confidence and trepidation, allowing them to feel both strangely heroic and ordinary, like the best characters of fiction. With endless readings at our disposal, Vivanco's invites us to interpret her art in our own way at her latest exhibition called "Peculiar Tides" opening September 13 and running through October 4 at Thinkspace Gallery in Los Angeles.