Writer, visual artist and filmmaker. That is how one could describe Pedro Neves Marques, a young individual interested in theory and fiction. Through a genuine point of view, he explores issues of anthropology, with a particular focus on Amerindian struggles and cosmopolitics.
Born in Lisbon and based in New York, Marques is the editor of the book The Forest and the School/Where to Sit at the Dinner Table published in 2015, an anthology on Antropfagia, or cannibalism, in Brazil, where most of his films take place. The artist was also the guest editor of the Supercommunity issue of e-flux #65, on the occasion of the Venice Biennale 2015.
Now, Pedro Neves Marques can add yet another title to his CV - that of the 2018 winner of the illy Present Future Prize. Marques became the 18th artist to receive of the prestigious award, given by Italy's premier contemporary art fair Artissima, now in its 25th edition.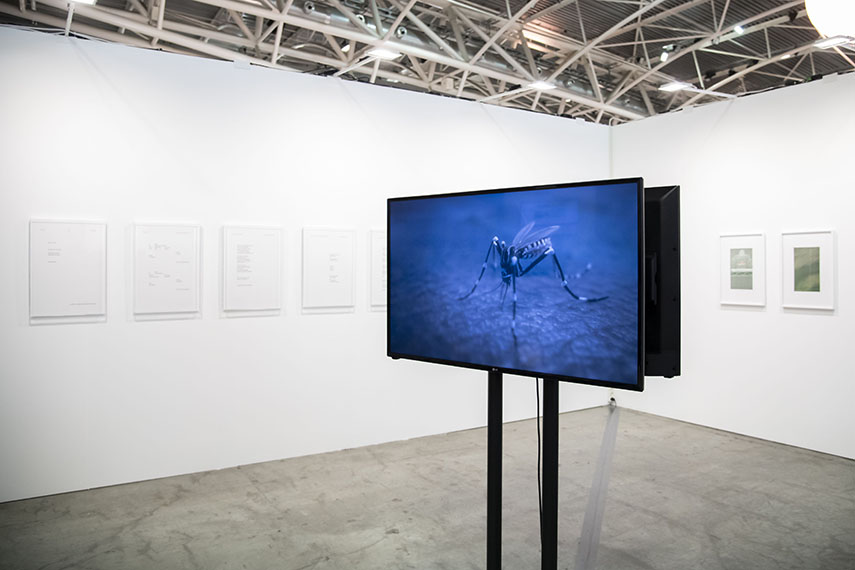 Pedro Neves Marques at Artissima 2018
An international jury composed of Carolyn Christov-Bakargiev, director of Castello di Rivoli Museum of Contemporary Art of Torino, Lorenzo Benedetti, curator of Kunstmuseum Sankt Gallen, St. Gallen and Kirsty Ogg, director of New Contemporaries in London, unanimously agreed on their choice of Pedro Neves Marques, citing "an engaging presentation that spans current issues around genetic engineering, the environment and globalisation."
Neves Marques series of works presented by Umberto Di Marino for Artissima poetically place the individual and identity into dialogue with these urgent concerns.
The artist is represented by Galleria Umberto Di Marino from Naples, Italy, belonging to the Present Future section of Artissima dedicated to original projects created specifically for the fair. The gallery has also announced that Neves Marques' video YWY The android, 2017 by has been acquired by Fondazione Arte CRT Torino for its Collection, to be loaned to Castello di Rivoli.
The jury also mentions Alejandra Hernández presented by Laveronica and Ad Minoliti presented by Peres Projects.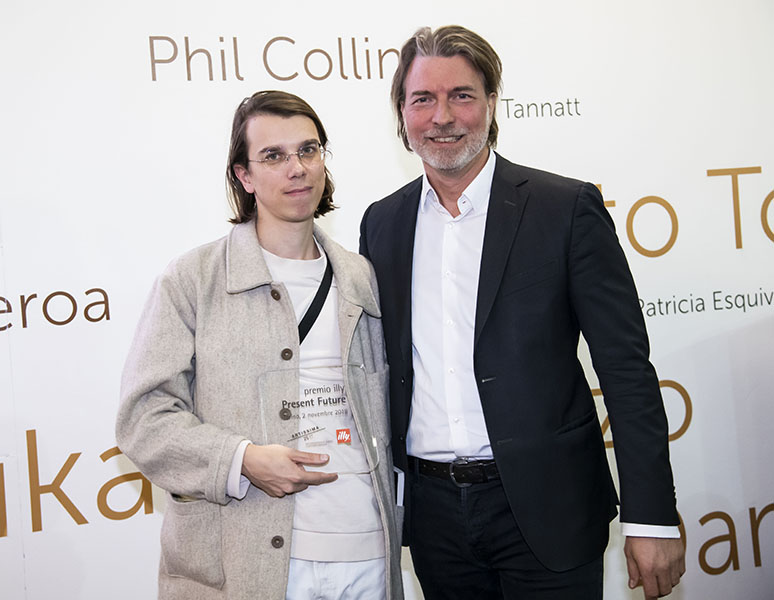 The illy Present Future Prize
For the past 18 years, the illy Present Future Prize has been supporting up-and-coming artists, contributing to their growth alongside Artissima. Since 2012, the prize is offering its winner the opportunity to have a show in a museum in Turin; the 2017 winner, Cally Spooner, will present her Everything Might Spill project curated by Marianna Vecellio at the Castello di Rivoli Contemporary Art Museum until January 6, 2019.
Past winners of the illy Present Future Prize include renowned artists such as Jeremy Deller, David Maljkovic, Rachel Rose and Tobias Putrih.
Featured image: Kirsty Ogg, Lorenzo Benedetti, Carolyn Christov-Bakargiev, Ilaria Bonacossa, Umberto di Marino, Pedro Neves Marques, Carlo Bach, Juan Canela, Myriam Ben Salah, Cloe Perrone | Photo: Perottino – Piva – Bottallo / Artissima 2018.