The artistic journey of Italian born artist Peeta started in the 90s when he started doing graffiti in the streets of Italy. He's known for approaching different artistic styles and finally settled down with taking inspiration from sculpture and industrial design, with a highly original execution of the 3D painting. His quick success led him to numerous exhibitions, festivals and graffiti contests in his home country, as well as abroad. He has been amazingly welcomed all across Europe and United States and this September, alongside his fellow artist Sit (whose work we wrote about yesterday) he'll be presenting his latest series of work for the first time in Los Angeles.
Taking the Experience from the Streets
The exhibition entitled "Aerosoul" features series of eight new canvases and two sculptures that are beautifully representing Peeta's individual style of exploding letters from their generic typographical form - and stylizing them with shape and volume so they transcend beyond their mere semantic function. His experience from the streets is highly visible in his work – focusing on the sculptural quality of individual letters, Peeta boldly ruptures words and readapts them into idiom and street gestures. This way he creates vibrant and dynamic pieces where lines dance around twisting forms, and successfully integrates his lettering style into the fluidity of the urban environment.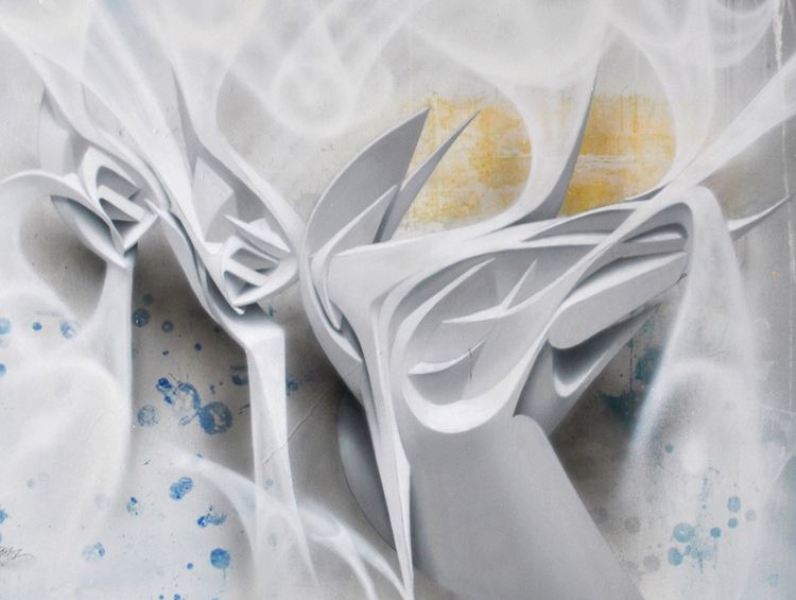 Lights, Shadows and Color
Working with sculptures became a crucial moment in the artist's work and the three-dimensional work has enabled Peeta to better understand light and shadow. In his own words: "Shades of colour and perceptive tricks are essentially the means to a progressive disclosure of my own personality". His works are aimed at revealing the deceptiveness of human perception, the fallacy of narrow and fixed points of view through visual tricks which, proceeding from the attempt to confer a three-dimensional semblance on a pictorial representation, ultimately reveal their will to deceive.

Aerosoul
Peeta, who is also a member of the EAD crew (Padova, Italy), FX and RWK crews (New York City) had his first solo exhibition at Los Angeles opened September 13 at C.A.V.E Gallery. The "Aerosoul" show will be on display until October 5, 2014.