The Peggy Guggenheim Collection Museum is located in the Palazzo Venier dei Leoni in Venice, Italy. When you walk down the Grand Canal, you can see a white stone 18th century palazzo, unique among the masterpieces of Italian architecture. This unsurpassed shrine of 20th century art was home to one of the most fascinating figures of the recent art history - Peggy Guggenheim, woman who provided a sanctuary, stage and promise to most prominent artists of the avant-garde movement until her death in 1979. Bohemian and "socialite", wife to Max Ernst and lover to Samuel Beckett, someone who was compared to Casanova and who discovered Jackson Pollock - Peggy Guggenheim's story is almost as fascinating as those told in works of Braque, Picabia, Dalí, Magritte and others in her great collection of modern art.
The museum that opened for visitors full-time in 1985 today holds over 400 masterpieces of Surrealist, Abstract Expressionist, Futurist, Cubist, Abstract and Metaphysical art from the early 20th century, featuring works of Pablo Picasso, Piet Mondrian, Paul Klee, André Breton, Wassily Kandinsky, Marc Chagall, Mark Rothko and many, many others. A permanent home to U.S. Pavilion of Venice Biennale, Peggy Guggenheim Collection Museum remains the most visited site of the great city of Venice and one of the most famous art collections in the world.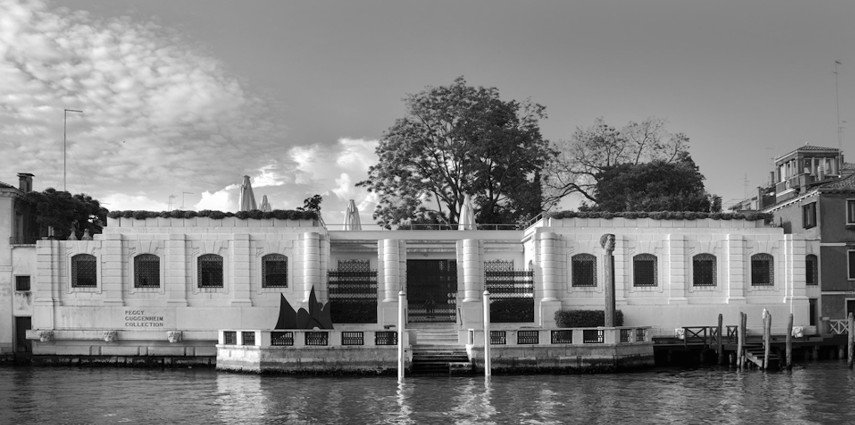 The Life of Peggy Guggenheim
Marguerite "Peggy" Guggenheim was born in New York in 1898 to a Jewish family. Her biographer Jacqueline Bograd Weld said that it wasn't just Marguerite who was fascinating as a subject, but that her entire family was full of wonderful eccentricities. Her mother Florette Seligman who came from a family of bankers was known to repeat everything three times, while one of her aunts used to sing most of what she said, possibly leading her husband to an early death. Her father, Benjamin Guggenheim was member of the prominent mining family. They had two more daughters - Hazel and Benita, who were Peggy's only companions in her childhood and who both lost their lives tragically as young women. The family enjoyed the wealth and comforts of high society. For Peggy, those early years of bourgeois lifestyle were insufferably boring. When her father died on the RMS Titanic she was 13 years old and her family fortune was already decimated.
At the age of 19 she inherited her father's money. She called herself a poor Guggenheim, which was true only in a sense that her inherited wealth was considerably less than that of her cousins. This was just one more thing setting her apart from what she knew. Peggy craved adventure, fulfillment and recognition. Rebelling against aristocratic lifestyle and future as some rich guy's wife, she found a job in the avant-garde bookshop The Sunrise Turn, where she was exposed to artist and radical thinkers. A year later, in 1921, she moved to Paris, to a city that was giving birth to an art revolution. She marveled at the bohemian world, sharing it intimately with women and men like Kiki de Montparnasse, Man Ray, James Joyce and Ezra Pond. It was in Paris where her love for sex and art was fully awakened.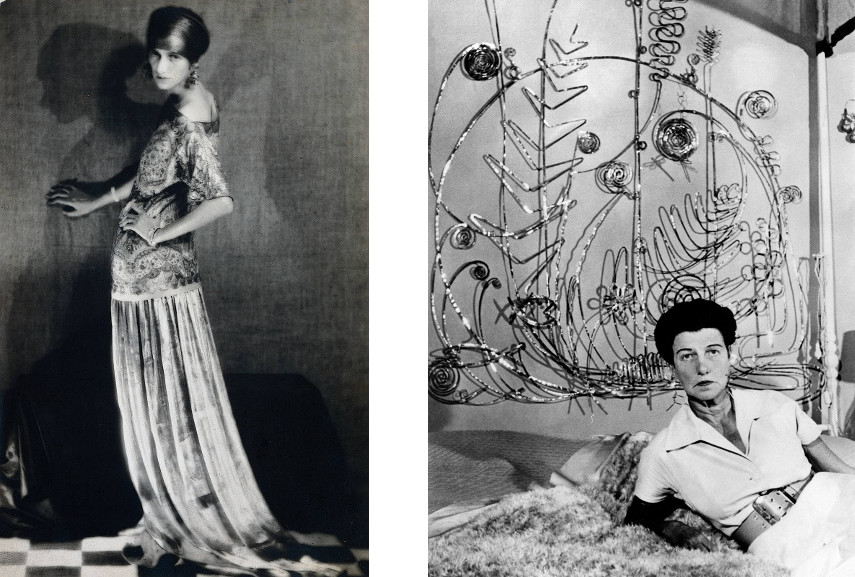 All of Peggy's Men
The first memoir Peggy Guggenheim published in 1946, titled Out of This Century was originally meant to be called Five Husbands and Some Other Men. It is said that during her lifetime she had more than 400 lovers, two legal husbands and several long term relationships with some pretty catchy names among them. She was drawn to intellect and artistic passion, often getting it in very dangerous packages. Her men were as important to Peggy as art was, and in many ways they were intertwined with her incredible journey.
Guggenheim's first marriage was to a bohemian writer and painter Laurence Vail in 1922, with whom she had two children, Pegeen and Sinbad. The six-year-long marriage was filled with discord and aggression, her being victim to some truly incredulous cases of physical molestation like bath tub drowning. Even though they became good friends after the divorce, Laurence was only the first of many dark chapters. John Ferrar Holms was, by her own account, the love of her life. The brilliant, yet unaccomplished writer had a huge impact on her as a role model and emotional support. Unfortunately, their relationship was also filled with drama and fighting. They were together for five years before he tragically died during a routine medical operation. Her second marriage was to surrealist painter Max Ernst whom she met during the war. For Erns, the Guggenheim name meant stability and progress for his career, but Peggy was truly smitten with him, which lead to yet another unsuccessful match. He left her in 1945 for a painter Dorothea Tanning. One of her most interesting relationships was with Samuel Becket, whom she met at a dinner held by James Joyce. On one occasion, out of four days they spent together in bed, they only separated once to open door for room service. She also had brief affairs with Constantin Brancusi, Yves Tanguy, Gregory Corso, Jean Arp and Roland Penrose.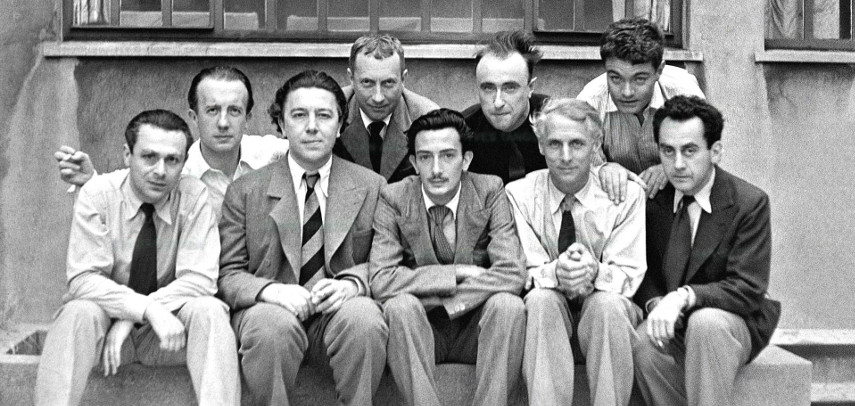 The Woman at the Center of the World of Modern Art
After leaving Paris in 1938, she settled in London, materializing her accumulated appreciation and knowledge of the avant-garde for the first time. In a tepid interwar English environment she opened the Guggenheim Jeune gallery. In its short year and a half, Guggenheim Jeune held solo exhibitions of Jean Cocteau, Yves Tanguy and the first exhibition of Wassily Kandinsky in England. It presented a great deal of surrealist art by Dalí, Tanguy, Miró, Masson, Picasso, Burra, Magritte etc. For a person with no formal education she had a good eye for quality and promise.
Since there was little actual selling happening in her venue, Peggy Guggenheim started preparing for another great project - first Museum of Modern art in London. But before she could realize her plans, she was stopped by the approaching World War II. In 1939 Paris where she came to acquire artworks for the museum she encountered widespread panic within the avant-garde community. She bought one painting a day, always just a step ahead of the Nazis, taking with her 125 pieces acquired for mere 40.000 dollars. In 1941 she accompanied her collection back to New York which became a new home of the avant-garde, a place that joined European and American expression, with Peggy Guggenheim at the center of it.
In 1942 she opened Art of This Century gallery on 57th Street supporting both European and American art and creating first true international gallery in New York. The gallery space was a itself a sort of an installation piece, designed by Frederick Keisler to reflect the avant-garde thinking, experimenting with light, movement and touch. It presented works of Robert Motherwell, Willem de Kooning, Hans Richter, Piet Mondrian, Clyfford Still, Mark Rothko, Theo van Doesburg, Giorgio de Chirico, but also supported women like Frida Kahlo, Louise Bourgeois and Leonora Carrington. Her time in the U.S. marked the second significant period of her collecting, focusing this time on young American Abstract Expressionist painters, and above all others, by Jackson Pollock. Advised by Piet Mondrian, she took him away from his job as a carpenter, staged his first solo exhibition and provided him with income and commissions. Peggy believed that discovering him was in fact her number one achievement, placing her exceptional collection at second place.
The exhibition of her collection in the 1948 Venice Biennale had such a profound impact on her that she started considering making it a permanent home for her artwork. In 1949, she bought the unfinished Palazzo Venier dei Leoni and by 1951 she was living there reunited with her pieces. Palace redecoration, which included staging her collection, was a perfect marriage of elegance and modernity. Seeing that people were coming to her parties just to see the collection, she opened her house for public several days a week, making herself a basically live in a museum. Peggy Guggenheim continued growing her collection over the next three decades which now included young Italian painters like Edmondo Bacci and Tancredi Parmeggiani. She devoted her final years to securing her legacy, writing her third memoir and making the final decision in 1976 to transfer the collection to Solomon Guggenheim Foundation. She died of stroke aged 81 in 1979 and her ashes were buried in her garden in company of her 14 dogs and Marino Marini's >The Angel of the City.
How Peggy Guggenheim Conquered the Art World
The Incredible Peggy Guggenheim Collection
"I am not an art collector. I am a museum."
Peggy Guggenheim's collection was, in a sense, her life. Those who visit her Venice palazzo say that the sense of intimacy you feel with the artwork exhibited is unprecedented. It holds 264 pieces by people many of whom she had befriended, loved, patroned and who, in the end, she endlessly believed in. The first piece she bought was Jean Arp's bronze figure Shell and Head (1933) straight from the studio. She collected works of Pablo Picasso like The Poet (1911) and On the Beach (1937), Piet Mondrian – Composition No. 1 (1938-39), Fernand Léger – Man in the City (1919), Paul Klee – Magic Garden (1926), Joan Miró – Dutch Interior II (1928), Wassily Kandinsky – Landscape with Red Spots, No. 2 (1913), René Magritte's Voice of Space (1931) long before anyone saw their significance.
From the man who taught her the difference between Surrealist and Abstract art, Marcel Duchamp, she collected the Box in a valise (1941) puzzle box containing reproductions of all his work until that point. Fascinated with Yves Tanguy who would later become her lover, she acquired his The Sun in Its Jewel Case (1937) even though the surrealist painting frightened her. From Clyfford Still, who was an often guest at her Art of This Century gallery she took Jamais (1944). Her collection also holds over a dozen paintings of her daughter Pageen and thirteen paintings of her second husband Max Ernst among them The Kiss (1927), Zoomorphic Couple (1933) and The Antipope (1941-42). Out of her historical relationship with Jackson Pollock 11 pieces were left after she gifted many, among them Croaking Movement (1946), Alchemy (1947) and Enchanted Forest (1947). She befriended the Romanian sculptor Constantin Brancusi in part out of her desire for his Bird in Space piece. When she came to collect it, Brancusi was crying, which Peggy jokingly remembered for not being sure if it was because he would miss their short lived love affair or his masterpiece.
Other artist represented in this amazing personal collection are: Salvador Dalí, Giorgio de Chirico, Willem de Kooning, Kazimir Malevich, Man Ray, André Masson, Francis Picabia, Edmondo Bacci, Francis Bacon, Georges Braque, Alberto Burri, Marc Chagall, Jean Cocteau, Joseph Cornell, Alberto Giacometti, Robert Motherwell, Hans Richter, Mark Rothko, Theo van Doesburg, Victor Vasarely etc..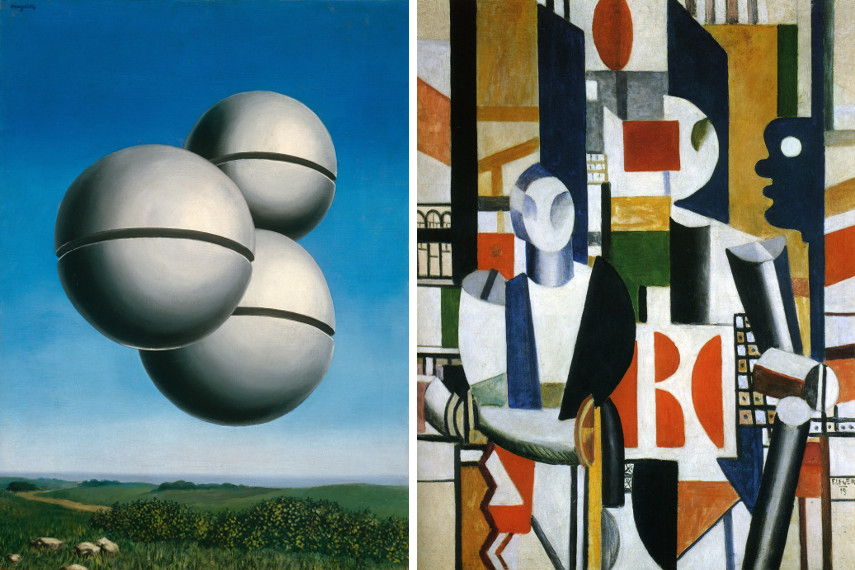 The Peggy Guggenheim Collection Museum Today
Since Peggy's death in 1979, the Venice museum continued to grow its collection. Some pieces were dedicated to commemorating her, like Yoko Ono's 2003 Wish Tree Venice piece, a white blossom three installation planted in the palazzo garden in honor of their friendship, as well as series of works by Bacci, Anthony Caro, Marcel Jean, Mirko, Germaine Richier, Edward Wadsworth and others donated to the Solomon R. Guggenheim Foundation for Peggy Guggenheim Collection. The core exhibition today includes a masterpiece-filled Mattioli Collection of early 20th-century Italian art and the Hannelore B. and Rudolph B. Schulhof private collection of 80 pieces of post-WWII Western art including paintings by Burri, Hans Hofmann and Rothko. Palace garden is renamed Patsy R. and Raymond D. Nasher Sculpture Garden and holds sculptures from the collection and from occasional loans.
The house that Marguerite Guggenheim once had open for public visits, during which she would hide away to sunbathe on her roof, today holds masterpieces of avant-garde. When we enter the museum we first find ourselves in the sculpture garden. The entrance holds one of Peggy's favorites, Picasso's On the Beach, and from there one can enjoy rooms separated for Surreal, Abstract or Cubist art, or a guest bedroom saved for Pollock.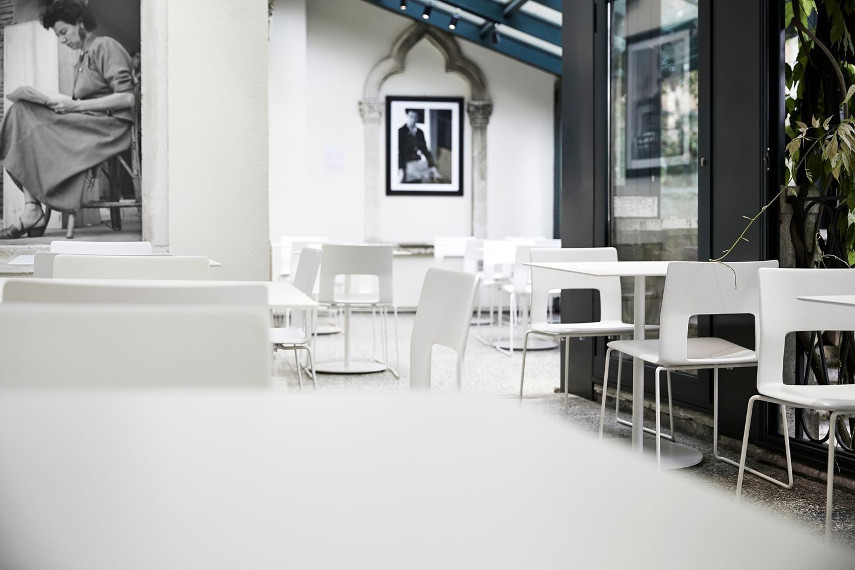 What is it About Peggy Guggenheim?
Many people collected more and over longer periods, but none of them were remembered as Peggy Guggenheim. Many people, her own uncle and famous philanthropist Solomon R. Guggenheim, didn't believe Marguerite will come to achieve anything. She thought herself ugly, unintelligent and far less talented than her friends. Yet, apart from the many turbulent episodes in her life, she managed to tie it to one of the greatest art movements in history. Her collection stands as a monument to an unconditional existence of a free spirit. Peggy Guggenheim was a woman who had her picture taken by Man Ray. She was a woman to whom Yves Tanguy painted earrings, whose friend and teacher was Marcel Duchamp and who was running off to Paris to meet Samuel Beckett in her free time. But for her it was always the art that came first. Each piece of Peggy Guggenheim incredible collection holds a story she took part in, that of an art lover, a patron and an avant-gardist of life.

Editors' Tip: Peggy Guggenheim: The Shock of the Modern
One of twentieth-century America's most influential patrons of the arts, Peggy Guggenheim (1898–1979) brought to wide public attention the work of such masters as Salvador Dalí and Man Ray. In her time, there was no stronger advocate for the avant-garde. Her museum on the Grand Canal in Venice remains one of the world's great art collections. Yet as renowned as she was for the art and people she so tirelessly championed, Guggenheim was equally famous for her unconventional personal life, and for her ironic, playful desire to shock.
References:
Prose F., Peggy Guggenheim: The Shock of the Modern, Yale University Press, 2015
Gill A., Peggy Guggenheim: The Life of an Art Addict, William Collins, 2001
Immordino Vreeland L., Peggy Guggenheim: Art Addict (documentary), Dakota Group, Fischio Films, Submarine Entertainment, 2015
Featured images: Peggy Guggenheim in the mid-1930s, photo via magnetafoundaton.org, Peggy Guggenheim and her first husband Lawrence Vail with their children Pegeen Vail Helion Rumney and Michael C. Vail aka Sindbad, photo via ff2media.com, Peggy Guggenheim and Max Ernst, photo via vice.com, Peggy Guggenheim at Home, 1958, photo by Nino Migliori, Peggy Guggenheim's Art of This Century, photo via huffingtonpost.com, Portrait Peggy Guggenheim, 1955, photo by Oswald Kofler. All images used for illustrative purposes only.