He's one of the few that truly deserves to be compared to Banksy. In terms of creativity, clarity of message, social engagement and what not. Now he's bringing us a new print release. At first the viewer is confronted with the raw and quiet tremor that pulses in the artwork. Then you get a clear signal, a notion of hope, dwelling in the "waters". Finally the viewers emotion changes to disappointment as one realize the silent horror of the situation depicted. There's no option of reversing it. Pejac has done it again and in week's time, his print release of this collection titled Heavy Sea will be available for purchase.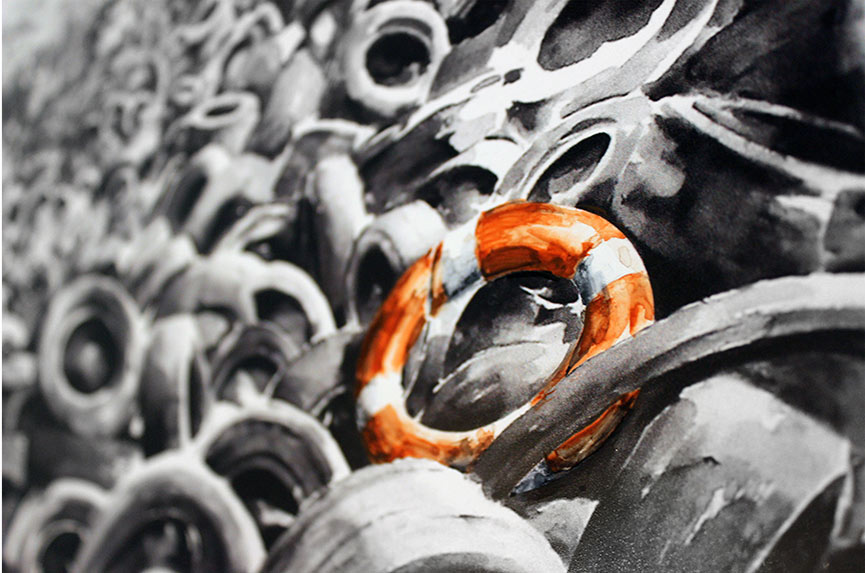 About the Edition
These silk screen prints will come in very authentic packaging. 70 lucky buyers will have unique print, with embossed stamp, signed and numbered by the artist. The package includes a certificate of authenticity. Besides his approach to art, Pejac follows his own way when selling his artwork. Like one of his previous prints, the famous Seppuku print, Heavy Sea also comes at an affordable price of 250 euros. The original Seppuku, sold well above estimate at Digard Auction which we analyzed in one of our articles. It was estimated between 3,000 and 5,000 euro, but the final price achieved 9,480 euro.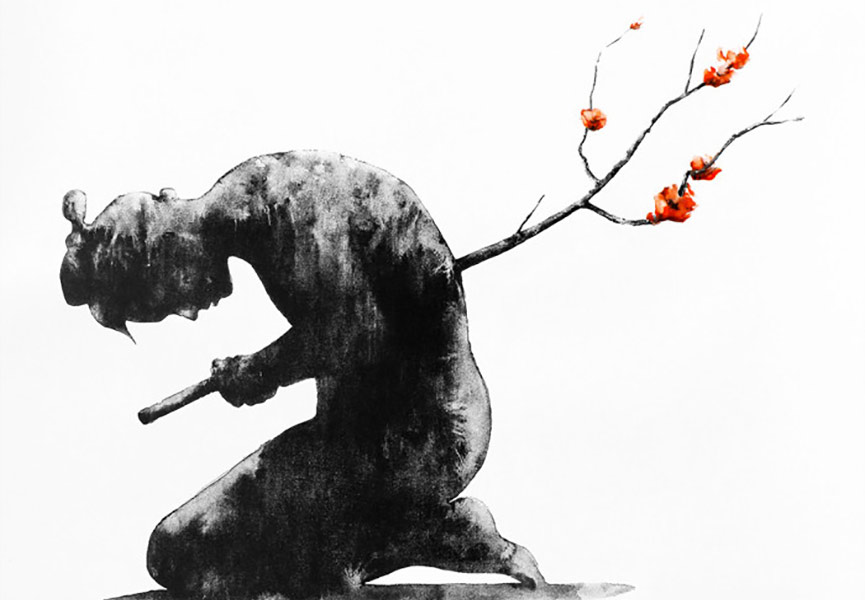 Pejac in 2014
This year has been prolific for Pejac in terms of new work, auction results and his overall significance in the urban art market. Earlier this year he visited Paris and left his own form of a present when he made Ants. Also one of his latest work was the large indoor mural entitled Entelechy, which was commissioned by the Sushisamba restaurant for their Heron Tower private entrance. From smallest interventions to massive scale murals Pejac's work of subtractive technique is versatile in both mediums and subject matter, and very often socially and politically engaged, conveying profound and meaningful messages. One of his big turning points in his professional career was launching of his new website. This occasion was celebrated with his first print release, as mentioned, of Sapukku piece. Next in line is, as we announced, Heavy Sea, scheduled for 4th of December and will be available for purchase via Pejac's website.
If you enjoyed this post and want to follow more of Pejac's activity, sign up for My Widewalls today!