After keeping his work outside galleries for couple of years, creating countless public interventions around the globe, releasing 4 sold out limited editions and spending months working in his studio, on Friday 22nd of July Pejac will be opening his long awaited solo show "Law of The Weakest".
In the last few weeks this Barcelona-based creative spent some time working on final touches of the show, but also, creating a series of interesting and provocative public interventions in the British capital. After placing 4 sculptural installations "Downside Up", showing gravity defying shoes back in June, he recently revealed "Don't Look Back in Anger" piece consisting of Van Gogh's "Starry Night" key scratched on a Jaguar. As an artistic response to Brexit, the street painter wanted to expose the thin line between destruction and creativity through his work.
Pejac and Endless Studio Time
Along with creating these original public works, Pejac spent countless hours in his studio, working on mostly large paintings for his first major UK showing. The final count of works include around 35 pieces, and besides large oils on canvas that dominate the exhibition, he produced a cycle of unique and small edition sculptures in different mediums, photographs, drawings, a lenticular print edition and a site specific installation. Though diverse in their scale, medium and even the aesthetics, all the works feature artist's impeccable ability to create a simple, subtle twist that carries a strong message. With multiple references to the famous works of art, photography and even literature, the works are showing not only indisputable artistic talent, but a vast knowledge and awareness of world's major issues.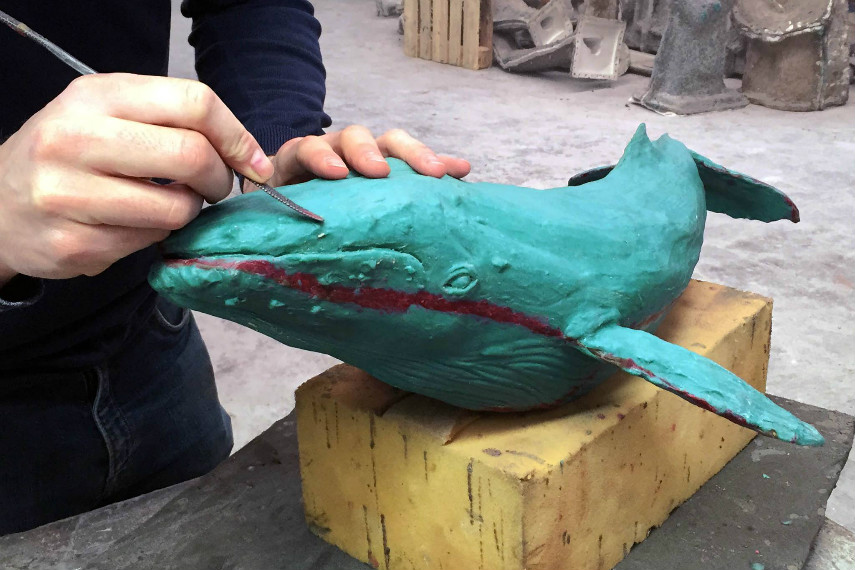 Pejac's Unorthodox Approach
Almost every piece included in the exhibition carries an important message about these touchy subjects. Commenting on such hot topics as police state, racial issues, environment and pollution, poverty and injustice, modernization, human nature, religion, etc, Pejac's work speaks volumes using universal language. An ice breaker creating a scar on Earth's skin, riot policeman setting himself on fire, homeless person scavenging through discarded piano, children fishing in a sea infested in rubbish, rearing wooden rocking horse or "The Creation of Adam" stained glass on a spaceman's helmet, are some of the images that will surely stop the visitors in their tracks. Often resorting to unorthodox techniques, mediums or formats in order to pass the strongest possible message, the works include 24k gold leaf used as primer coat, toy car wheel utilized as a painting brush, riot police shield as a canvas or astronaut helmet as a frame for his work. This original approach and notable attention to both detail and overall feel of each piece, results in a coherent body of work that he worked on.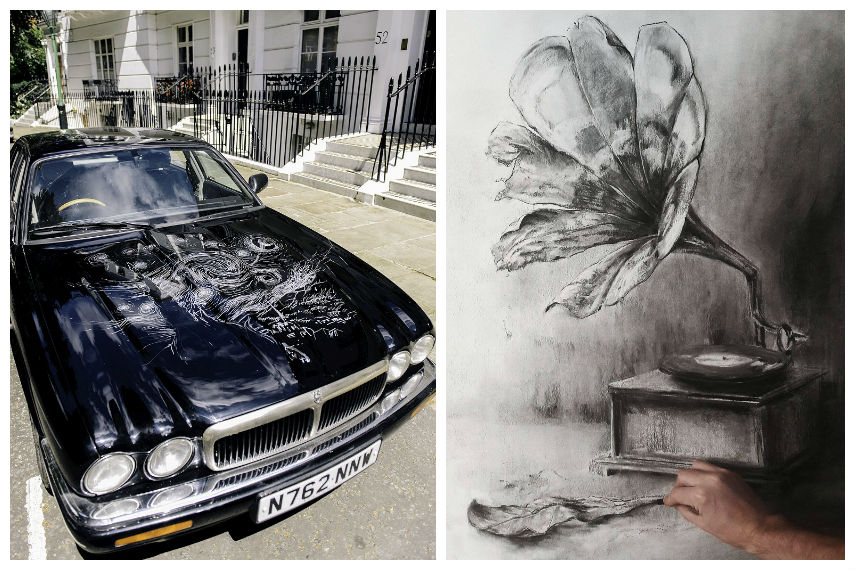 First Time in London
His first major London show opening is scheduled for 22nd of July at Londonewcastle Project Space. On the night of the opening a lenticular limited edition print "Linea" will be available in edition of 200 examples. The show will stay on view for 9 days only, so make sure you act quick if you wish to see the works in person.
Scroll for the work-in-progress shots for both Don't Look Back in Anger Jaguar Project and the Law of the Weakest exhibition prep with Pejac.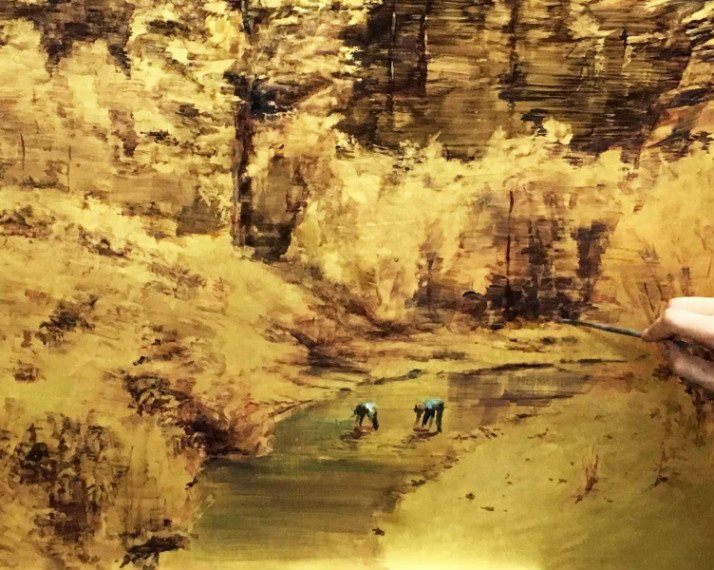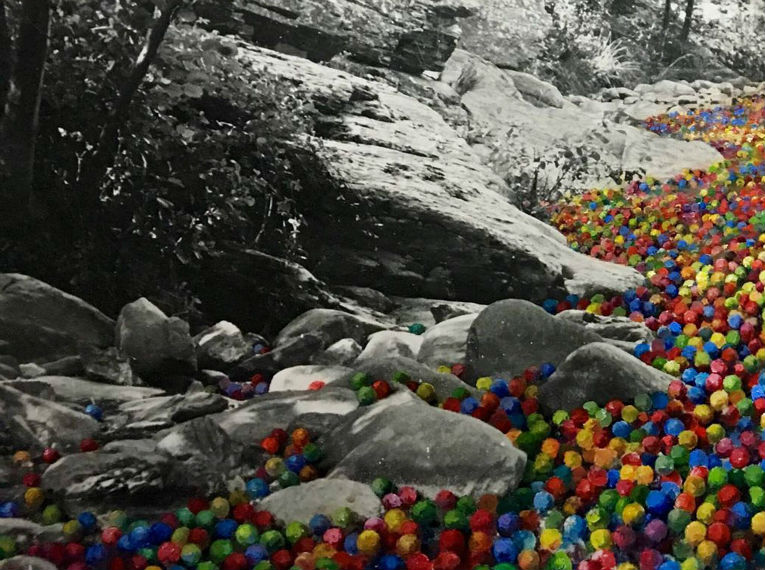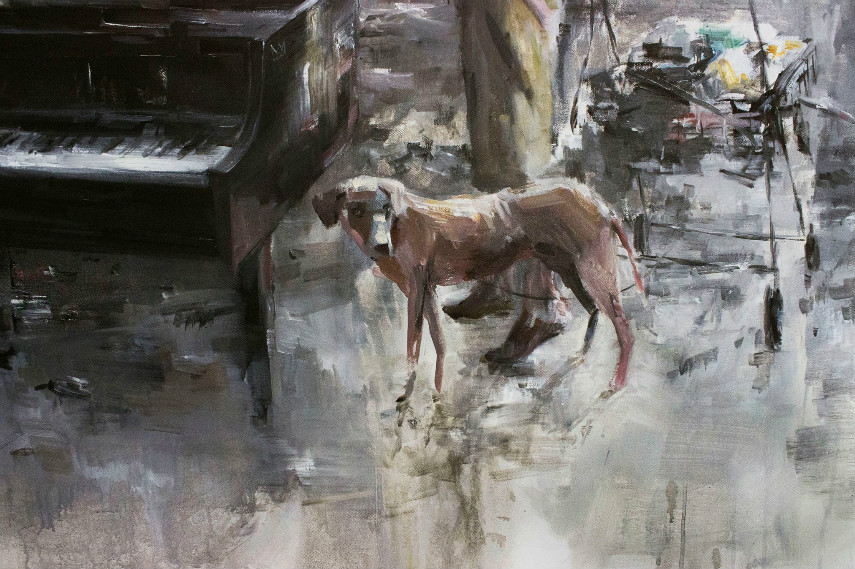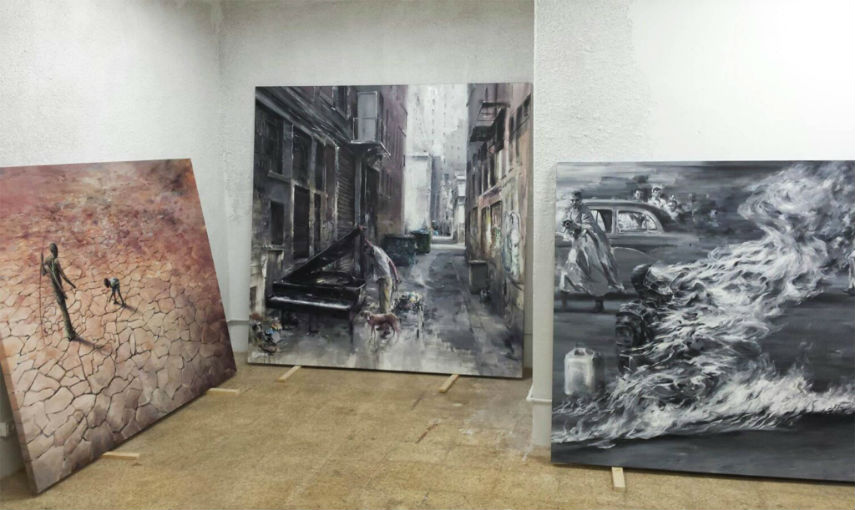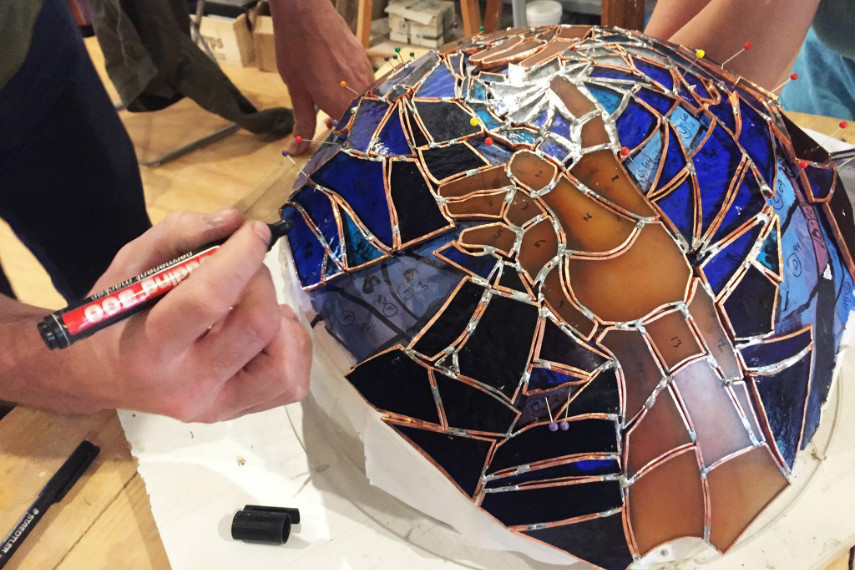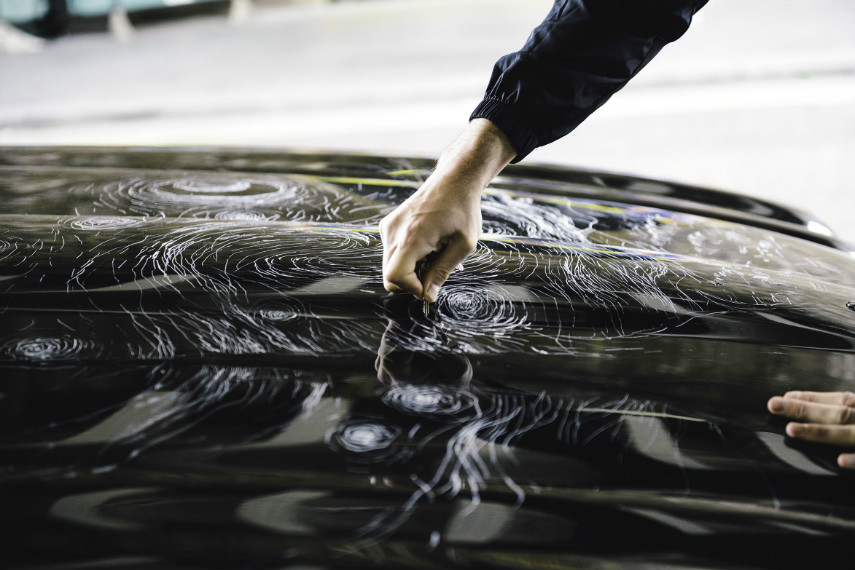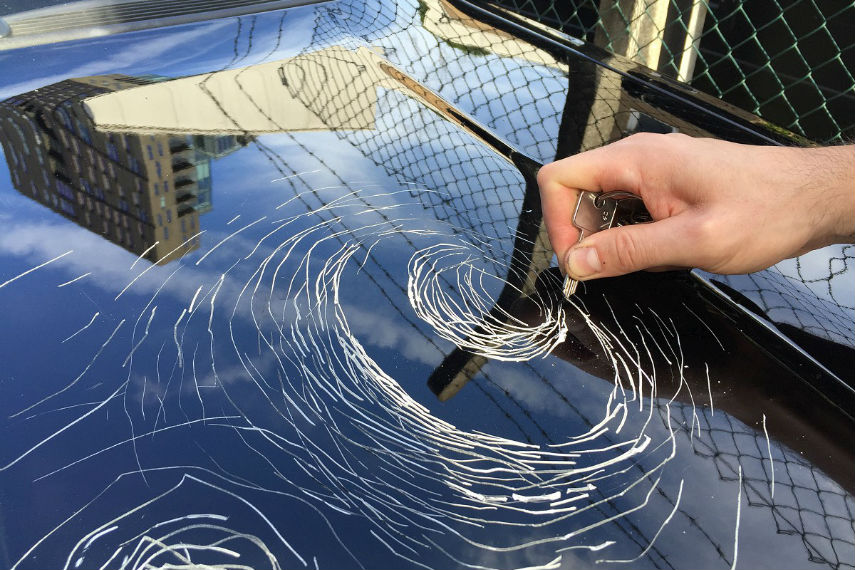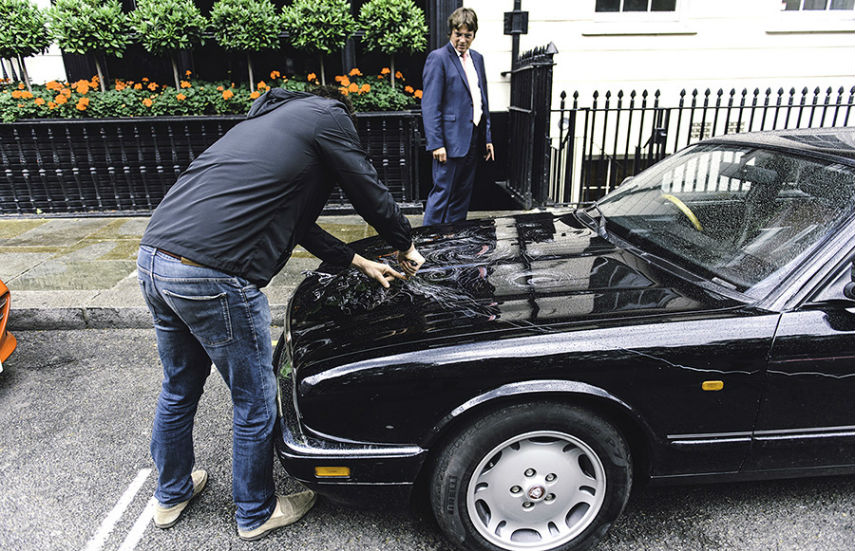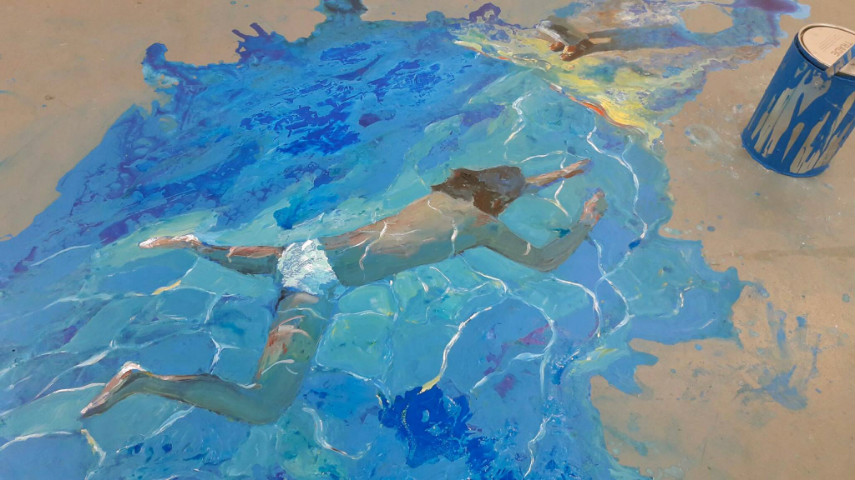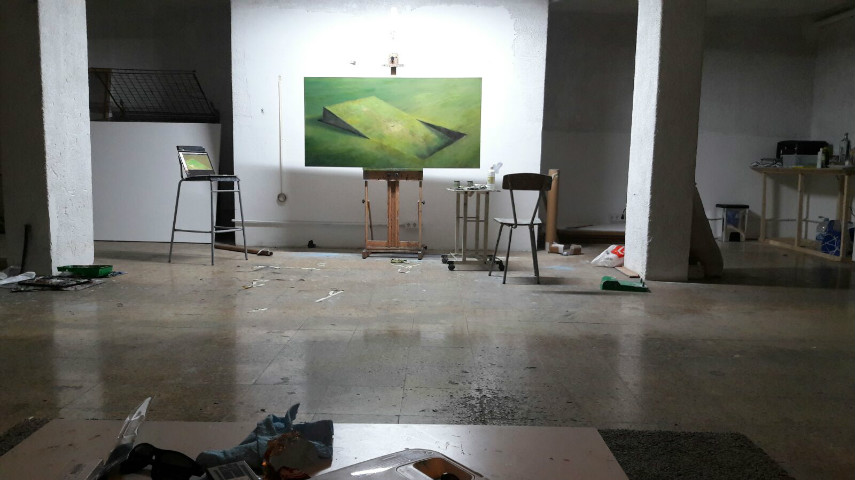 All images courtesy of Pejac