Pencil Drawing is a fascinating medium, contends Jasper Salwey in his book on art of lead pencil drawings. Pencil is for Salwey: " a vital tool sympathetic to the artist's every fancy or requirement, a medium capable of rendering not only the most determined contrasts in light and shade but if need be, fifty intermediate tones of varying degree."[1] Pencil technique varies according to type of pencil used, and the approach of an artist. The effects created in pencil differ according to these parameters. Quick sketches or more elaborate, finely worked drawings can be created; sketching an idea that will be later transformed in, for example, an oil painting is usually done in pencil, or making a pencil the only medium of an artwork is also often present.However, these different approaches to pencil medium although it may seem normal or usual in today's art world, were often conditioned in the past by different understandings of art's function and purpose. Social and cultural factors as well as genre hierarchies influenced the use of pencil in high art. Before turning to some of the best examples of pencil drawing in modern and contemporary art, we will look into different types of pencils and give a short overview of historical use of this medium.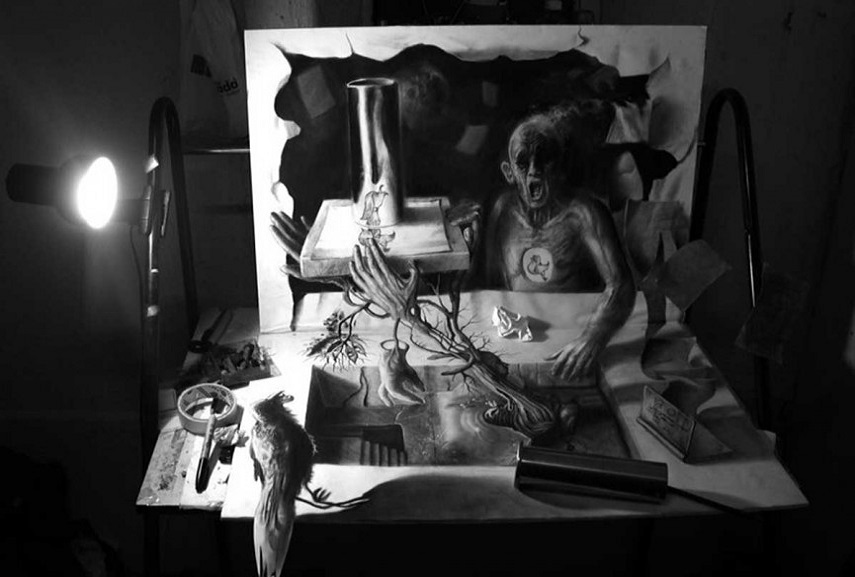 Characteristics of Pencil Drawings
Without a doubt, intimacy and immediacy of pencil drawing is the main allure of this medium for the creatives. Preparatory sketches are often done in pencil, and the quality achieved differs according to the hardness of the graphite in shaft. Harder the graphite, the finer lines are created. Pencils are often marked with H (hardness), B (blackness), or HB, along with numbers. This represents a universalized marking system so they can be easily discriminated.[2] Besides the hardness, the achieved effect often depends on the pressure draftsmen apply while drawing. Thicknesses of lines as well as intensity of color are conditioned by draftsmen's temperament in execution of their works. Pencils are not made from a single material, and combination of materials decides their characteristics. Usually, pencils are made from different rations of clay and graphite, but grease, color pigments, gum, or wax can be used as well. Lead pencils consist of clay and graphite; colored pencils usually contain wax, pigment and clay; charcoal pencils are made of compressed charcoal, while crayon pencils are comprised of pigment, gum, grease and graphite.[3] Graphite sticks made of highly compressed graphite are often the first choice of the creatives because of the flexibility of application. Tip, sides, or the whole length of the stick can be used with versatile effects.
How Pencils Came to Be
While talking about pencils and pencil drawings, it may be suitable to explain a bit how pencils are made. As seen from above, the combination of materials divides pencils in diverse groups. However, the procedure of making different types of pencils is fairly similar. Graphite, which is used for pencils is first reduced to powder, mixed with clay and other materials if necessary, and then formed into a paste. The paste is compressed into thin rods and baked. The created rods are then encased in wooden shafts. While graphite pencils are usually the first thing that comes to mind when we talk about pencils, it was not so in the past. Pencil, from Latin penicillus or 'little tail' was the term first used for tools made for drawing either out of camel hair, or metal sticks, like the ones used on papyrus or wax tablets.[4] Connection between pencil and graphite was not made until the 16th century when deposits of this material were discovered in larger quantities in England. The first graphite sticks were made there, and soon the usefulness of the material made it popular among the authors throughout Europe. Graphite sticks were wrapped in sheepskin or strings to preserve the stability of graphite, before wooden cases are devised. It was believed that the black core of a pencil is actually a lead, and even today lead pencil is a term commonly used.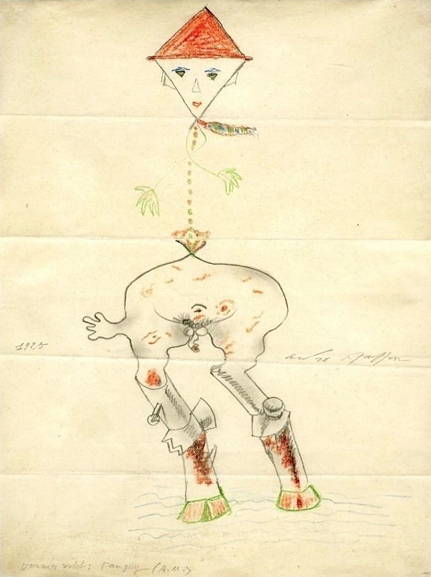 Pencil Drawing – From Auxiliary Medium to Cadavre Exquis
Use of pencil in art history has a long trajectory. Pencils, either created from pressed charcoal or graphite were used for sketches, preparatory studies, as learning exercises and other forms of artistic creations that were not meant to be shown or displayed.[5] The medium confined to creatives' studios was occasionally made visible but never attracted much attention in the past. Maybe the best examples of quality of such works are drawings by the two masters of Renaissance art - Leonardo da Vinci and Michelangelo Bounarroti.[6] Their drawings were preparatory works for larger, usually commissioned paintings or sculptures, but they hold a level of mastery and excellence that can compete with best art from this period. Hierarchies of genres and materials guiding art world of the time, however, conditioned the reception of such pencil drawings.
Often considered a subservient form to oil paintings, pencil drawings were rarely seen as anything but an auxiliary medium to heroic and classical art formats and themes. However, as times changed and a more democratic approach to visual arts developed along the changes in society, drawings slowly reached gallery spaces and were sometimes displayed along with the developed studies in other materials. Jean-Auguste Ingres is considered one of the masters of drawing, together with John Constable, and later on, Pablo Picasso. Egon Schiele used pencil drawings in his famous nudes, where he often combined pencil with gouache and other techniques. He included drawings as equal and worthy element of art in his paintings, thus finally breaking the barrier separating paintings and pencil drawings in qualitatively opposite poles. Finally, it is important to mention Cadavre Exquis, a surrealist game of creating images by assembling drawings from several artists made consecutively on a single sheet of paper, and without them knowing of what each of them created. In this format, pencil drawing finally became the prevailing medium of an art form, as immediacy and short time for creation of Cadavre Exquis dictated the dominance of this technique.
Tamarin Norwood - Study for a Fine Line

Contemporary Lines
Surpassing the historical conditionings of the medium, pencil drawings today can be encountered in different art forms such as video art, installations, in diverse combinations with oil, acrylic, and graphite materials, and not necessarily in figurative representations. Tamarin Norwood uses graphite drawings in her video works where she explores the significance of lines, and their conceptual importance in relation to other materials. Drawing and lines for her do not have a representational character and she does not make them with this purpose, but instead she is interested in lines' interaction with other, computer-generated forms. Creatives working in 3D move the medium of pencil drawing literary to new dimensions by creating 3D images from flat surfaces. Very popular at the moment, they can be seen almost everywhere on social media. Tricking the eye into believing that there is something which is not is a legacy of Op Art, but today's creatives use not just geometrical forms but figuration as well, in order to create an intrusion of some other world into our own.
Editor's Tip: Jean-Michel Basquiat - The Notebooks
Jean-Michel Basquiat was one of the most prominent authors of the New York art scene in the 1980s famous for his inventive investigation of the relationship between words and images. Basquiat was also a skilled draftsman, as you will be able to see if you scroll down through this post. In the spirit of sharing the most popular drawings of the post-war period, we are recommending The Notebooks, a unique edition that reproduces the pages of Basquiat's rarely seen notebooks. These notebooks are filled with words and images that found their way to Basquiat's painting, as well as his iconic drawings and pictograms that are not as widespread as some of his other works. You will get the insight into the artist's mind and find out that he was very much interested in comic art, as well as street and pop art, along with politics and hip-hop.
Mastery of Modern and Contemporary Pencil Drawing
Frida Kahlo - Ruina (1947)
Frida Kahlo is one of the most famous women in art who has inspired generations of authors and encouraged women to pursue their artistic careers. The Mexican painter was praised internationally for her depictions of traditional Mexico and portraits, and worshiped by feminists for her uncompromising expressions of female form, unapologetic towards the mainstream beauty standards of her time and ours. The tragedy of Kahlo's existence which was probably what inspired her ingenious artworks that carry a sense of deep pain with them began when she was only eighteen and survived a traffic accident which left her body broken and unable to conceive children. Known mostly for her self-portrait paintings, Frida also produced a number of drawings. One of these iconic sketches is Ruina executed in February 1947. The drawing was dedicated to Diego, the love of her life, and we can read the inscriptions that say Casa para aves, Nido para amor, Todo para nada, which translated to English mean Birdhouse, Love nest, All for nothing. A perfect depiction of her tumultuous life and love story, the sketch of which she managed to create and share with the world in an attempt to free her spirit and show a beautiful design through the use of her pencils.
Cy Twombly - Untitled (1970)
Cy Twombly's Treatise on the Veil (Second Version) is one of the most important works of the artist who emerged in the age of Abstract Expressionism. The drawing we see here is the physical depiction of the artist's thoughts on time, space, and sequence that ensued in the Treatise series. This crayon, graphite pencils, ink, oil stick, colored pencil, tape, and cut and torn papers is comprised of the sketch of six vertical strips arranged laterally from left to right that make up the simple, but captivating design only Twombly could create. We can see inscriptions and signs of tearing and folding. Cy Twombly is known for his large-scale, calligraphic, and graffiti-esque works, but his drawings are not short of the artistic value. They offer the insight into the artist's creative thinking process and let us get to know him in a different light.
Andy Warhol - No Title (Pensive Girl Resting Head on her Hand), (c. 1951)
Although best known for his whimsical Pop Art works, Andy Warhol was an excellent draftsman as well. He used the blotted line technique to distinguish his signature illustration style which resulted in the dotted and delicate lines. He also produced a number of freehand drawings done in ballpoint pen or pencil, which can be found in Wild Raspberries and A Gold Book – the two books of drawings by Warhol. The drawing we are presenting today is the no title drawing alternatively called Pensive Girl Resting Head on her Hand executed circa 1951. This piece helps the viewers investigate Warhol as more than just a silkscreen painter, and go beyond the usual Pop Art imagery.
Pablo Picasso - Odalisque (1951)
The famous Cubist artist is also known for his amazing pencil drawings. Picasso expressed the passion for drawing when he was very young, and even received formal artistic education in figure drawing, and produced a number of illustrations of the human body. Odalisque is one of Picasso's pencil drawings that depicts a nude woman, a French resistance fighter Geneviève Laporte, executed on August 30th, 1951. In the sea of his drawings, this one drew our attention the most as it presents Picasso in a light so different from Guernica and other Cubist works. He once said: "Drawing is a kind of hypnotism", and we can safely say that he was absolutely right as his drawings offer an insight into the creative process he went through, in the execution of these works at home studio.
Marc Chagall - Psalm 124 for Stained Glass at Assy (1956-1957)
Marc Chagall was a Russian-French artist known for working in a number of mediums, such as painting, book illustration, stained glass, fine art prints, and of course, drawing. While he was in school he developed the habit of drawing the images he saw in books, which resulted in his growing passion for art. Starting as a Cubist, he moved on to Expressionism, while being known as one of the earliest Modernists. He is also recognized as one of the most prominent Jewish authors. His drawing we are presenting today is Psalm 124 for Stained Glass at Assy, executed in pencil and Chinese ink, and it belongs to the Musée national Message biblique Marc Chagall in Nice.
Damien Hirst - The Beheading of John the Baptist (2002)
Drawing has always been an integral part of Damien Hirst's artistic process. Apart from drawing detailed sketches for his sculptural pieces, he also draws for the sake of drawing, having produced more than 1500 illustrations. Deemed one of the most influential creatives of the generation, the Bristol-born contemporary artist is the most prominent member of the young British scene. The artist has stated that he was impressed by Picasso's drawings, and his ability to express feelings and visions through a continuous line. The sketch of the day is Hirst's The Beheading of John the Baptist, executed in 2002. This pencil on paper was exhibited at Gagosian Gallery in New York in 2006, and at the 25th International Biennale of Graphic Arts, International Centre of Graphic Arts, in Ljubljana, Slovenia.
Jackson Pollock - Untitled (1937-1939)
Okay, so you might be surprised to see this name on this kind of list, but bear with me, he does belong here. Jackson Pollock is known as one of the most prominent figures in the movement of abstract expressionism, and especially famous for his distinctive style of drip painting. Some like him, some hate him, but no one can ignore him. To the people who proclaim that Pollock possessed no talent, he had offered the proof of his talents in the form of drawings. Today, we are showing you a very special one, as it is connected to the works of the great master Michelangelo. Pollock's early works suggest that he studied Michelangelo and sketched his figures. He drew the muscles and the details of the bodies that decorate the Sistine Chapel and added other little doodles of his own to the colored pencil drawing. See? Jackson Pollock did, in fact, know what he was doing.
Jean-Michel Basquiat - Standing Figure (1960-1988)
"Believe it or not, I can actually draw". Jean-Michel Basquiat's famous quote is the best summation of his struggles to be accepted as a serious artist. The Brooklyn-born Basquiat was primarily known for his neo-expressionist paintings and his associations with the hip-hop, punk, and street art movements, but for his drawings as well. The American artist has produced a pencil on paper drawing we chose to put on our list today, titled Standing Figure. The drawing was a part of the Fun Gallery collection in New York, a city which inspired the artist throughout his career. The drawing depicts a typical Basquiat imagery and evokes the feeling of uneasiness within the viewer, much like his other works.
Lucian Freud - Startled Man: Self Portrait (for Equilibriad, 1948)
Lucian Freud was a British painter, known for his thick impasto paintings, but he was also famous for being a draftsman as well. He was especially interested in drawing faces, which can be seen in the Startled Man: Self Portrait from 1948. Lucian Freud's work is known as deeply psychological and it is often said that he started producing great paintings only upon giving up on drawing. However, even though his drawings are not as famous as his paintings, he never actually stopped making them. His crispy lines leave the viewer wondering about the actual emotion depicted in one of the Freud's pencil drawings and gaze deep into the man's large eyes and examine the reason behind his startling. We would expect something deeply disturbing and emotional from the grandson of Sigmund Freud after all.
Gerhard Richter - Ausbruch eines großen Geysir (1964)
Ausbruch eines großen Geysir, or Eruption of a Big Geyser, is one of Gerhard Richter's graphite works executed in 1964. The drawing on paper with a pretty self-explanatory title belongs to the astounding oeuvre of one of the greatest abstractionists of our time. This piece was exhibited a number of times all over Europe, including the 1971 Entwürfe, Partituren, Projekte: Zeichnungen (Drafts, Scores, Projects: Drawings) exhibition at Galerie René Block in Berlin; the 1992 and 1993 Mit dem Kopf durch die Wand. Blocks Sammlung (Head through the Wall: Block's Collection) in Helsinki, Finland, and Reykjavik, Iceland, respectively; the 1999 and 2000, Gerhard Richter: Zeichnungen und Aquarelle 1964–1999 (Gerhard Richter: Drawings and Watercolours 1964-1999) in Winterthur in Switzerland, Dresden in Germany, and Tilburg in The Netherlands. Here at Widewalls, we love Gerhard Richter, so if you want to know more about him, go and check out his 10 most expensive artworks sold at auctions.
Researched and edited by Eli Anapur.
References:
Salwey J., (1922), The Art of Drawing in Lead Pencil, p.4.
 Anonymous,

Graphite Grading Scales Explained

, pencils.com  [October 10, 2016]
Anonymous,

Different Classifications and Types of Pencils

, historyofpencils.com [October 10, 2016]
Zumdahl S.S., Zumdahl A.S., (2008), No Lead Pencils,  p. 343
Cleave V. C., Master Drawings of the Italian Renaissance, p.20.
Ibid., p.86.
Featured images: Pablo Picasso - Girl Helping Minotaur. Image via art.ayay.co.uk; Jean Auguste Dominique Ingres-The Gatteaux Family, 1850. Image via commons.wikimedia.com; Egon Schile - Crouching Woman with Green Kerchief, 1914. Image via arthistorynewsreport.blogspot.rs; 3D Drawing on Paper, Image via 3decor.info. All images used for illustrative purposes only.