Living in the far west of Cornwall, Penny Rumble is surrounded by a rural environment with the sea only minutes away. Her love for this deeply elemental nature of this very special place is evident in her work, developing a semi-abstract or impressionist style, focusing on seascapes, coastal and marine art.
Rumble translates nature's mood through many layers, textures and colors, capturing the untamable and fickle nature of the sea. Beginning by directly documenting her surroundings with quick sketches or photographs, she goes back to the studio and renders her findings in paint on canvas in a process that can take days, weeks or even months.
Her works often feature female figures, curving and flowing empathetically with the currents. As the artist explains, sometimes when she's creating a seascape something happens to her imagination and she begins to see figures emerging from the ocean. Semi-abstract, these figures appear as if being immersed in the sea.
We had a chat with Penny Rumble to find out more about her practice. In an exclusive Widewalls interview, she talks about her beginnings, the inspiration she finds in the sea, her working process, the artistic legacy of Cornwall, and much more.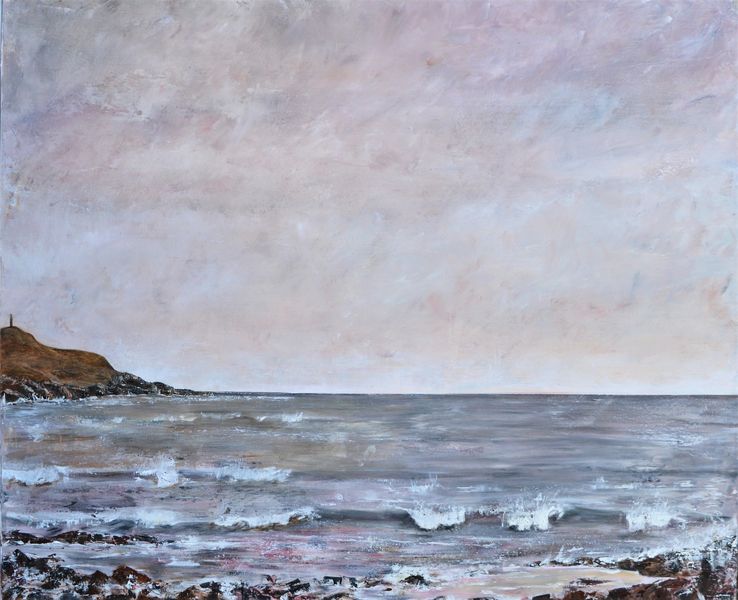 The Sea As an Inspiration
Widewalls: You have some experience as an art and antiques dealer. How do you think this helped you in your career as an artist?
Penny Rumble: After over two decades dealing in art and antiques I developed an eye for colour and composition. As well as selling our works of art we had to furnish houses and design elaborate stands at antiques fairs. We bought fine art to accompany the furniture and I became interested in art history. And so I began drawing and painting as a hobby by attending evening classes in Cambridge.
Widewalls: Why is the sea such an inspiration for you?
PR: Now that I am in Cornwall, it's impossible to avoid the sea. I am only 3 miles from each coast the North, South and West. Simon and I have a fishing boat. We canoe and sail and most of all I enjoy wild swimming and have swum a large section of the coastline, revelling in the element. I often sketch and plan a new seascape after a particularly exhilarating dip.
The sea can be so many different colours and have dramatic mood swings so there is never a dull moment when studying the ocean.
Also, my wonderful art teacher in St Ives pronounced that I would never be able to paint a good seascape as it was far too difficult to depict water on canvas.
Her declaration was a call to pick up the gauntlet and accept her challenge.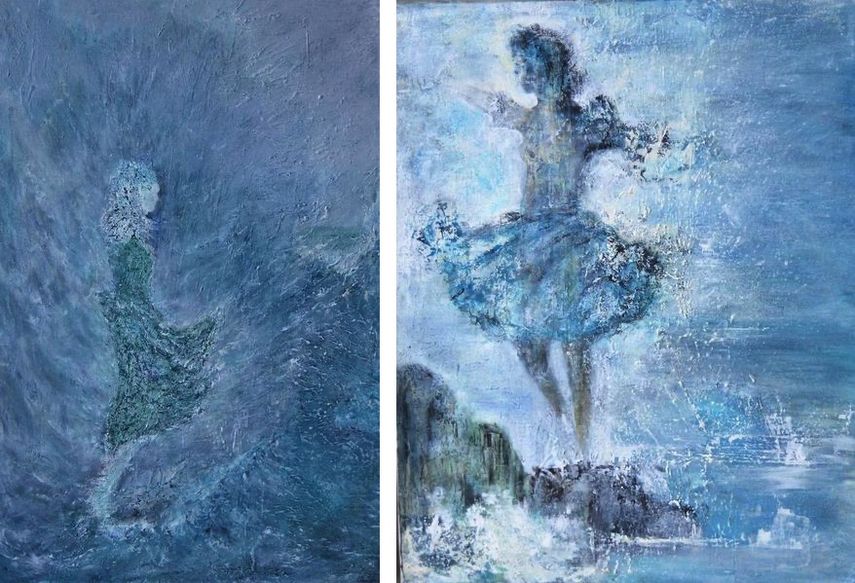 The Working Process
Widewalls: Can you take us through the process of creating an artwork?
PR: It is no secret that I take a long time to complete a piece of work. I work in oils and apply layer after layer of paint, thinning it down with a liquid glaze during each session.
The work begins outside. I carry a sketchbook, camera and notepad and during a coastal walk if something grabs my eye I stop and make a quick sketch. I never take more than a couple of minutes so that the response is immediate. I apply a few watercolours to the sketch, take photographs and try to express the mood of the particular seascape in words. I often use black and white photography to capture the light and shade of a particular subject. Waves are gone in a flash so I find the camera an important requisite.
Back in the studio, I pull out a suitable canvas and apply a thick gesso base coat with a large palette knife. Painting from the shoulder I am seeking the general shape and composition. After drying I will then block out in acrylic and perhaps apply a few inks and run them in the general direction of the wave flow.
And then begins the slow process of adding the oil paint – layer after layer. The softer hue of the colours are pleasing to the eye. The paint is malleable and I can apply and reapply throughout a morning session. If I am unhappy with the result I can let it dry and paint over it or even rub off a day's work only to start again the next day. Gradually, through the multiple layering of oils, I develop the texture that brings the painting alive.
It goes without saying that after a week or two of this process I have to give the painting a rest. So I turn it to the wall for a few days before applying the finishing touches.
I try to have more than one piece on the go as oils take a while to dry so after a couple of months there is more than one painting ready for framing. Always a good moment.
Widewalls: Apart from the "traditional" seascapes, your paintings sometimes also feature female portraits, as if immersed in the sea. What is the story behind these?
PR: I really enjoy painting on a large canvas; I can be bold and expressive. Sometimes my smaller seascapes simply do not work at all. There's no pizzazz. So one day I was so disappointed with my efforts that I covered the entire painting in a mixture of cerulean and ultramarine oil paint and added a couple of angry sweeps of titanium white.
My studio is long and narrow so when I returned to face the canvas with a restorative cup of hot coffee I stopped in my tracks some distance from the easel. I perceived a figure emerging from the waves. Little by little I teased out the first portrait using all the skills learned from life-drawing classes.
I became interested in ship's figureheads and love the strong lines in the wood carvings. Now whenever a painting lurches towards disaster I leave it and apply the same technique as before and then, from a distance, study the shapes that emerge. I love the freedom this gives me and am surprised by the positive responses of viewers.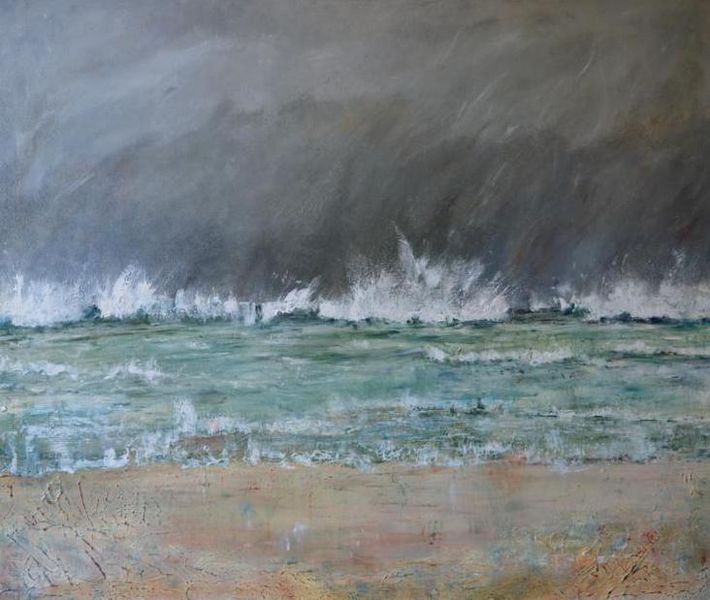 Winter Experiments
Widewalls: Where did the idea of "Winter Experiments" come from? Can you tell us more about that?
PR: Winter can be a dreary time in Cornwall. There's an abundance of rain so I often use these months just to play with paint. Some years I use a completely different palette and style but I am trying out new techniques all the time so that I can develop as an artist.
This year, I experimented with work on paper and board using only a few shades and allowing the paint to do the work. I am keen to create satisfying small works. So the winter of 2020 posed me this question: how can I successfully achieve a good composition on a small scale?
Of course, these experiments sometimes fail but invariably I use the new techniques I have learned in my standard practice.
I don't want to become stale. After all, I paint every day and so I think a little winter lunacy in the studio can be very productive.
Widewalls: Your studio is on Cornwall. How is it living in an area with such a rich artistic legacy?
PR: Cornwall – especially my area of West Penwith – is packed with tremendous artists. The quality out there is superb and the art history, from the times of Turner and the building of the railways right up to the 21st century, is fascinating. I feel very proud to belong to the present community of artists. Hand in hand with good art in Cornwall comes great teaching and there are dozens of excellent art tuition centres here.
Of course, there is competition. Of course, there is a scramble to achieve success but I think these bare facts prevented any dithering on my part. I had to work fast and paint my way to a level where I feel comfortable and confident and I was surprised how quickly my style developed.
When I first arrived, I took advantage of the plethora of teachers and attended many of the local artists' private courses.
With the Tate in St Ives and the Penlee in Penzance both housing tremendous art collections, it's like living in Paint Wonderland.
Widewalls: What's next for you?
PR: That's a difficult one. I never know what is around the corner but I have two aims.
One is to have a large and varied portfolio of work here in the studio – at least 100 works that I am satisfied with.
And secondly, I want to make my work accessible to the public by establishing trust. To that end, I am in the middle of making films about my art practice to show online and elsewhere. I enjoy writing and communication and hope to publish a few more books.
One thing is certain – having moved to the far west in 2008, I have grown roots. My home is here, my inspiration is here so whatever comes next will definitely begin and end in Cornwall.
Featured image: Penny Rumble. Courtesy the artist and White Court Art.