Completely taken over by the beauty of letters, Daniele Tozzi a.k.a. Pepsy created highly refined and personalized visual language. Calligraphy is the core of his creation, while he produces works jointly described as calligrams. These pieces will make the exhibition titled Word Play at the Roman Varsi gallery, coming this July. Curated by Marta Gargiulo, the compelling installation will engage the viewers in a dual communicative channel of words and pictures. Describing forms by twisting letters, Pepsy opens a new way of viewing things, one in which sign is tightly connected with the word, in every sense.
Word Play opens on July 3 and it will remain on view through August 7, 2014 at Galleria Varsi in Rome.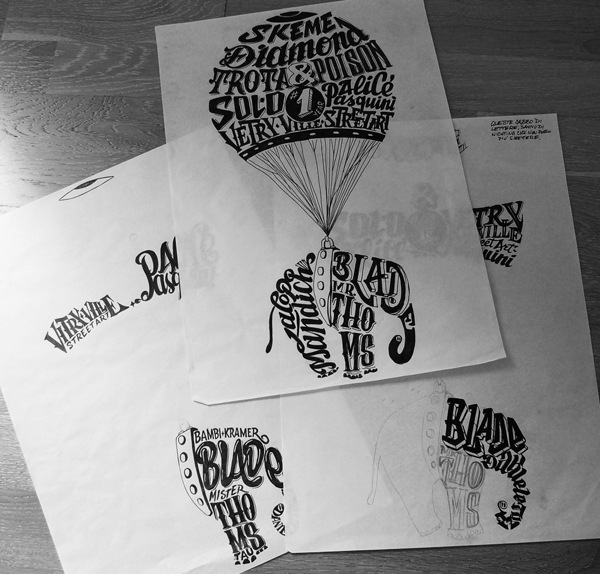 Calligrammatica
Daniele Tozzi first experienced the fascination with letter forms when he started writing graffiti in the 90s. He began experimenting with shapes and sizes when he started using the tag Pepsy. His newly discovered love for calligraphy made the young artist engage in studying of various techniques and tools, until he managed to amalgamate his personal style of lettering. Graphic design and writing fuse in the work of Daniele Tozzi, where linear shapes are often formed or supported by different fonts and writings, frequently referencing graffiti. One of the biggest inspiration of the artist is music, the important intangible part of his life, in which he finds all the social, political, emotional or cultural elements that drive him forward in his creativity, and which support his essentially engaged art.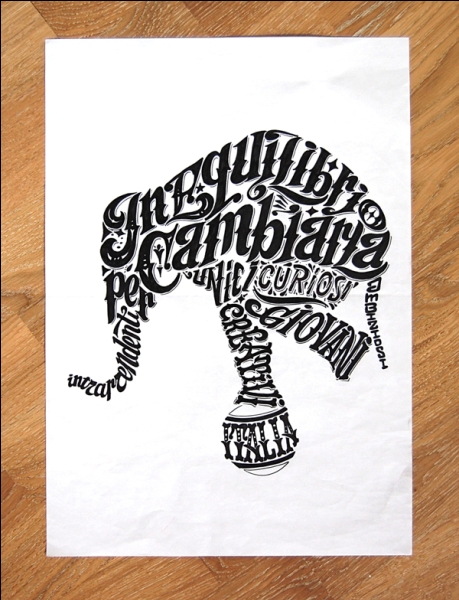 Daniele Tozzi - Pepsy
Daniele Tozzi, known as Pepsy in graffiti circles, is a 33 year old artist from Rome, where he is based today. His first encounter with subversive street art movement came in the second half of the 90s, when he started writing tags, but the uncovered alphabetical world inspired him to seek his expression in graphic design. Now, he spends his time working on web graphic design projects, for different brands and companies.
As his graphic skills developed, so did his analogue artistic expression, which can be perceived as a specific art form. The fonts he plays with, distorts and fits into outlined shapes all derive from his initial tag, but this is not as openly recognizable, since his style matured significantly. The calligraphy Daniele Tozzi employs is a constantly changing experiment filled with typography, famous quotes or songs, mottos, or important notes from the cultural heritage or beliefs of the artist. Tozzi is still active as a street artist, with an identity unknown to the public, invented to avoid being persecuted for his illicit writing.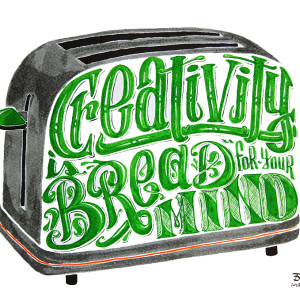 Galleria Varsi
Galleria Varsi is the place in Rome for urban art. It offers a wide range of street art prints and merchandise, while continuously presenting a high quality exhibition programming featuring new stars of the Roman street art scene.