I See You See is the title of a newly announced Pete Hawkins solo exhibition at Lazarides Rathbone Gallery in London. The intimate showcase of new art works, in what will be the artist's debut show with Lazarides Rathbone, will present some of the beautifully crafted oil paintings that London based Pete Hawkins creates on found materials such as wooden doors, desks and paper that recall childhood memories and folk tales. The Pete Hawkins solo exhibition, I See You See, will add to the impressive selection of exhibitions that have been presented by Lazarides Rathbone that includes the currently showing and quite stunning Self exhibition by Antony Micallef, the work of Russian street artist Misha Most (From Russia with Graffiti) and the Dematerialized show by the Miaz Brothers.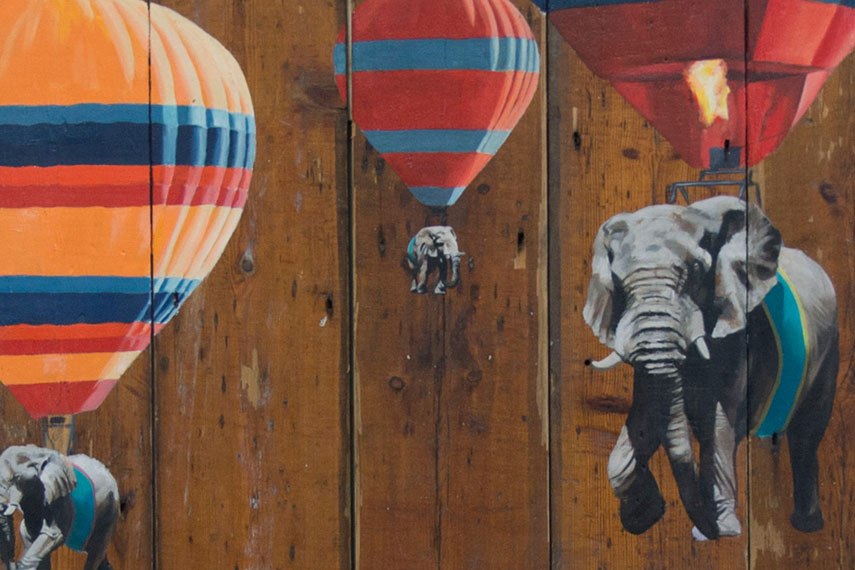 Pete Hawkins Solo Exhibition
The Pete Hawkins solo exhibition at Lazarides Rathbone sees the artist further exploring areas that lie between reality and imagination with themes that often describe childhood dreams and our desires as adults to return to those carefree days, that perhaps emerge from the roaming family lifestyle Hawkins had that saw the artist live in 12 countries by the age of twenty. Pete Hawkins regularly uses reclaimed materials to craft his oil paintings on; previous solo exhibitions included work painted onto vintage school desktops and old doors from Yorkshire in the UK, that imbue the works with a sense of history that is scarred by the process of life. Storytelling is at the heart of all the works in this new Pete Hawkins solo exhibition, turning mundane everyday objects into fantastical tales such as the painting featuring elephants suspended from hot air balloons and the female figure walking in a hamster wheel, a direct illustration of the themes he explores around the narratives of innocence and experience, naivety and knowledge along with social commentary on the modern world. Other artists using recycled materials for their art include Sambre (Sambre in the Box), C215 (Back to Black) and Monica Canilao (Born from Ruins).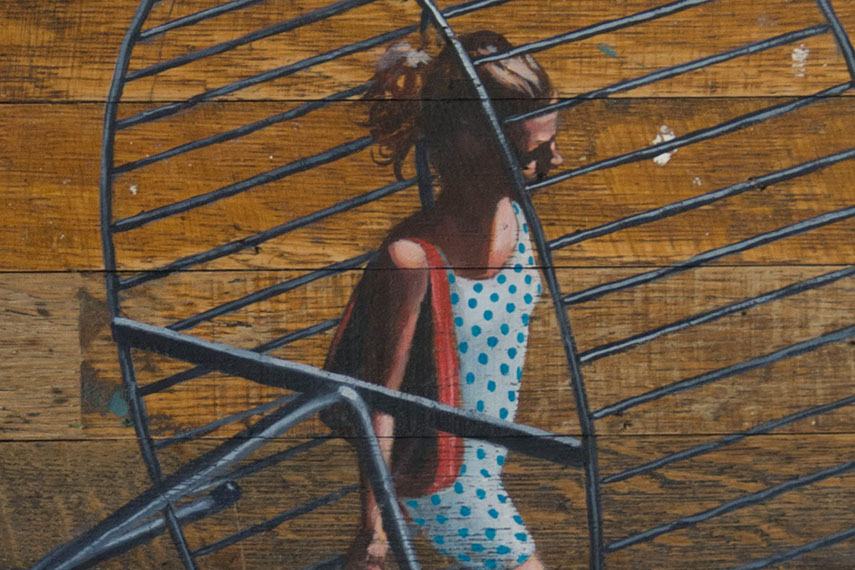 Pete Hawkins
Peter Hawkins was born in Panama City, 1980, but spent about 20 years leading a nomadic lifestyle with his family that saw the artist experiencing life in at least 12 different countries. An interest in art came from parents and grandparents who were both collectors of art and Hawkins found inspiration in the work of Chuck Close when at school that fueled an interest in painting. A full time move to London in 2007 saw Pete Hawkins concentrating on his art where he started to seek ideas from ordinary everyday objects, such as pieces of wood that had been used for doodling and scratching comments on in a school and liked the idea that his paintings were a continuation of these doodles that aspired to the dreams of our childhoods. From this, Pete Hawkins has developed his creative style of work where he takes ordinary people and objects to create wonderful tales out of the ordinary that are brought to life by his magnificent oil paintings on found materials. Other artists you may enjoy that use story telling in their art include Etam Cru (Bedtime Stories), Herakut (7 Minutes with Herakut) and Kerry Miller (Reimagination of the Book).
The Pete Hawkins solo exhibition, I See You See, opens at Lazarides Rathbone in London on 13th March, 2015 and runs through until 9th April, 2015.
For all the latest exhibition news sign up to My Widewalls today!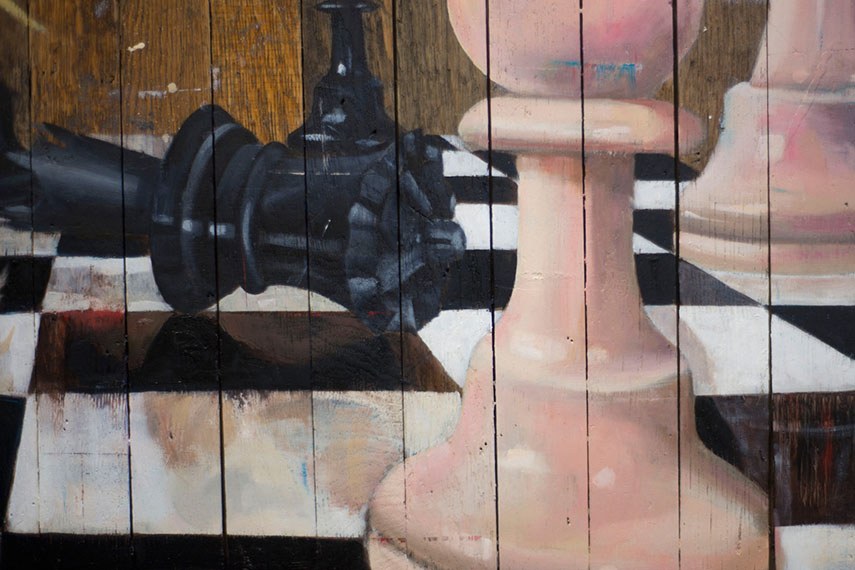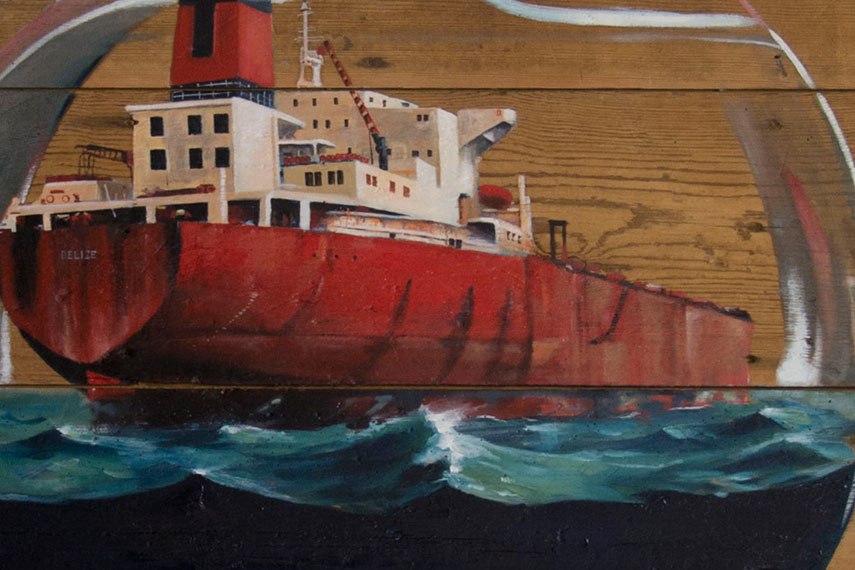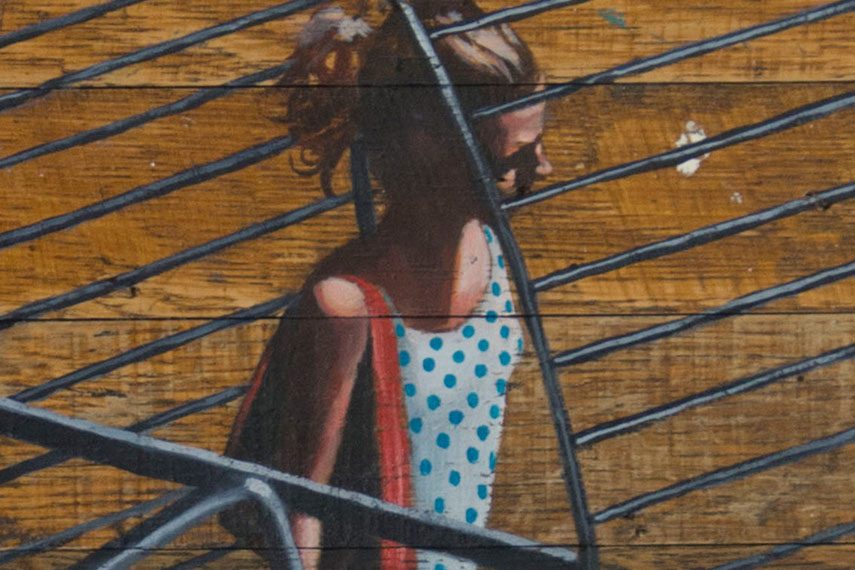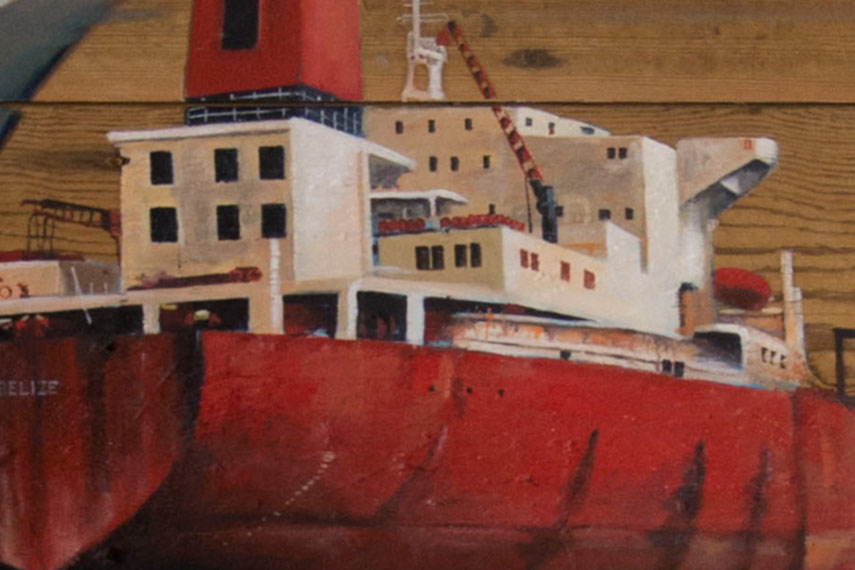 All images courtesy of Lazarides Rathbone.