Appropriation
Making connections between things that originate in different epochs is nothing really new. However, as much as we are used to seeing today's artists build their style with regards to the past, it usually happens that the reference is made to a very distant past. Peter Combe's artworks, on the other hand, reflect on a period which happened not so long ago - if it's correct to render Postmodernism as a period rather than a style. Since the most renowned works from Combe's oeuvre rely on a particular kind of appropriation, it could be said that this appropriation has been "appropriated", taken from the legacy of Postmodernism (and then again, appropriation was not invented by Postmodernism either): "During my impressionable years, the movement was flourishing in real time. I am a creature of that era - without sounding lofty, I am authentic in that capacity so to speak. It's interesting how that movement is being revisited in the fields of art and design today. Artists are inspired by their surroundings - today we live in an information glut, constantly inundated with visual imagery - I like to pull from some of that glut and present the subject in a new way. In a sense it's a form collage."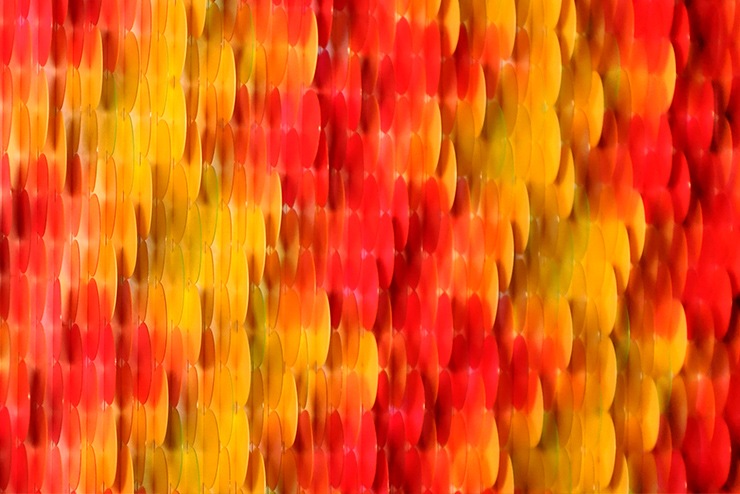 Household Paint Swatches as a Useful Tool for Art-Making
Peter Combe makes images - portraits and abstract pictures - out of paint swatches, which he transforms into small discs.  "I've collected paint chips for as long as I can remember", he says. "I've always liked the idea of the ready-made. I received an envelope in the mail. Its interior was lined with a 'scalloped' security pattern rather like fish scales. It struck me that perhaps I cold duplicate this pattern in a 3 dimensional format. It was my eureka moment. I was absolutely enthralled by the effect. Excited and absorbed by the magical effect - caused by something so terribly simple. I began producing abstract works, geometric mathematical inspired works and more organic colorfield artworks that flowed from one color seamlessly into another. I'd wanted to transfer this medium to photo representative work. Incubating the idea for a number of years, I tried to formulate a way in which to make it possible. I wanted to produce stuff that was for the most part seamless, subtle, and elegant."
However, as much as these images tend to present themselves as a unique type of fascination for the eye, Combe believes that it is not just the visual effect that makes them captivating. "The optical effect is very important, however I don't want it ever to be solely about the effect. The imagery has to be equally captivating. There is a fine line between novelty and something deeper. I would hope that my work presents itself as being many layered. Besides appropriating images that I am interested in, I'll also approach a possible subject." This means that the portraits are visually attractive, as much as they ought to be challenging, on a sensual level.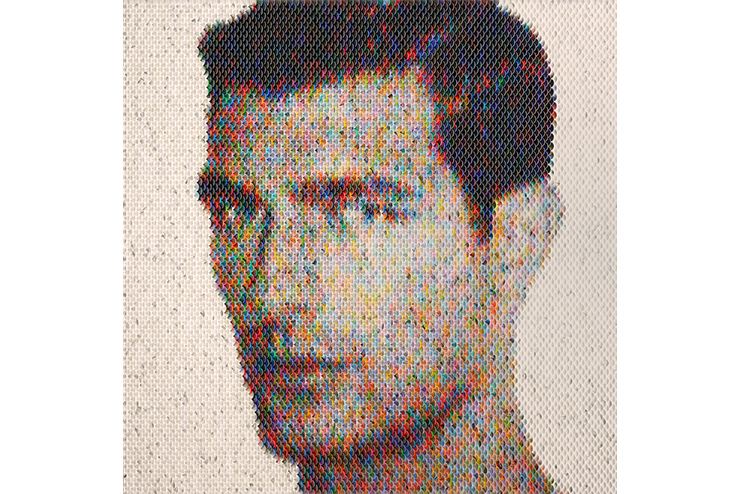 Technical Matter
There was one more thing that we found to be quite interesting, and it was the fact that all of the discs are oriented to the right. But this was easily demystified by a very simple answer - Peter Combe is right-handed: "I was commissioned to do a large piece last year in which the client wanted the discs to project in the opposite direction - due to the artwork's proposed location. This meant I had to work on the piece upside down, constantly photographing the piece and flipping the photos to view for errors. The colour sides of the chips face away from the viewer enabling a subtle trick of the eye. The effect caused through the reversal of the chips prompts the viewer to discover the artwork. Light plays an important role, the reflected colour fills each channel with colored light. When lit well, I've often been asked if there are tiny LED's imbedded within the work. Walking by the work, colors appear and disappear. There is a kinetic element to the art, though it is the movement of the viewer that creates the optical effect."
And in case you were wondering what happens to the remaining parts of the samples - they get tossed. "Space is at a premium in San Francisco."