Considered one of the most renowned living figurative painters, Peter Doig creates distinctive work focusing on both landscapes and figures. He draws his inspiration from movie scenes, record album covers, newspaper clipping, works of artists such as Edward Munch, H.C. Westermann and Gustav Klimt, but he is also influenced by his childhood memories of snowy Canada. Combining art historical and personal references into distinctive compositions, the work by this Scottish painter provides an insight into his personal history and political ethos. He bases his works on found and his own photographs, but he is not a photorealistic painter. Explaining his process, he stated: "I'm not trying to make paintings look like photos, I want to make paintings using photos as a reference, the way painters did when photography was first invented." [1] He referred to his use of photographs and postcards as painting "by proxy". These photo-album memories that he captures seem to flit in and out of a waking dream. Despite being eclectic, his paintings function as a part of the whole. His work is characterized by unusual color combinations and the depiction of scenes from unexpected angles, creating a magic-realistic feel. This magic realism that streams through his work captures timeless moments of perfect tranquility contrasting uneasy oneiric elements. Art critic Jonathan Jones said about him: "Amid all the nonsense, impostors, rhetorical bullshit, and sheer trash that pass for art in the 21st century, Doig is a jewel of genuine imagination, sincere work, and humble creativity." [2]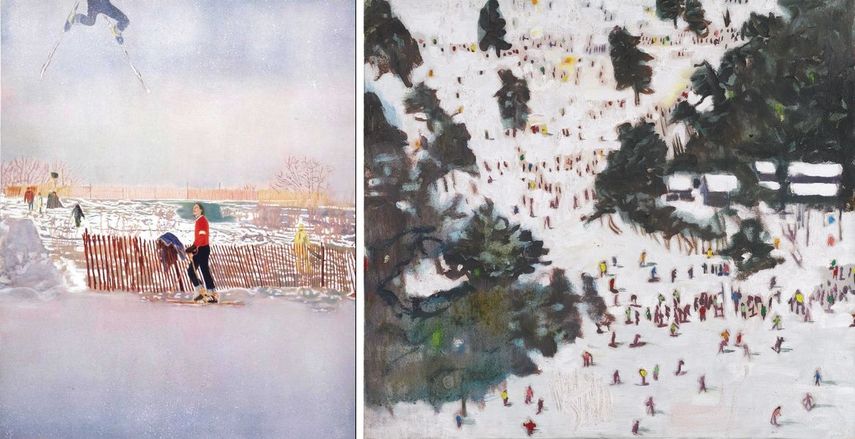 The Metamodernism
Works of this Scottish-born artist is known for presenting ethereal sequences often with ghostly-like subjects. His work captures various different scenes of contemporary existence such as forest walks, ski trips or canoe rides. The canoe motif is a recurring one in his work and it refers to his memories of Canada where a canoe is a freight symbol. The work Canoe-Lake from 1997 captures the silence of a drifting canoe on a lake and warmth of late-summer air. Another piece that shows the influence of the Canadian landscape is County Rock from 1999 depicting a tunnel with a painted rainbow, a familiar landmark in Toronto. One of his best-known series is one of paintings of Le Corbusier's modernist communal living apartments in France known as l'Unité d'Habitation located at Briey-en-Forêt. In these paintings, the modern urban structure is obscured by the forest that surrounds it. As the artist explained himself, "when you walk through an urban environment, you take the strangeness of the architecture for granted." The work of Peter Doig is often associated with Metamodernism, a new epoch in art that marks an oscilliation between modernism and post-modernism. It is defined by naivety, pragmatic idealism and moderate fanaticism.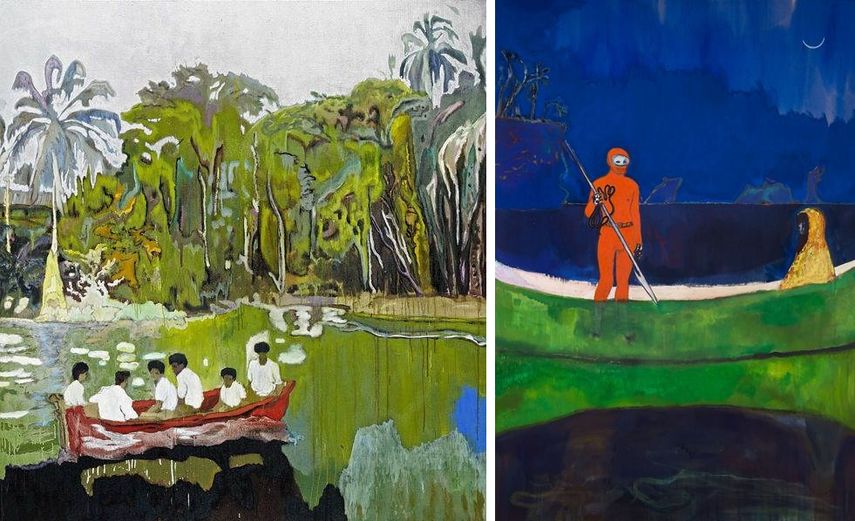 A Bizzare Trial
Recently, Peter Doig has been a subject of an extremely bizarre lawsuit that was followed by a film-like and even more bizarre trial. Former Canadian prison official Robert Fletcher claimed that he had bought a certain painting from the artist forty years ago. He insisted that the painting was bought from Doig for $100 in 1976 when the artist was serving a sentence for LSD possession at Thunder Bay Correctional Centre in Ontario, where Fletcher worked at the time. Yet, the painting was signed "Pete Doige 76".[3] After Fletcher tried to sell the work, Doig disavowed of it claiming he had never painted it. Fletcher and the art dealer filed a lawsuit against him for interfering with the sales and plummeting the painting's worth. What followed was a weird trial where artist's claims and former whereabouts were put to question. Doig claimed he had never been in prison and that he had been attending high school in Ontario at the time, but Fletcher insisted that the records of the prison sentence were erased not to jeopardize the artist's career. Additionally, the artist stated the signature was not his, that he hasn't been painting on canvas at the time and that he has never painted a single painting in acrylic, as this one was. After an agonizing cross-examining, this week, the judge ruled that it was a case of mistaken identity.[4] There was a certain Peter Edward Doige who has spent time at Thunder Bay during the 1970s who have died in 2012, and his sister confirmed it was in fact the work of her late brother. This was certainly a quite unique and bizarre case, as this was the first time that the living artist had to fight such accusations, as it is widely accepted that their word concerning the authenticity of a work is final. The justice finally prevailed for Peter Doig, and he certainly deserves the title of our artist of the week.
The painting by Peter Doige and NOT Peter Doig, as ruled by the court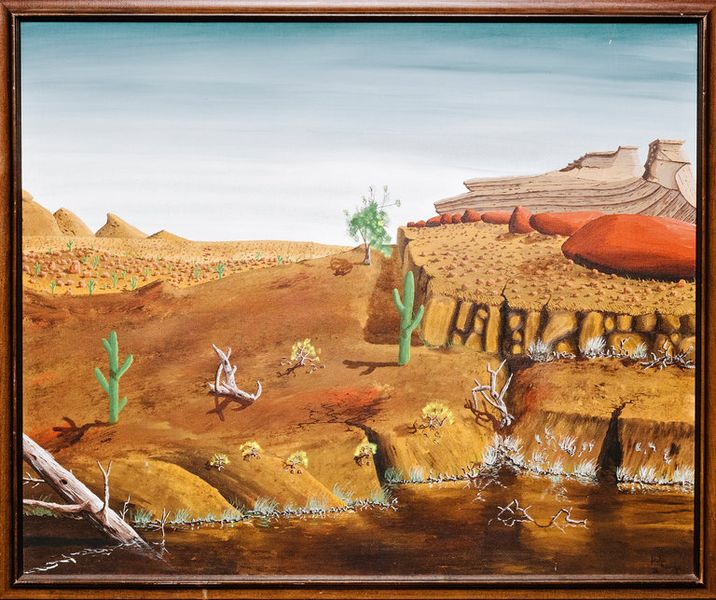 Sources:
Featured images: Peter Doig, via peterdoig.mbam.qc.ca; Peter Doig - 100 Years Ago, 2001, via peterdoig.mbam.qc.ca; Peter Doig - Grande Riviere, 2001-02,  via peterdoig.mbam.qc.ca. All images for illustrative purposes only.