Peter Halley has developed a distinctive aesthetic language that includes only three basic geometric forms. He refers to the forms as prisons, conduits, and cells. The prisons contain lines that are meant to indicate barred windows; the cells are monochromatic squares usually made of Roll-a-Tex (paint enhanced with a textured additive); and the conduits are the linear forms that connect the prisons and cells.
We recently had the rare opportunity to interview Peter Halley on the occasion of the debut of a new series of works at MARUANI MERCIER in Brussels. As expected, Halley generously gave honest answers while addressing issues such as abstraction, suburbia, masculinity, and the relevance of contemporary art to people who are disenfranchized.
Some of the ideas Halley shared seem cynical to me, such as the notion that contemporary art does not relate to humans who are incarcerated. Others seem right on point, such as the observation that much of contemporary society is "imprisoned within a digital carceral."
Overall, we are just so grateful to Halley for his forthrightness and clarity. This kind of honesty is rare in the art field, and we are thrilled to share this conversation with you now.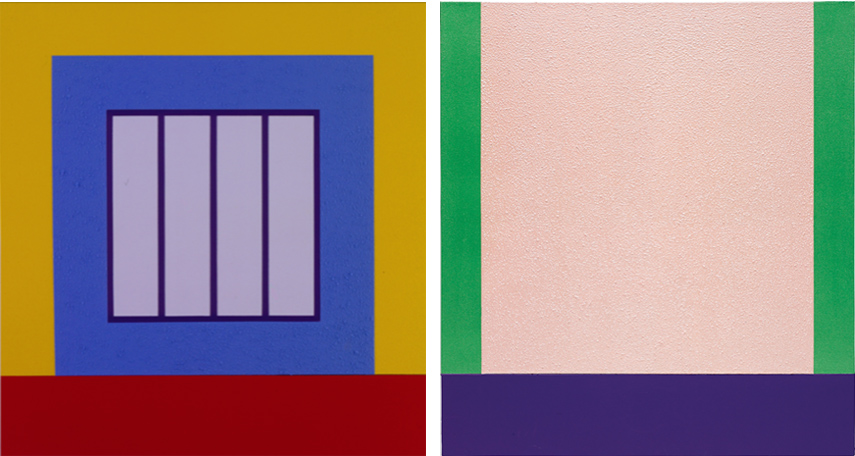 Peter Halley's Prisons, Conduits, and Cells
Phillip Barcio for IdeelArt: You have said that prisons are your main subject, meaning that the geometric shapes in the work are diagrammatic images of confinement. Have you ever served time in prison yourself?
Peter Halley: Well, I did spend one night in jail in North Carolina for public drunkenness.
IA: Do you intend for viewers of your work to think about actual prison life? Or do you intend for this reference to be allegorical; like a philosophical exercise?
PH: Allegory is also a means of presenting realities. I'm thinking about places and situations that are decided for you — things you can't escape. I believe that we are imprisoned within a digital carceral.
IA: You describe the lines connecting the prisons and cells in your paintings as "conduits," like electric and internet service lines — which offer transcendent possibilities to the inhabitants of the prisons and cells. In the paintings in your recent show at MARUANI MERCIER in Brussels, each prison does not connect to every other prison. The connections are limited. What is your thinking behind this?
PH: The connections between the prisons and conduits don't solely address technology. The prisons are also stand-ins for people. Sometimes there is connection, and sometimes there simply isn't. Digital communication — despite all of the possibilities it presents — is not synonymous with meaningful contact.
IA: You have previously discussed the lack of existential awareness you perceive in American culture. Ironically, existential awareness is quite present in the American prison population. Does your work thus only speak to people who are physically free, but who imprison their own minds? How could it also be relevant to someone who is actually living their life behind prison bars?
PH: It isn't. Contemporary art fundamentally addresses the globalist elite. It's a misconception that contemporary art has — or should have — some universal power of communication. In reality, its visual lexicon is arcane and intentionally opaque. Its ownership is reserved for the very wealthy. The entire institution of contemporary art is irrelevant to the disenfranchised.
IA: When I look at your work, I am not sure if I am inside a cell looking out, or outside the cells looking in. Are you inside or outside when you paint the cell windows?
PH: Well, my paintings usually have a clear figure-ground relationship — the background is always a flat colored plane, and the prisons and cells are discrete units with a distinct texture. Based on the way I've constructed these paintings, the space only makes sense from the outside looking in.
IA: The textured paint you use—Roll-a-Tex—is familiar to me from living in cheap apartments. Landlords use this paint to cover flaws on poorly constructed walls and ceilings. Did you ever live with this paint in your home? If so, what was your emotional response to it?
PH: When I moved to New Orleans in the 1970s, many of my friends lived in the suburbs, where Roll-a-Tex was ubiquitous. I was a city kid, so the Sun Belt 'burbs felt like a prefab Martian colony — modular and freakishly clean. Roll-a-Tex looked to me like a textural signifier of American sprawl. It has the un-artistic power of being absolutely ordinary.
IA: The colors in your work function on multiple levels; I sometimes visualize someone living inside of your prisons or cells. I wonder who, for example, might have a yellow light on, versus a blue light, or a pink light. This induces anxiety, imagining various moods on display. Do you intentionally mobilize color in this way, or is it intended as more of an abstract element?
PH: The prisons and cells pictorialize a critique of masculinity — rigid, inhibited, walled off — "square" in every sense of the word. I began using Day-Glo color as a sort of joke with myself. It really felt like slapstick, this put-down of elegant abstraction. Yes, I am thinking that each prison and cell radiates a certain light.
IA: You once said, "The story behind my work is that I believe that people have become more and more physically isolated, and more and more dependent on electronic communication to connect." Why address that story while talking about your work? Why infiltrate the minds of your viewers? Do you specifically not want people to explore the purely abstract aspects of the work? Do you hope to counteract the phenomenon of social isolation?
PH: I'm talking about this phenomenon because I believe that my paintings describe how this space is organized. Honestly, to me, there is no such thing as pure abstraction. To my way of thinking, every form has multiple referents. The language of my paintings is derived from twentieth-century abstraction because I think that it also had referents in the industrial landscape.
Peter Halley: New Paintings is on view at MARUANI MERCIER in Brussels through 27 October 2018.
Written by Phillip Barcio from IdeelArt, in partnership with Widewalls.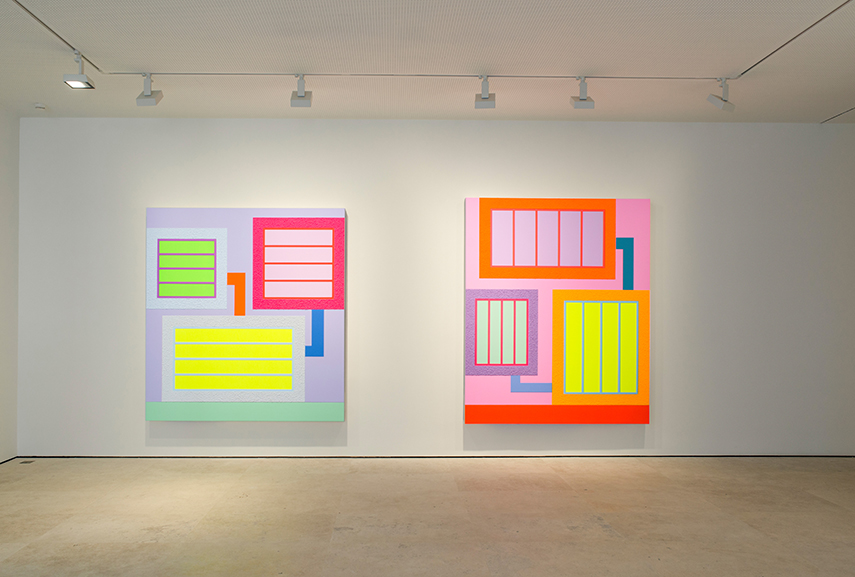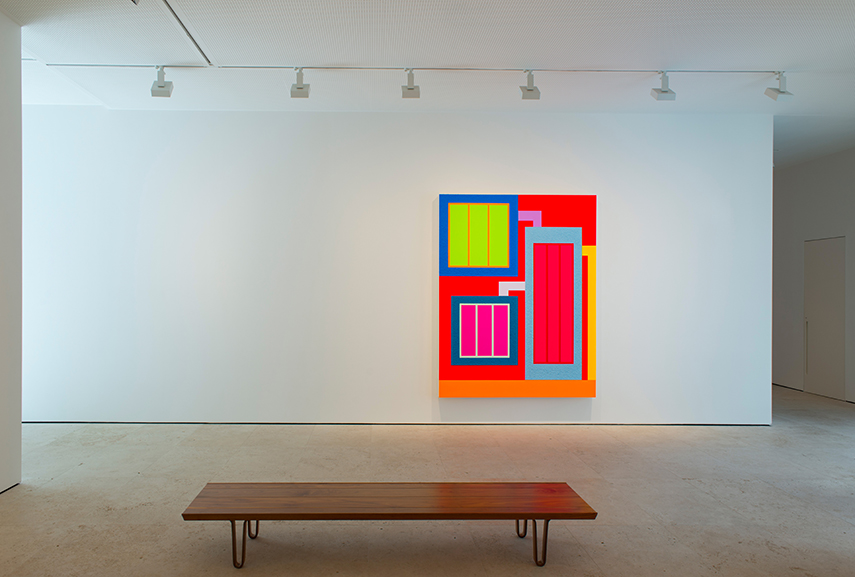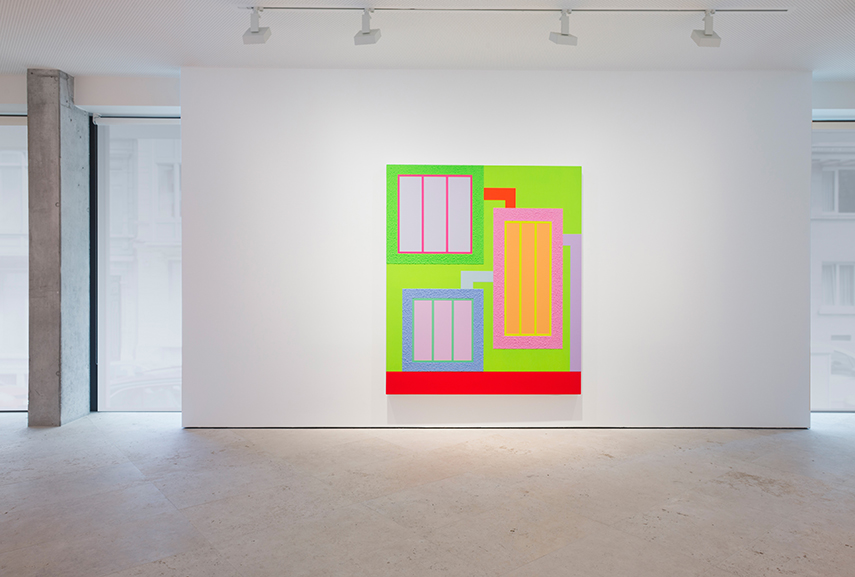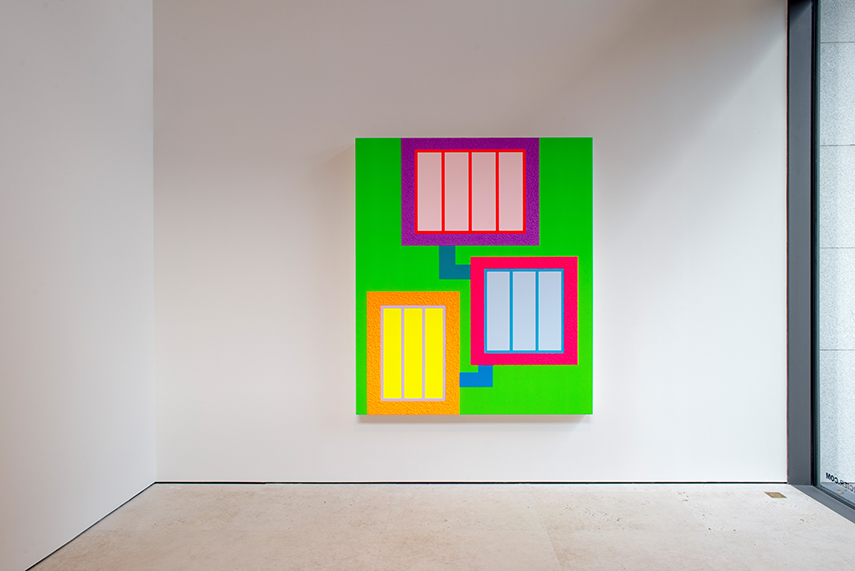 All images courtesy MARUANI MERCIER.