The influence of Peter Saul pervades recent art. Long before "Bad Painting" became a central concern of contemporary art, he deliberately offended the good taste. Beginning in the 1950s, the acclaimed American artist addressed a variety of complex political and social issues through his distinctive visual language that blended Pop Art, Surrealism, Abstract Expressionism, Chicago Imagism, San Francisco Funk, and cartoon culture. His practice is mainly informed by the interest in the banal, the consumer society and the cheerful picture worlds of comics in bright, appealing colors. In cooperation with SCHIRN Kunsthalle Frankfurt, a comprehensive overview of his work will soon be presented at Deichtor Hallen. The retrospective will feature some sixty works by this hitherto little-noticed "artists' artist", including groundbreaking series such as his Ice Box Paintings, his comics narratives and Vietnam paintings from the 1950s and 1960s, as well as never-before-exhibited drawings and selected late works from the 1980s to the 2000s.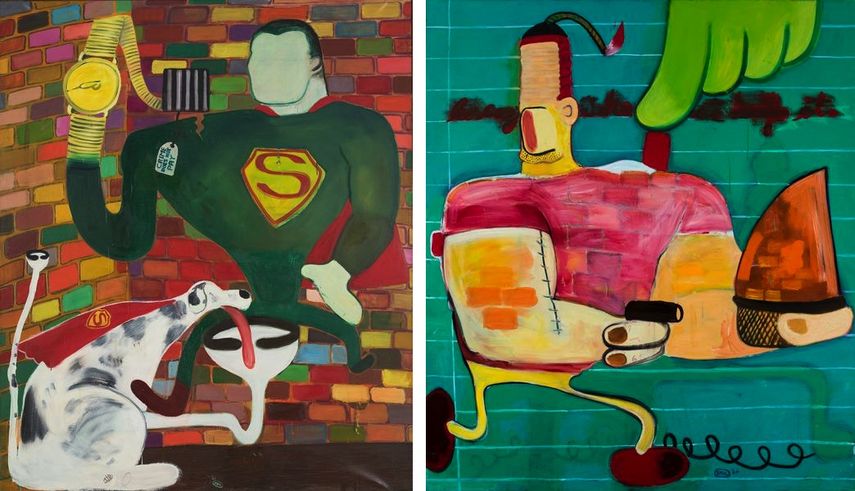 Peter Saul - An Artists' Artist
An artist whose work possesses strange brilliance, Peter Saul is known for his luridly colored, contrarian depictions of popular culture and political history. Distancing himself from major artistic schools, he developed an oeuvre that is extremely idiosyncratic. Despite changing artistic fashions, he has been consistent with his style for more than fifty years. Combining exuberant humor and playful but harsh criticism of the system, he created almost irate kind of painting that depicts the darker sides of the American dream. His works are characterized by the distinct use of jokes, slapstick, puns, comedy, satire, and often crude humor in his caricature-like attacks on American high culture. These pieces tell stories, tend toward exaggeration, and resist unambiguous interpretation.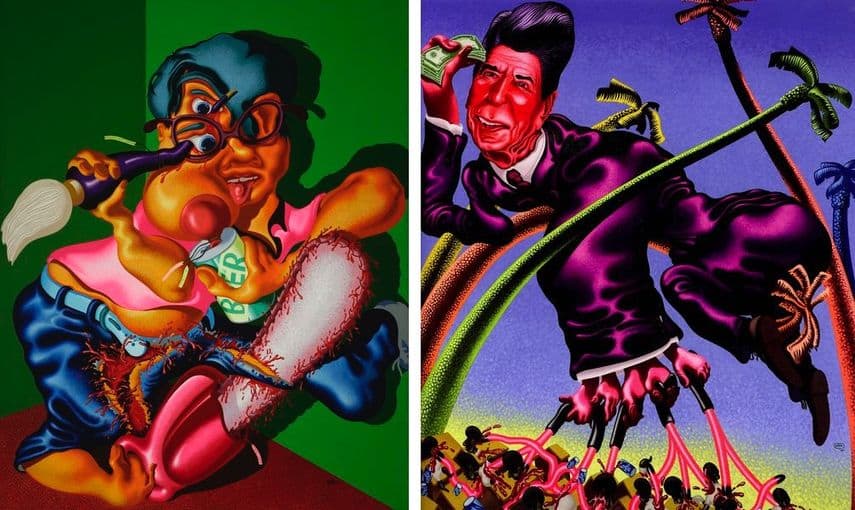 The Provocateur
Dissatisfied with the values of American culture, Peter Saul began to include in his expressionist paintings, references to consumerism, violence, politics and sexuality. Pop in subject matter, his acclaimed Ice Box Paintings represent compendiums of aggressive consumer madness including exploding produce and crazed head-less figures. In his over fifty-year-long career, Saul has depicted some of the most pressing issues of society in a manner that destroys pretentions, exposes artificiality, and heightens awareness. With his Vietnam paintings, he offered viewers a feverish candy-colored vision of the Vietnam War. Though these works had no clear moral message or political agenda, they were evidently anti-Vietnam War. Using childlike marks and clashing colors, his works are meant to both disturb and engage the viewer. Now 74, the irrepressible artist continues his cheerfully acerbic, riotously goofy ways.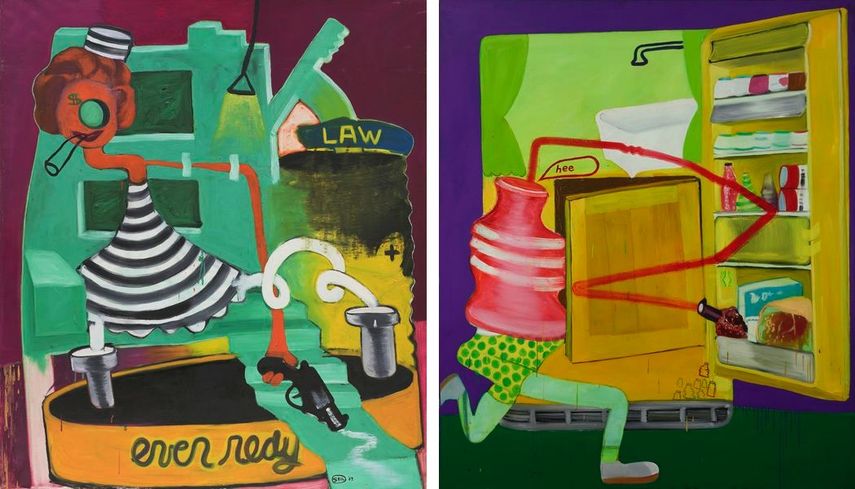 Peter Saul Retrospective at Deichtor Hallen
The Peter Saul retrospective will be on view at Deichtor Hallen in Hamburg from September 30th, 2017 until January 28th, 2018. The opening reception will be held on Saturday, September 30th between 12 and 5 p.m. The audience will be welcomed by Dirk Luckow, Director of the Deichtorhallen Hamburg, and Martina Weinhart, Curator of the Schirn Kunsthalle Frankfurt, at 12:30 p.m. The show will be accompanied by a catalog edited by Martina Weinhart with the preface written by Phillip Demandt and Dirk Luckow, essays by Matina Weinhart and Richard Shiff, and an interview with the artist.
The exhibition by Peter Saul will also be complemented by selected works from the Falckenberg Collection, which include among others John Baldessari, Werner Büttner, André Butzer, Erró, Philip Guston, Mike Kelley, Martin Kippenberger, Paul McCarthy, John Miller, Manuel Ocampo, Albert Oehlen, Joyce Pensato, Raymond Pettibon, Richard Prince, Daniel Richter and Philippe Vandenberg.
Featured images: Peter Saul, Ronald Regan in Grenada (detail), 1984. Acrylic on canvas © Peter Saul. Hall Collection. Courtesy of Hall Art Foundation Photo: Jeffrey Nintzel; I Am Not, 1999. Acrylic on Paper © Peter Saul; I'm Wrong/So What, 2000. Acrylic on canvas © Peter Saul; Untitled, 1960. Caran d'Ache and Collage on Paper © Peter Saul; Sickroom, 1964. Oil on canvas © Peter Saul; San Quentin # 1 (Angela Davis at San Quentin), 1971. Oil on canvas © Peter Saul; Rich Dog, 1963. Oil on canvas © Peter Saul. Hall Collection. Courtesy of Hall Art Foundation. Photo: Jeffrey Nintzel; Bush at Abu Ghraib, 2006. Acrylic on canvas © Peter Saul. Hall Collection. Courtesy of Hall Art Foundation Photo: Jeffrey Nintzel; Peter Saul in His Studio in Mill Valley California, 1973 S/W Fotografie © Peter Saul. All images courtesy of Deichtor Hallen.