Sometimes it is very difficult to link an artist with a specific school or art movement. That is precisely the case with the famous American artist Peter Saul. Although he is recognized as one of the fathers of the Pop Art movement for the use of pop culture cartoon references in the late 1950s and early 1960s, the work by Peter Saul has significantly evolved and transformed since this period. However, his colorful and a bit surrealistic paintings are still very popular among galleries, collectors and art lovers. His latest works will be shown at David Kordansky Gallery in Los Angeles, in a show entitled Some Crazy Pictures.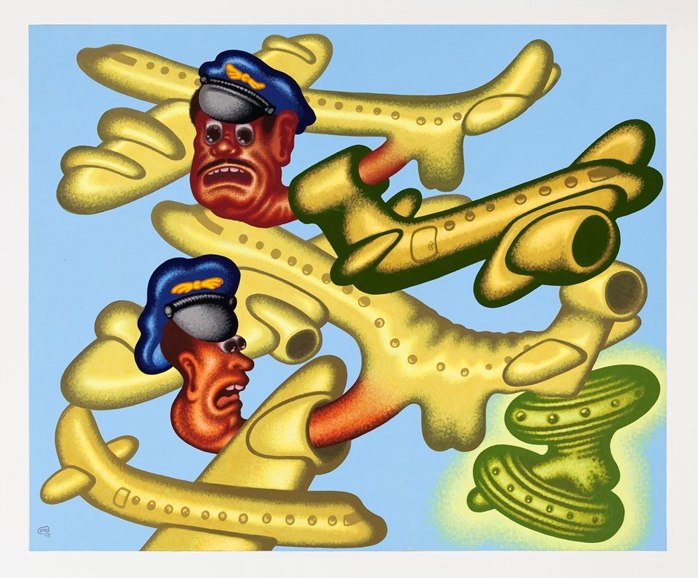 The Art of Peter Saul
For some half a century, Peter Saul has been creating some of the most recognizable bodies of work in contemporary American painting. If we tried to classify his amazing work in some of the countless "-isms" that describe different contemporary art movements, then we would be on the wrong track. The art of Peter Saul is extraordinary precisely because of its features that transcendent the strict divisions between different approaches and schools. In his pictures formal experimentation is never far removed from social commentary, and the broad scope of history painting is bound up with emotional responses to the specific day-to-day realities of being an artist. Therefore, Saul's paintings, and art in general, are more a reflection of contemporary societal dynamics than pure affiliation with a single movement that dominates a certain period of time. As the artist himself says, he is always trying to do something new, to create something "alive", a process that can be described as modernization of his art itself. However, we may say that Peter Saul uses elements of Pop Art, Surrealism, Abstract Expressionism, Chicago Imagism, San Francisco Funk and cartoon culture. Mixing different approaches and styles, Saul's final artwork is aesthetically very powerful, usually characterized by colorful and (at first sight) cheerful compositions. Yet, his work touches very serious issues, such as political and social issues (check out our top 10 favorite politically charged art expressions from 2014), satirical overview of power and money, violent conflations of popular and art historical imagery. All of these motifs can be seen in his latest works as well, that will be exhibited at David Kordansky Gallery in Los Angeles.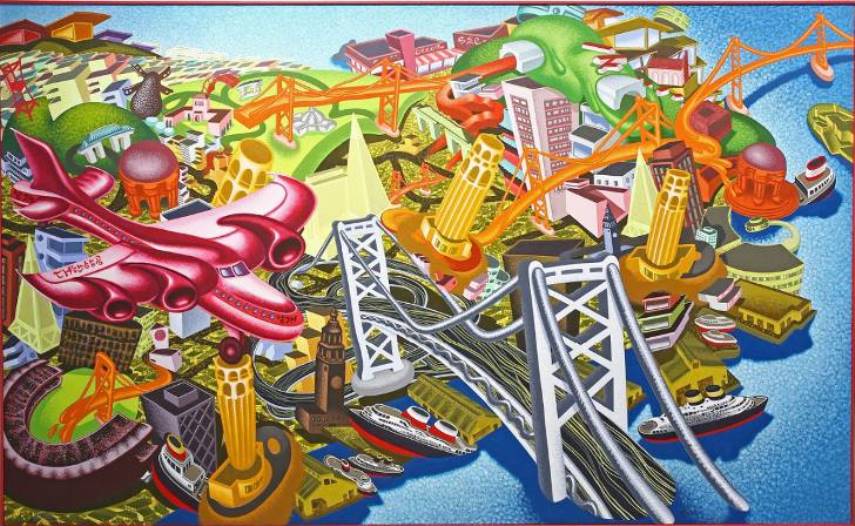 Peter Saul at David Kordansky Gallery
The Peter Saul's show at David Kordansky Gallery is entitled Some Crazy Pictures. It comprises a group of new and recent paintings completed over the last few years. These works take on a characteristically wide range of subjects. Extreme distortions of the human (and animal) figure are found throughout, as are the insouciant humor and reckless disregard for good taste that have fueled his work for decades, and that prompted early associations between Saul's paintings and the work of the Chicago Imagists and Bay Area Funk artists. And in all of these works, Peter Saul continues with his cartoonish exaggeration, with figures represented in a liquid-like surreal shape (you can also check out works by Mr. and KAWS).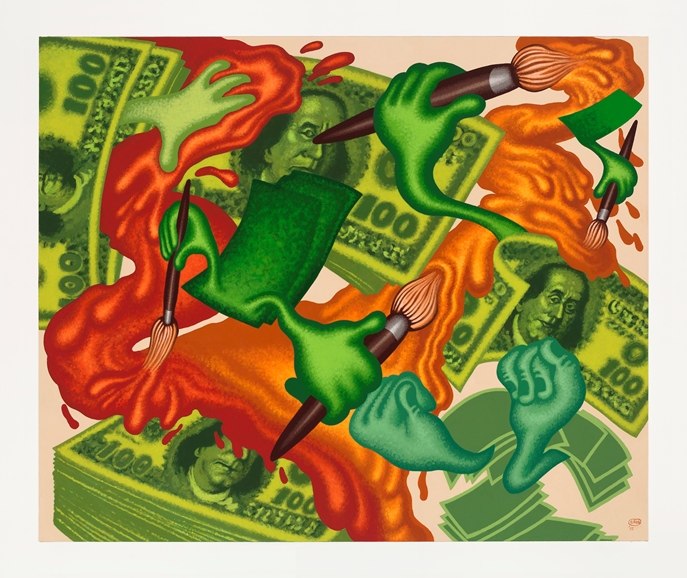 David Kordansky Gallery Presents: Some Crazy Pictures by Peter Saul
Some Crazy Pictures is Peter Saul's first solo show at David Kordansky Gallery. Although it will certainly attract fans of Pop Art, the exhibition is truly a must-see event for all art lovers, since Saul's work is far more complex, both in terms of style and subject matters. The exhibition of works by Peter Saul will be on view from May 2nd until June 20th at David Kordansky Gallery in Los Angeles. An opening reception will be held on May 2nd from 6pm until 8pm.
Sign up for My Widewalls, and be informed about upcoming exhibitions!
Featured Image: Peter Saul - Art and Monkey (detail), 2015. acrylic on canvas
Images courtesy of David Kordansky Gallery (except those used for illustrative purposes only).