A Kosovo-born artist living and working in-between Germany, Kosovo and Italy, Petrit Halilaj creates work connected with the recent history of his country and the consequences of the political and cultural tensions in the region. Although he confronts collective memory, his work often draws from his personal experience, reflecting on memory, freedom, cultural identity and life discoveries.
His first solo exhibition in Spain is currently on view in Palacio de Cristal, organized by the Museo Reina Sofía as their inaugural show since its closure in response to the COVID-19 pandemic. Titled To a raven and the hurricanes which bring back smells of humans in love from unknown places, the exhibition brings together works that topics such as home, nation, love and cultural identity.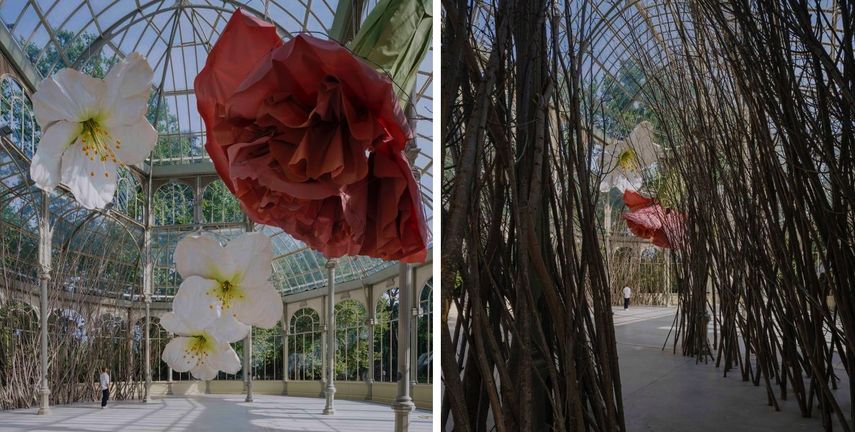 Turning Palacio de Cristal Into a Nest
Through a range of installations, Petrit Halilaj transformed the Palacio de Cristal into a giant nest. Opening windows, installing structures and setting up feeding areas, the artist seeks to attract the birds, which in his practice symbolize the transgression of the limits established by modern thought between subject and object, culture and nature.
Inspired by the extraordinary courtship ritual of bowerbirds, Halilaj installed large flowers to decorate the nest, made of delicate steel framework and painted canvas created in collaboration with his life partner Álvaro Urbano. Comprised of forsythia, palm seeds, cherry blossom, poppy, carnation, and lily, the choice of flowers is meant to reflect their personal history that binds them together. Brought to the public light in this way, their intimacy acquires an evident social and political dimension, calling for visibility and acceptance. The title itself speaks to us of the struggle that precedes acceptance.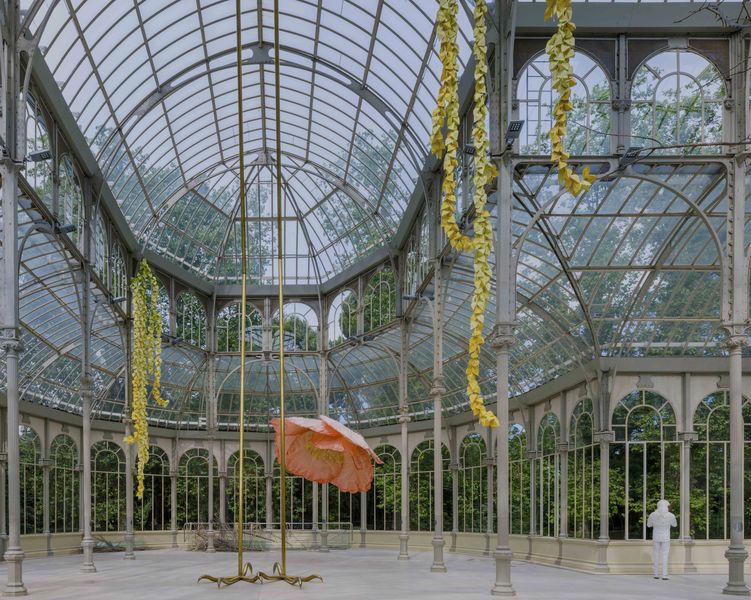 Combining The Personal and The Political
Through this exhibition, Petrit Halilaj formulates tensions and crosses the limits between public displays considered acceptable or worthy of attention and those which on the other hand are censured or scorned.
The white raven holding a piece of wood in History of a Hug alludes to a particular moment in Halilaj's family history, but also suggests diversity and resistance to change in the bid for acceptance.
The artist devised a space that is a continuation of its environment, its visitors, and their activities, creating the relationship of interdependence. Making the nest disproportionate, the artist sought to suspend the logocentric perspective that makes us believe we are the center and measure of all things.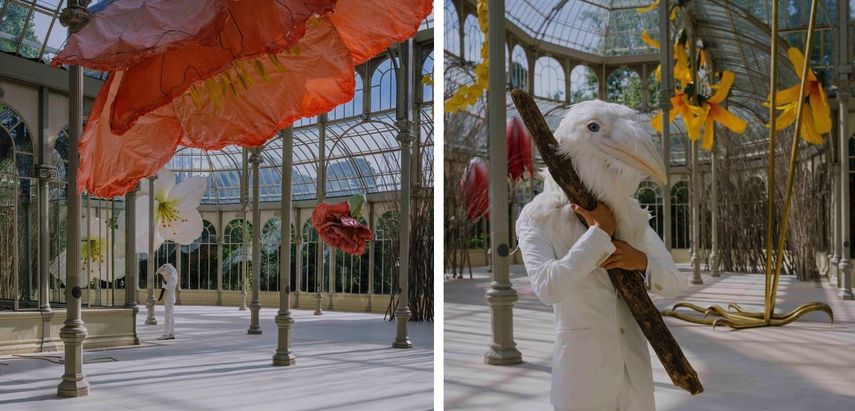 Petrit Halilaj Installation at Palacio de Cristal
In this time of crisis that laid bare the weakness of the economic system our world rests upon and the unsustainability of unlimited growth with our backs turned to nature, this exhibition offers a refuge and so raises hope for a possible future different to the one apparently awaiting us.
The exhibition To a raven and hurricanes that from unknown places bring back smells of humans in love will be on view at Palacio de Cristal, Parque del Retiro in Madrid until February 28th, 2021.
Featured image: Detail of the exhibition Petrit Halilaj. To a raven and hurricanes that from unknown places bring back smells of humans in love. Palacio de Cristal, 2020. Museo Nacional Centro de Arte Reina Sofia. Photo credit: ImagenSubliminal (Miguel de Guzman and Rocio Romero). All images courtesy Museo Reina Sofia.