We saw quite amazing exhibitions at Thavibu Gallery in the last couple of months. This great Bangkok-based art space organized the exhibition of Ralph Kiggell, entitled Sacred Shapes (during the summer), and an exhibition of works by Thai contemporary artist Jirapat Tatsanasomboon, entitled Disparity. For the last weeks of this year, Thavibu Gallery is presenting the work by amazing Vietnamese artist Pham An Hai. This is not the first time Thavibu Gallery is presenting a Vietnamese artist – during spring season, we could enjoy the beautiful art of Bui Thanh Tam, during the exhibition entitled There Is No Box. But, on this occasion, the gallery will showcase amazing works by Pham An Hai, in the show entitled Changing Seasons.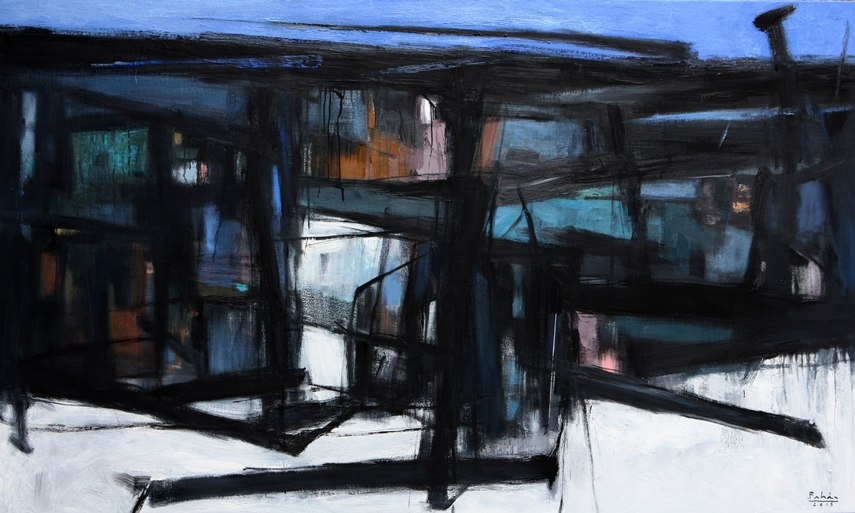 Pham An Hai – Between Figurative Art and Abstraction
Pham An Hai was born in 1967 in Hanoi and graduated from the Hanoi Institute of Fine Art in 1995 and received his Master of Art in 2006. Pham An Hai is one of Southeast Asia's foremost painters of abstractions. Since 1992, he has had works presented in group shows in Melbourne, Hong Kong, Singapore, Luxembourg, Brussels, Thailand, Seattle, Tokyo, Italy, Korea and London. He has had solo exhibitions in Hanoi, Dubai and many in Thailand. His works have been included in Sotheby's auctions in Hong Kong. Pham An Hai is also an excellent painter of figurative art and started out as an artist doing expressionistic paintings and moved on towards abstraction. His oil on canvas works have developed into larger and bolder canvases over the years, layered and richly textured. The artist has works in the permanent collections of the Vietnam Fine Arts Museum and the National Gallery Petronas Malaysia.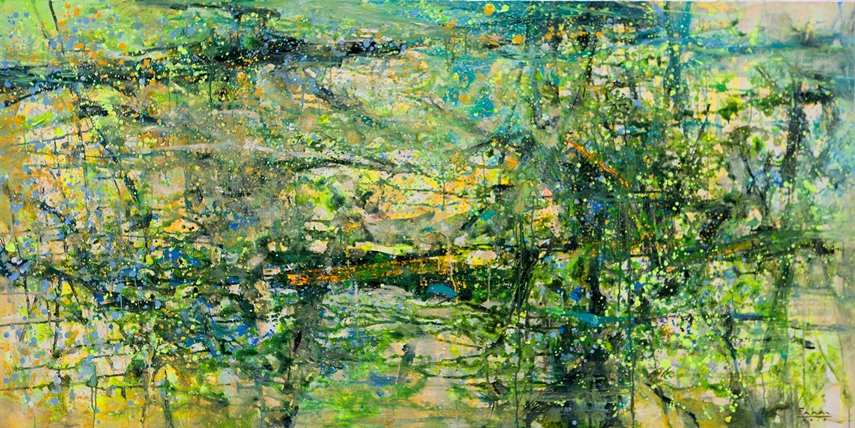 Changing Seasons
Pham An Hai's paintings are inspired by landscapes, cityscapes and nature, but he offers his own personal interpretations of these familiar themes.  In the exhibition at Thavibu Gallery, Changing Seasons, the artist focuses on the rendition of seasons, using less lines but deeper layering than in earlier works. As Pham An Hai says: I view the changing seasons as melodies always present in my mind, and I use colors – yellow, white, blue – to interpret the colors of the seasons using abstractions. A master in the use of colors, Pham An Hai describes colors as the purest form of expression, referring to them as musical notes. The choice and combination, and the intense experience of colors through their value are important features in his works. Learning to and knowing how to put them together in an understandable manner became an integral part of his artistic journey.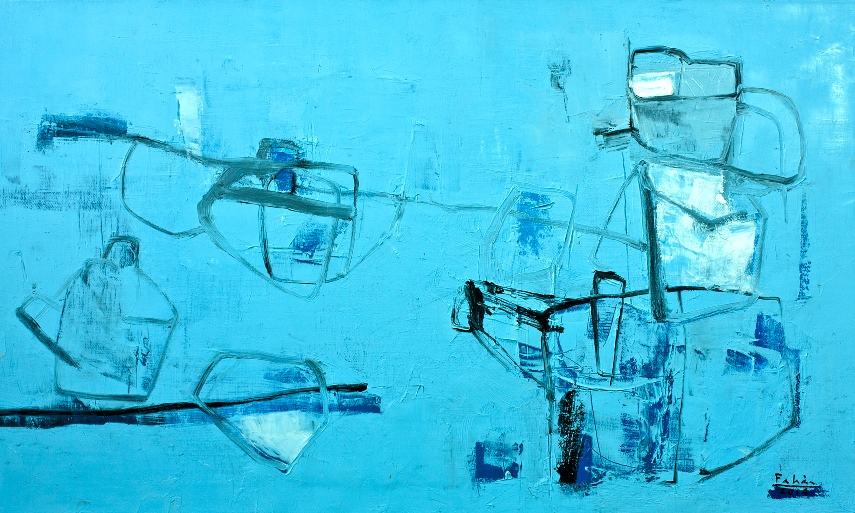 Pham An Hai at Thavibu Gallery
Thavibu Gallery is a perfect place for all true art lovers who want to enjoy amazing art. Pham An Hai's solo exhibition is an opportunity for everybody to visit this great gallery. The visitors will see the latest oil paintings by this amazing Vietnamese artist. The show entitled Changing Seasons will be on view from November 28 until December 31, 2015 at Thavibu Gallery in Bangkok. The vernissage is scheduled for November 28, at 5pm.
For more amazing exhibitions, sign up for My Widewalls! It's free of charge!
Featured Images:
Pham An Hai  - Rain on the Street, detail, Acrylic on Canvas, 2015
Pham An Hai  - Balance #2, detail, 2014
All Images courtesy of Thavibu Gallery.