Among his many endeavors, artist PHASE2 is a part of the first generation of New York City 'style writers' and a founding father and primary instigator of the basic and wildest typography styles in the subway art movement. Many of the initial components he introduced to the culture have become a staple in its format worldwide.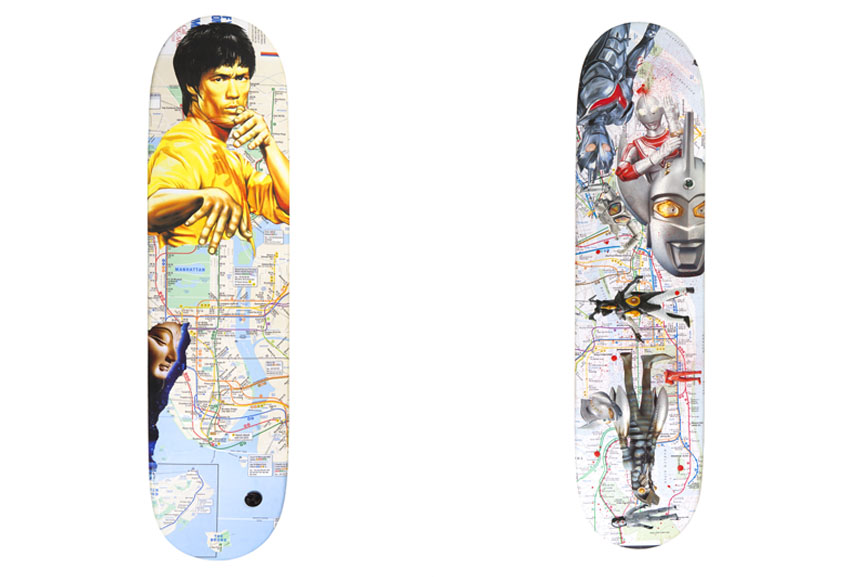 PHASE2 and the Story Boards
These are a series on of a kind hand cut collage decks. PHASE2, always telling a story with his art, has dubbed these "Story Boards" with no official title. Ultraman, Grace Jones, Recording artist the game, Jackie Chan and Bruce Lee are just few subjects of these colorful collages. Always on the edge of what is true, he created these in the summer of 2015 and exhibited them first at Shut Skateboards in New York City, located on Orchard Street in the Lower East Side of Manhattan. His first notable collage work were the fliers from the inception of what would later be called the "Hip Hop" culture. The Party Fliers PHASE2 made are now known as the first Party Fliers of the scene. Parties all over New York were advertised by his flier art, including the fliers for the actual audition and movie "Beat Street".

The Pioneer
No rookie to the game, a bit of PHASE2's past includes participating in the Europe 1/ADIDAS, which was the first sponsored Hip Hop Tour, called NYC RAP. In 1982, he was at The First Annual Hip Hop Awards. PHASE2 is among the first aerosol artists to exhibit in galleries. (1974 - Razor Gallery, Soho, New York and the Museum of Science and Industry, Chicago). Arguably, his work set the foundation for many iconic 20th century street and pop culture artists. He also introduced the B-boy world to battle (up) rocking and other styles with his crew, Electrified Movement, and was the main catalyst in assembling one of the most incredible B-boy crews ever, which he named The New York City Breakers.

The Legend
Around the globe, his exhibitions have been hosted by the Groinnger Museum in Holland, both in 1985 and 1992, Urban Mythologies at Bronx Museum in 1999, the Rock and Roll Hall of Fame's (dozen city tour) Roots: History of Hip Hop Exhibition in 1999-2002 and Art Basel 1984 as well as in 2011. From Hip Hop Fashion to iconic logos, his imprint remains and is evident in today's inner global spectrum, as he continues on an unconventional, socially conscious path in his art.