Paintings of Phil Hale have noirish atmosphere, characteristic of some gloomy, post-catastrophic, dystopian vision. Technology imagery are used in the form, both of presence and absence. Technological items that inform this iconography are contemporary and belong to always already outdated consumerist realm, namely images of BMW vehicles, and architectural pieces characteristic of nowadays cityscapes (read about cityscapes from the angle of Damien Hirst). This set a stage for biological species, both people and animals, and raises questions of the value of life and badness of death.
Sapience VS. Sentience
The abstractions in his works always give the actors the slight anatomical distortion. This also includes animals which are often the motives in his works. This way, he is trying to push the distinction between sapience and sentience slightly in favour of the posterior. He is presenting the world in which emotional turmoils and metaphysical quality of all things that requires respect and care are playing the main role, while the use of reason is just secondary.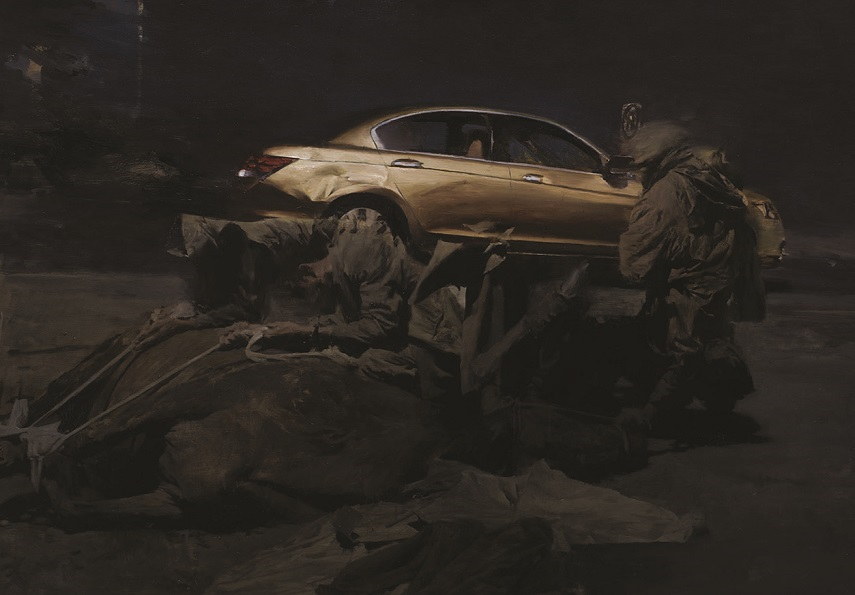 The Presentation of Time
The imagery itself is contemporary, harvested from the actual moment in time. This is a self conscious move in respect to the "now points". But this is neither "vulgar" conception of time that relies on the apparent fact that only present is existent whereas past and future are less real, if at all, and therefore of lesser ontological importance, nor is the instantiation of the idea that present moment is derived from the eternity of some Ur-values and concerns. Time should be grasped in and of itself as the unity of the three dimensions of future, past and present. This is what Heidegger calls "primordial" time and it is finite. It comes to an end in death.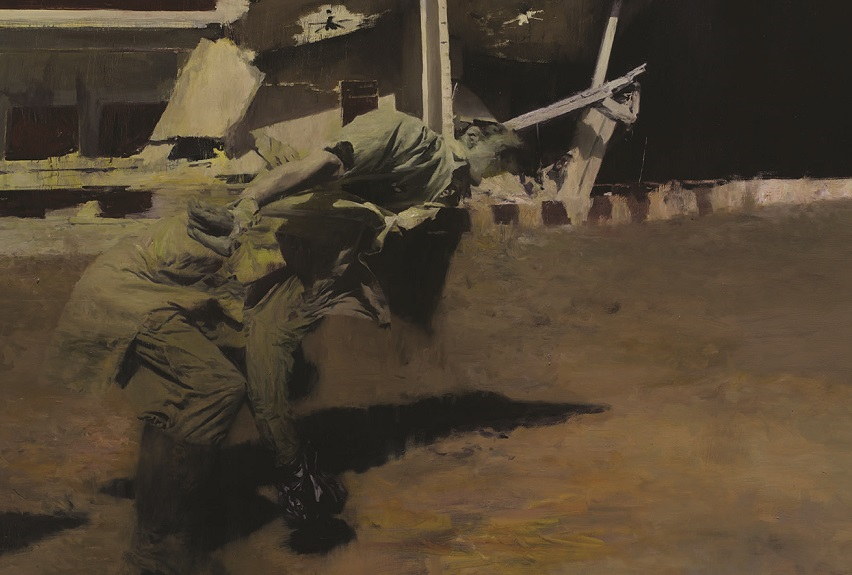 Life Wants to Live at Jonathan LeVine Gallery
All the paintings exude with the impression of war, darkness, unhappiness. It seems that he is using a dark earth color and then remove it with a brush to lighten values. Then, in the selected spots, he is laying down spare strokes of lighter values further. This technique and colours are reminding us that the instability and pain could be the dominant narratives even in the time of the absence of war and war-like events. The pick of abstraction in this figurative works is a way of saying that we have to be conscious that the vortex of tension is not always widely visible, but it is strong and influential.
Fulfilled with dark elements, both in colour and in content, the exhibition of Phil Hale at Jonathan LeVine Gallery still keeps the positive connotation with its title. Life wants to live will be open from February 21 to March 21, 2015. The opening reception will be on Saturday, February 21, from 6 to 8pm. This will be his debut solo exhibition at this New-York seated gallery.
To be informed about more upcoming exhibitions, sign up for My Widewalls today!