If you always wanted to be a pop artist, but never really had the time, talent or proper guidance, here's your chance, because Philip Colbert designed a retro video game that can turn you into a pop artist in just a few clicks. Philip Colbert : Splat a Contemporary Art Game was done for GAZELL.IO, and it allows the players to create works of art by splatting famous pop art pieces while several celebrated art figures are trying to stop them in completing the mission.
Philip Colbert : Splat a Contemporary Art Game
Splat resembles the iconic Pac-Man arcade game from the eighties, but instead of the round yellow figure the main character is Philip Colbert's recognizable lobster and main enemies - ghosts are replaced with famous artists. The lobster moves around the maze and collects his "palette" that consists of various objects such as paint buckets, pies, ice creams, eggs and tomatoes. Throughout the game the lobster is being chased by the heads of Pablo Picasso and Vincent Van Gogh. Each player gets three lives and every time the artist touches the lobster, you'll lose one life. At any time during the game you can enter a sub level through the doors on the side and use the collected objects to create your own work of art. The player throws tomatoes, eggs, pies and other parts of gathered "ammunition" at the delegated piece thus creating an artwork within an artwork through splatting pop art. And the splatting also provides additonal points.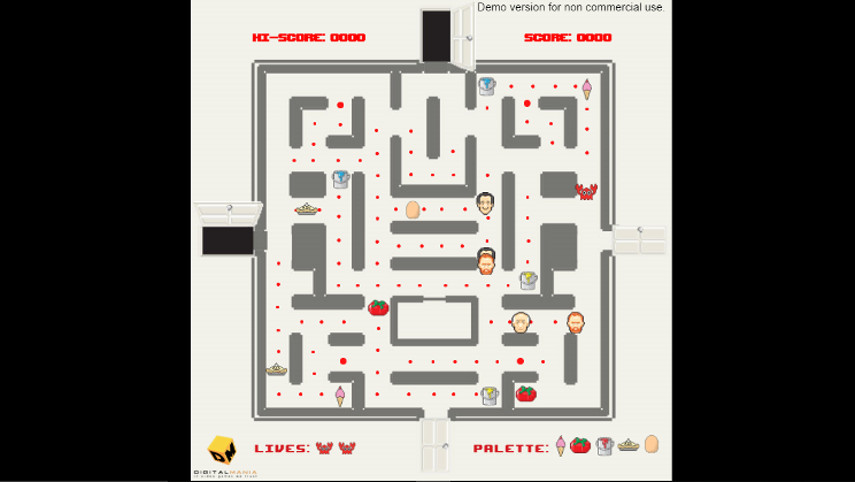 Pop Art Iconography by Philip Colbert
Pop artist and fashion designer Philip Colbert is known for his bold use of colors and abstraction in both his wearable and his fine art pieces. The celebrated British artist often uses mass culture elements and pop art references to create his unique responses to symbols associated with fine art such as cheese, eggs, pop corns and lobsters. This is the first interactive pop artwork game made by the artist who combined his love of art and video games to create Philip Guston meets Pac-Man feel. "I love the image of a pixelated tomato splatting. As it flies through the air and reaches its target, it desperately strives for abstraction but it is easily recognizable by its iconic green and red colors of the splat aftermath." - Philip Colbert stated for blouiartinfo.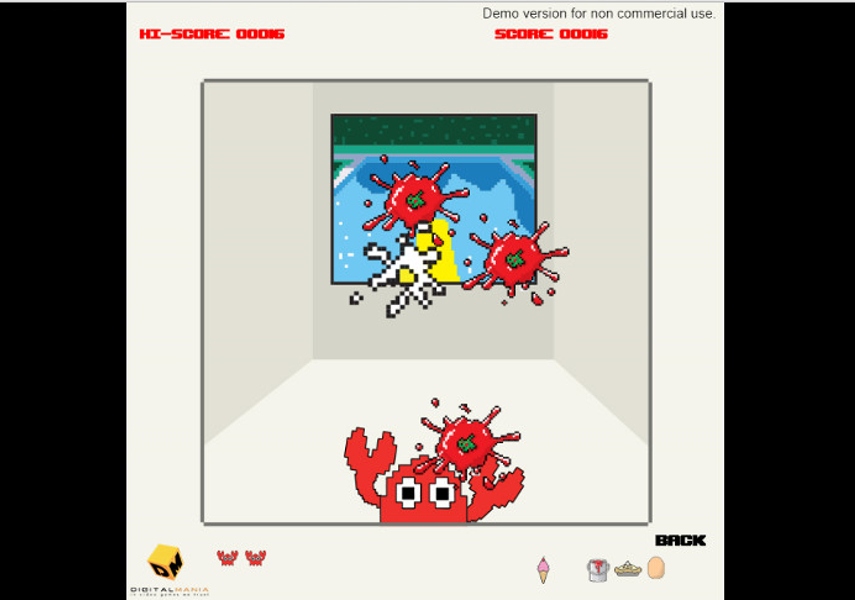 Feel Free to Splat
With fine art references and old game appeal the Splat game is ideal for both art enthusiasts and retro game players. All of us that feel a little bit nostalgic for the old classic video games such as Pac-Man and Space Invaders can relive some of our finest childhood moments with this unique pop art video game. The game is as fun as it is contagious and you can play it at GAZELL.IO, Gazelli Art House gallery's digital art website. GAZELL.IO is a new initiative that provides four-week online residency for digital artists that work in the fields of moving image, games, interactive art, software and Internet art. The aim of the project is to provide digital artists with a virtual gallery where they can code and display their original artworks. Since the goal of the project is also to allow free access for the audience, the entire content including the Splat game is free of charge. You can create as many splatted artworks as you want, so fell free to splat and don't let those old masters intimidate you and stop you in a mission of  becoming an artist, even if only in a video game.
If you can get yourself to stop playing for a moment, make sure to visit our Facebook page and share your impressions about the game
Featured Images : Splat Video Game Screenshots ; Images via GAZELL.IO unless otherwise credited ; Images for illustrative purposes only