An influential American painter, Philip Pearlstein has been known for his Modernist Realist nudes, scrutinizing the body with almost clinical objectivity since the early 1960s.
Pearlstein turns 94 in May yet he continues to work on large-scale paintings, juxtaposing the nude figure with a diverse range of objects, from crashed model airplanes and marionettes to richly patterned rugs and fabrics.
In collaboration with Betty Cuningham Gallery, Saatchi Art's SALON will present a comprehensive selection of works by this revered American artists.
Titled Philip Pearlstein: Paintings 1990-2017, the exhibition will feature eight large-scale works in oil that highlight the strategies he employs in creating a complexity in his paintings that continues to this day.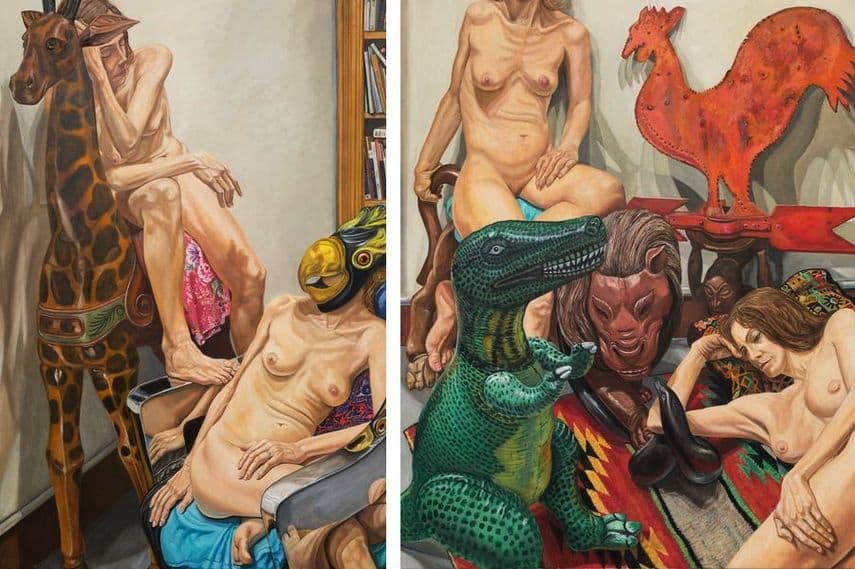 The Practice of Philip Pearlstein
One of the most important artists of the 20th century, Philip Pearlstein has pursued an independent path for more than 60 years. He worked in an abstract expressionist style in the 1950s, before shifting to realism.
"[By 1960], I decided I didn't want to express other artists' ideas any longer. I wanted to paint what was in front of me", he explained for Studio International in 2016.
The human nude has preoccupied Pearlstein ever since – as he says "it is a shape that is always changing." In the 1980s, he began to place his sitters in visually complex arrangements comprised of objects from his personal collection to further engage the viewer and challenge himself.
Understanding painting as abstract, he maintained the same approach to living human flesh as to inanimate objects.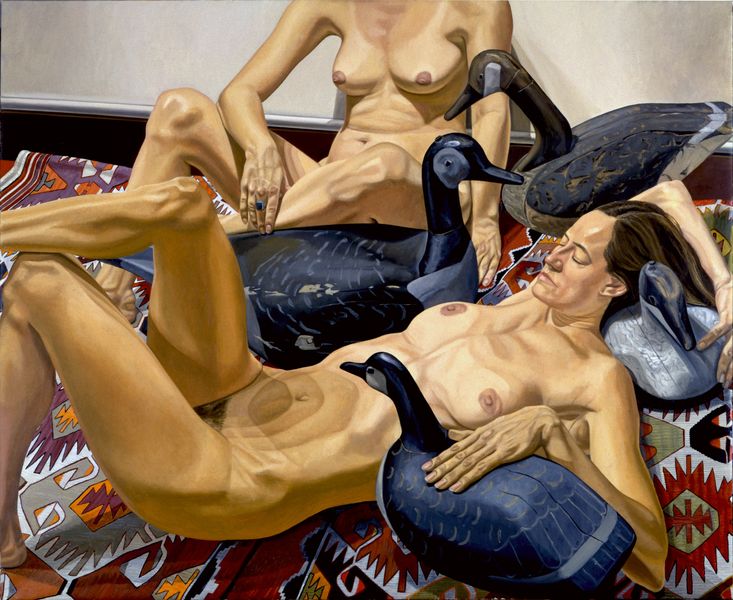 Exhibition Highlights
Masterful and powerful, at the same time emotive and introspective, each painting featured in the show transcends the conventions of portraiture.
Illustrative of Pearlstein's mature work, Models and Blimp from 1991 features two nudes surrounded with objects such as the Michelin man, decoy swan and antique weathervane - props that are not there to create meaning or narrative.
Choosing the most challenging point of view, the artist has created the unsettling effect of the skewed, oblique angles and perspectival compression.
Philippa Adams, Senior Director Saatchi Gallery describes Pearlstein's approach to the nude as unflinching, since he paints what he sees. "However, the introduction of random objects from his studio brings a sense of ambiguity", she explains.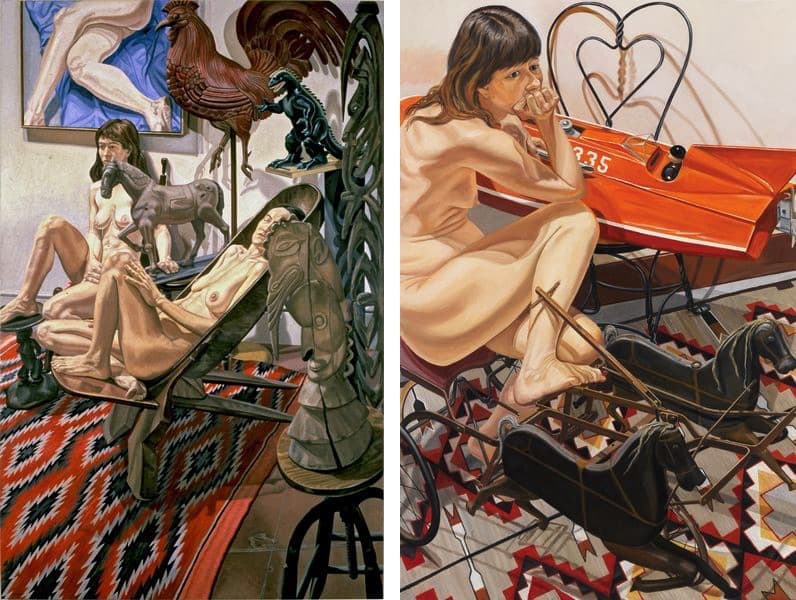 Philip Pearlstein Art Exhibition at Saatchi Gallery
The exhibition Philip Pearlstein: Paintings 1990-2017 will be on view at the Saatchi Gallery's SALON in London from January 17th until March 25th, 2018. The private view will be held on Tuesday, January 16th, from 7 to 9 p.m.
SALON is the latest Saatchi Gallery's project space created to present the work of leading international artists who have had limited exposure in the UK. It is located in its own self-contained space at the Saatchi Gallery.
Featured images: Philip Pearlstein - Two Models, Rooster Weathervane, Luna Park Lion and Blow-up Dinosaur, 2016 (detail); Two Models, Polished Steel Chair and Swan Decoy, 2016; Models and Blimp, 1991; Philip Pearlstein - Model in Japanese Robe with African Carvings, 2009.  All images © Philip Pearlstein. Courtesy Betty Cuningham Gallery.