Sheffield street artist Phlegm is someone who we're always excited to write about. His creative, fun and beautiful murals and installations are always inspiring and entertaining. Throughout the years, Phlegm has done some amazing works and had great collaborations on many projects, such as the latest one with the Royal Opera House in London's Covent Garden, during the Festival of Myth, curated by Minna Moore Ede of the National Gallery and the Royal Ballet. The idea behind the project consisted of multiple different events happening before and during the festival. For this occasion, Phlegm was invited to create large-scale illustrations of mythical creatures that are decorating the walls of the Royal Opera House from September 5th.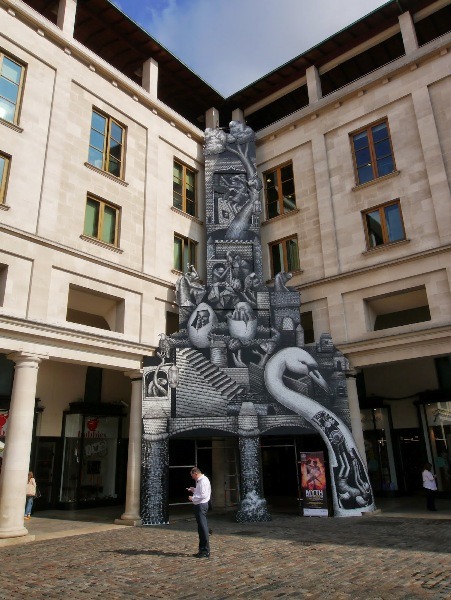 Personal Mythology
Drawing from the myths of Prometheus, Leda and the swan, as well as his own personal mythology, UK-based cartoonist, illustrator, and street artist Phlegm recently just finished an intriguing, sculptural installation. Covering the piazza entrance to the Royal Opera House, the piece is an imposing fortress filled with the artist's curious characters painted in black and white on three wooden tiers. Cut-out sections raised from the main structure add a sense of depth to the sculptural painting, further bringing the eccentric jumble of myths to life. In his own words, the work he's done is "based on a blend of my own mythology and that of Prometheus and Leda and the swan".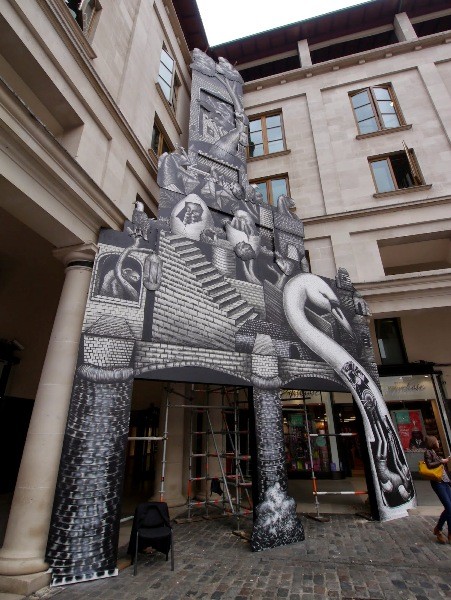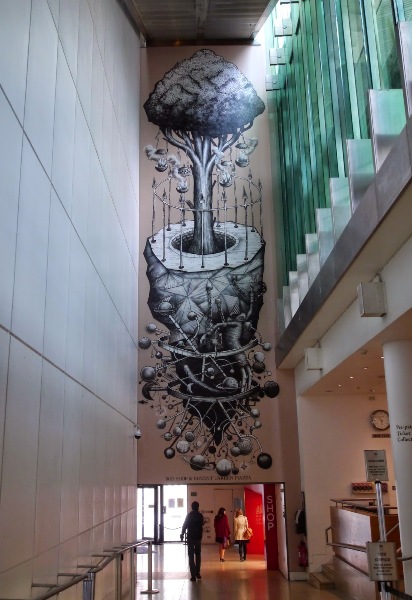 Stop by the Royal Opera House
As always, Phlegm's works have incredible details, they're done in a perfect technique and, above all, the works are eye-catching and simply amazing, proving why he is one of the most sought after artists right now. If you are in London this month, don't forget to check this fantastic piece of art because it will be on display only until the end of the Festival of Myth, September 28, 2014.