February is the month of Phlegm for Howard Griffin Gallery in London. This ephemeral street art exhibition-installation titled Bestiary is still on view, extended to March 20, 2014. The show is an impressive ephemeral display inspired by a medieval lexicon of animals. In his Bestiary, Phlegm gathered all the creatures and beings from his fantastic world and placed them inside an elaborate narrative.
In an exclusive conversation with Widewalls, Howard Griffin, the gallery owner talks about the Bestiary exhibition, Phlegm and the significance of independent artists.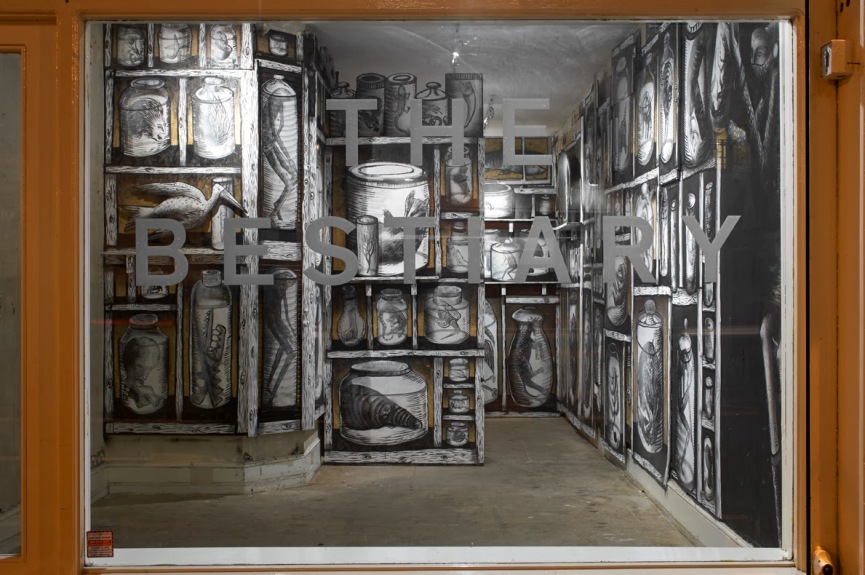 Howard Griffin Talks about Phlegm
I was interested in putting on an exhibition with Phlegm for it is artists such as Phlegm who are helping to redefine public art and art generally in 2014.  Phlegm and artists like him are no longer dependent on an elite group of institutions, academics, galleries and curators for international renown and recognition. This is because, by working outside on a grand scale, they play to a global audience and crucially not solely an elite audience, Howard Griffin says and adds -
These are the sort of artists that I am interested in representing and working with through my gallery. The Bestiary exhibition was all about taking things to the next level and pushing the boundaries of what is actually possible. Last year Phlegm did this on walls around the world. This year Phlegm has taken his work to a different setting with equal impact.  The Bestiary is a museum standard show at a gallery outside of the traditional art world albeit a commercial one.  It is a privileged position to be able to stage this sort of show with an artist of Phlegm's qualities.

Behind the Bestiary
The Bestiary installation occupies the entire space of the Howard Griffin gallery. At one part, there is a display of captured, conserved and categorized animals, but at the other one there are hunting scenes, showing struggle and entrapment. The concept is intriguing and it includes the viewer in the story, as the figures extend into the space gaining a third dimension. The whole set reminds of a theater backdrop or an ephemeral spectacle in the historical sense.
Medieval references are not a novelty in the work of Phlegm. His other street art pieces do contain numerous references to medieval illumination, while he depicts beings drawn from his own imagination. His people are alien-like with extremely long limbs and not a very friendly disposition, while all the running away animals mimic their natural form to a much greater extent.
In this wonderfully executed installation that takes us back in history of art and then reminds us of the present situation in the world, Phlegm creates a Bestiary of the future. It appears that the cave-like drawings tell the story of a man who tries to preserve nature artificially on one side, while he keeps destroying it on the other. The true depth of the environmental content of the Bestiary is open to interpretation, while the amazing talent of this street art character named Phlegm is clear as day.
When you walk into Phlegm's Bestiary you see something you have never seen before. It is like walking in to an alternate world. The experience has a strong and appreciable effect on the viewer. This is perhaps the role of any artist and by extension any gallery or museum, we conclude with the words of Mr. Griffin, hoping to see more of Phlegm and such phenomenal exhibitions at his gallery.