Among myriad of artists taking part in the continuous popularization of street art, where murals gain as much critical acclaim as studio pieces and urban scene is everyone's gallery, there is one creative who stands out with his talent, imagination and concept based on some of the most intriguing historical and artistic foundations, while it addresses the most contemporary issues. He is known as Phlegm, the scenographer of environmental utopia, whose paradigmatic man engages in common, but dark endeavors of life, pertinent to any era. His work is rich in symbolism, merging bleak tones of the middle ages, emblems of transience and the everlasting critique of ever flawed human condition.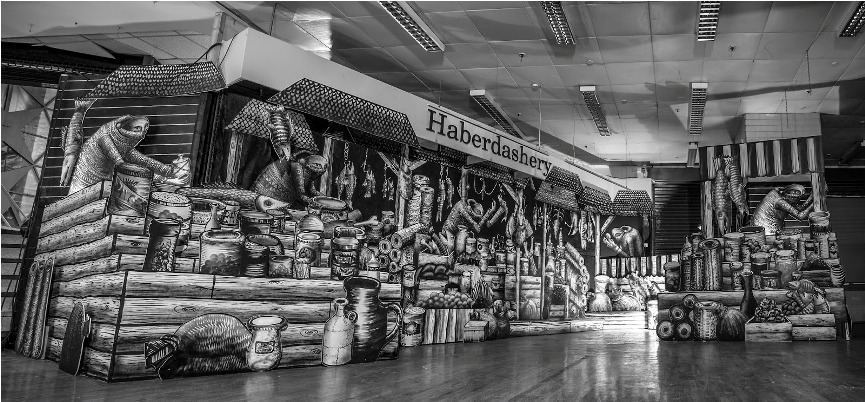 Phlegm is not phlegmatic at all
The summer of 2014 has proven to be perfectly prolific for Phlegm. Having started with mural production in spring, he painted a wall in Perth, Australia, as a part of PUBLIC Festival, a tall wall in Malmo, Sweden in June in the organization of ArtScape, an amazing totem-like wall piece in a Norwegian coastal town of Moss, a mural for the Dulwich Outdoor Gallery project, a phenomenal 'redesign' of a house in Djerbahood, and most recently a scenographic interpretation of Greek myths of Prometheus and Leda and the Swan for the Royal Opera house. Apparently overwhelmed with creative energy, Phlegm realized his latest collaborative art installation for the Sheffield Bazaar, which is organized as a part of the Festival of the Mind, an academically supported happening.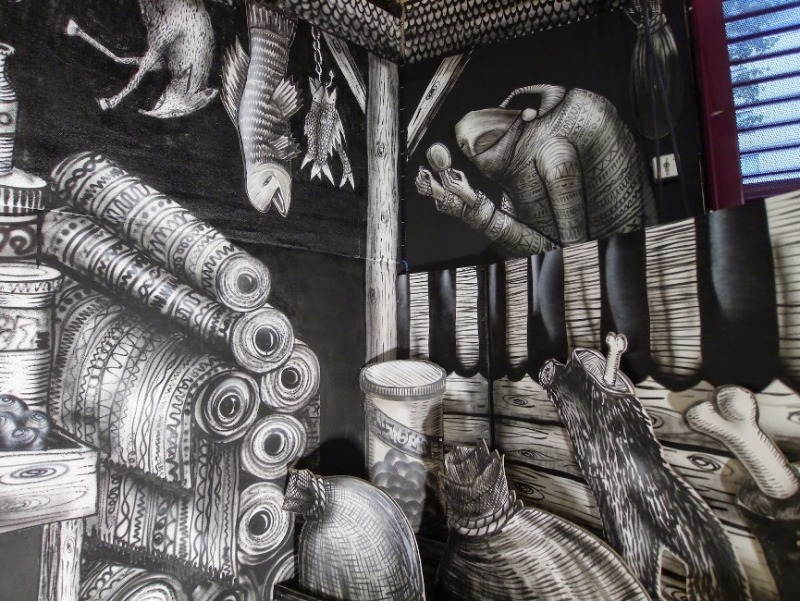 Sheffield Bazaar as Phlegm tells it
Master of spatial transformation, Phlegm created a fantastic installation inspired by Sheffield Bazaar, in the similar manner as the Bestiary realized at Howard Griffin Gallery at the beginning of the year. His elongated figures, the archetypal greedy, wanty and a bit lost humans, populate what is a traditional market stall group, where goods are traded for money. The environmental message of Phlegm's work reflects in the hung animals, predominantly, but not exclusively fish, some of which have rotted away to skeletons. The crucial figure for reading this elaborate piece stands in the corner, looking at a coin through the looking glass, checking its authenticity, while all other members of the small, but quite usual market party, engage in their daily, grabby activities. Busy in trading, they do not seem to notice what is happening outside their world, much oblivious to what really matters, as we still are today. Mirroring the universal state of mind, Phlegm managed to conjure a literally and philosophically layered piece once again, while maintaining the visually polished accessibility of his artistic expression.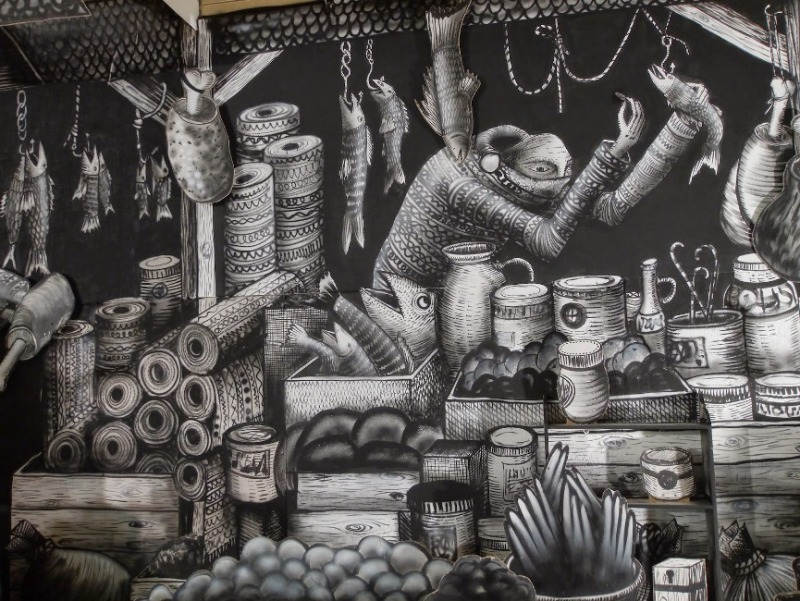 Festival of the Mind 2014
Festival of the Mind is a collaborative event organized by the University of Sheffield and the city, going on for 11 days and demonstrating the most interesting researches and findings in a new and creative ways. A novelty introduced to the 2014 Festival is the historic Castle House location, once a place of a swarming department store, and now an abandoned venue. Castle House is therefore appointed the exhibition spot, with works of 20 commissioned artists showcased, all of whom produced pieces themed around The Sheffield Bazaar, addressing topics such as Change, Chaos, Global, Joy, Resilience and Urban situation around the Castlegate area. As an art section of the Festival of the Mind, Sheffield Bazaar is situated in the old postal building on Angel street. Artwork made by numerous artists is currently on show along with Phlegm's dominant installation, including Anna Olenjnicki, Cella Studio, Dan Butlin, Dave Wood, Dj Dirtyfreud, Gerry Kirby, Helen Cocker, Karl Olsen, Lydia Bennett, OPERA, Matt Williamson, Michael Day,Mir Jansen, Rob Lee, Rocket, Sandra Prince, Sarah Clough, Steve Pool and Stuart Faulkner.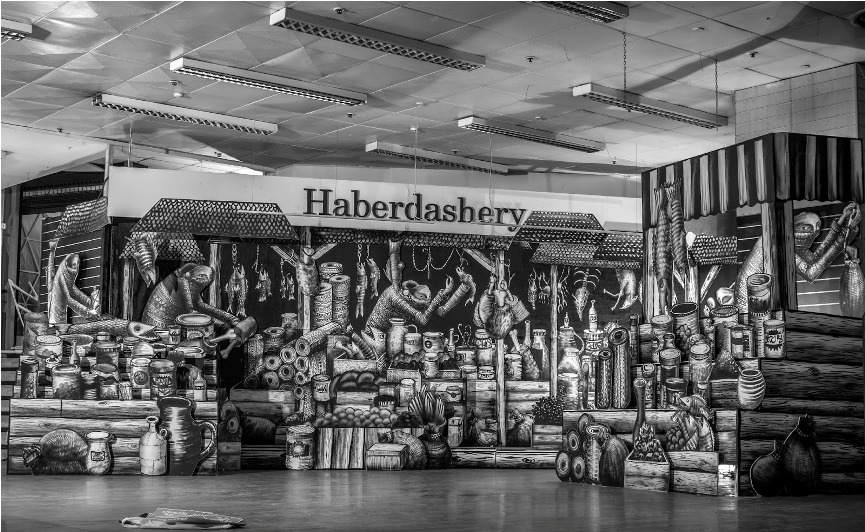 Festival and Exhibition Dates
The imposing market art installation by Phlegm will be on show during the exhibition period, from 18 to 28 September, 2014, throughout the second edition of the Festival of the Mind, joining the creative celebration of ideas, culture and fruitful collaboration.
Photos thanks to Phlegm and Ladoza.