Talented photographer and one of Berlin's most beloved artists, Oliver Rath, has died at the age of 38, in the night between Thursday, August 18th and Friday, August 19th 2016, according to Spiegel and Badishe Zeitung. This was confirmed by Rath's management, but the causes of his untimely passing remain unknown. He is survived by his partner and two children. Rath was born in Heidelberg and has passed away in Berlin.
DJ, Blogger, Rapper and Photographer of Celebrities
Before taking a small Lumix digital camera into his hands (something that would define his life path), Rath had worked as a DJ and tried to make a career as a musician. In 2003, he signed a contract with Royal Berlin bunker with a plan to record a rap album under the moniker of Al Kaporn. During 2007, he went on a tour with Culcha Candela. Not long after dabbling in the music business, Oliver Rath started paving his way toward a role of a masterful photographer, all of which begun with a simple shoot for an agency of a friend. Rath has since gone to photograph celebrities, developing a distinct visual language, interwoven with subtle humor, spontaneous moments and a particular energy. All of these elements would fit perfectly into a masterfully balanced structure of a photograph. His talent could always be seen from the way he used perspective, contrast and geometry in his pieces.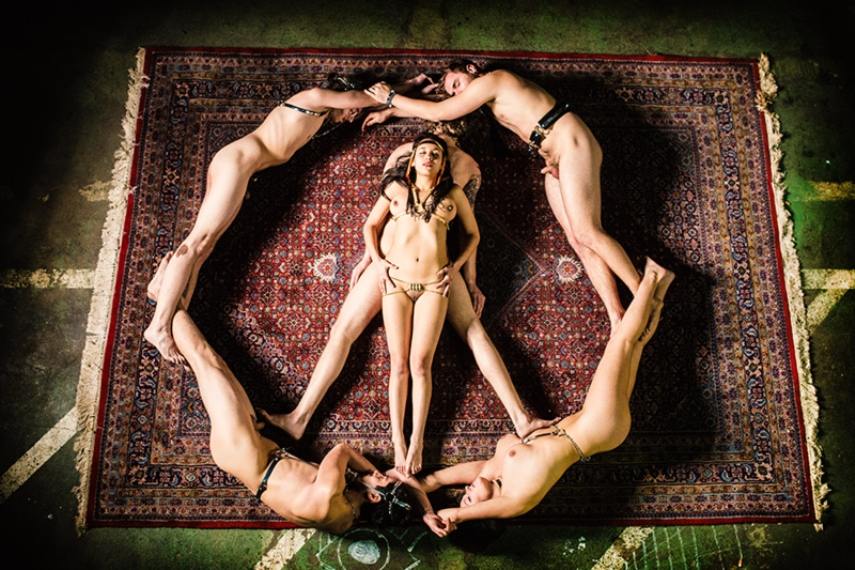 Erotic Art - The Power of Oliver Rath's Nudes
One could say that Rath's imagery blurs the boundaries of the shocking and bizarre. However, the composition of elements within his nudes suggest the desire of the creator to be freed of all boundaries in an effort to tell a story. Many a time, Rath would juxtapose an erotic presentation of the body with an element that would surprise the viewer. What is more, it seems that Rath perfectly knew how to capture and interpret the captivating aspects of masculinity and femininity, escaping the stereotypical representation somewhat present in contemporary photography.
In the minds of all of us who admire and are passionate about photography and visual arts, Oliver Rath will be remembered as a true urban legend and a "chronicler of Zeitgeist."
Featured image: Oliver Rath - Self-Portrait (detail), image via rath-photogaphie.de