The development of modern sculpture in the UK (but also elsewhere) has been marked by male dominance. It wasn't until the 1960s that women started emerging and gradually dissolving the canon by introducing new approaches to art-making that have eventually altered the very notion of the medium.
One of the leading female figures in the field is Phyllida Barlow, known for large-scale installations made of industrial, low-grade materials, as well as recyclable waste that defy the limitations of volume, mass, and height. Her lasting influence on the new generations was enforced by the artist's teaching post at the Slade School of Art and best illustrated by the practices of her former students and now acclaimed contemporary artists, Rachel Whiteread and Angela de la Cruz.
Currently on display at Haus der Kunst in Munich is the largest retrospective of Phyllida Barlow ever. Frontier is part of a series of exhibitions in the museum's East Wing focused on the practices of contemporary female artists and it includes nearly 100 works including Barlow's large-scale sculptures and drawings.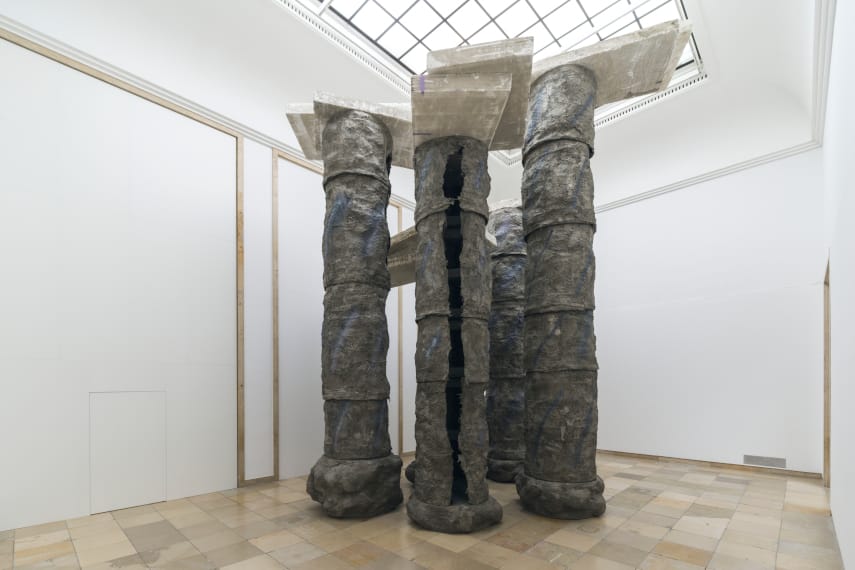 Re-thinking The Forms
It is hard to describe Phyllida Barlow's works as sculptures; rather, they are to be called structures that spread out and physically narrow the visitors' movement in the space. Due to their grand dimensions, they seem unstable, fragile, and at the same time threatening as they occupy the space. Barlow's works invite viewers to reconsider spaces, volume and understand the language of architecture.
To walk through her practice and show the continuity in the exploration of the formal and material possibilities of sculpture, the curator Demina Lentini decided to underline the relevance of Barlow's questioning of sculpture's relationship to the structures of objects as they exist in reality.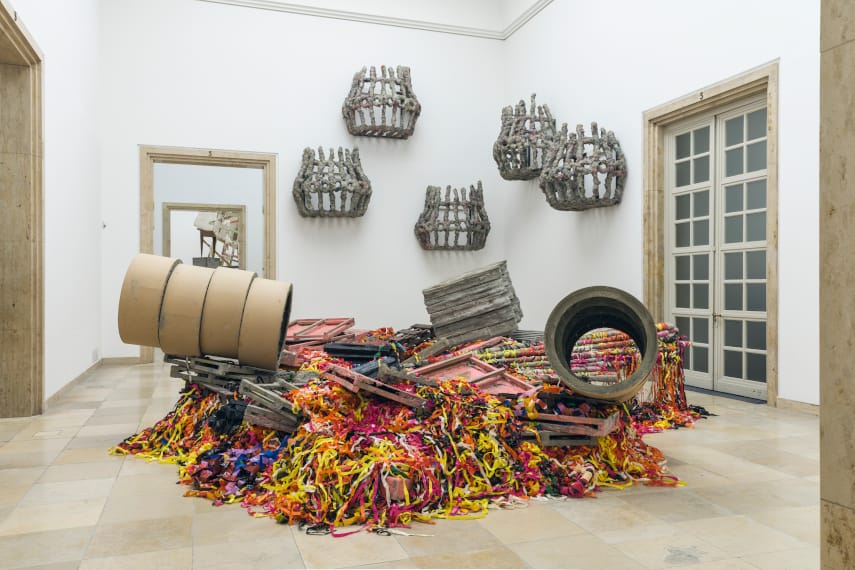 Frontier
For this occasion, Barlow reenacted her 1975 work titled Shedmesh which no longer exists, and has produced a few other new works such as Untitled: Towerholer and Untitled: Catchers. The sculpture Unititled: Parasols belongs to the group of reworked works, and a few others were adapted to the exhibition space.
Alongside the mentioned works, the installation includes the key pieces from Barlow's ground-breaking exhibitions over the past two decades and a large selection of works on paper.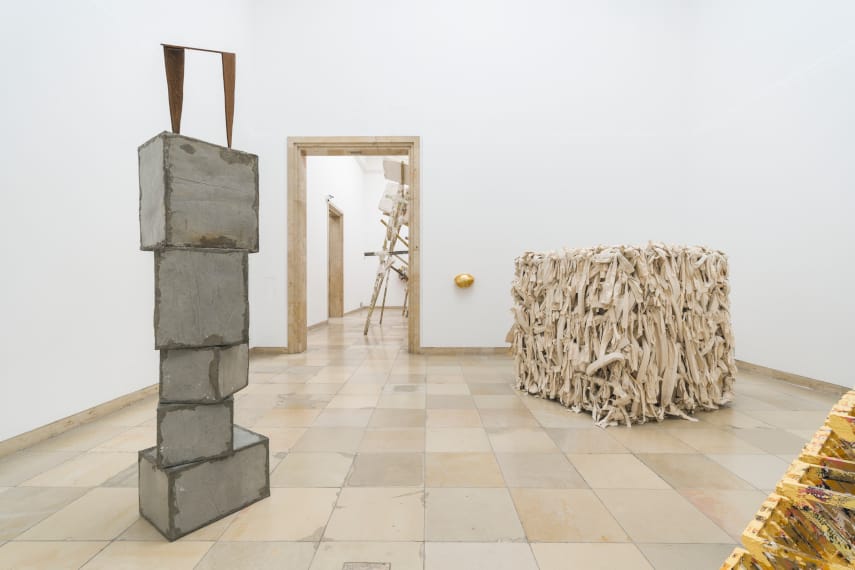 Phyllida Barlow at Haus der Kunst
The current exhibition asserts Barlow's central role in redefining traditionally male-dominated medium and the radicalism of her agenda in terms of the limits and thresholds of sculptural practice.
The exhibition is supported by the Henry Moore Foundation and Art Mentor Foundation Lucerne, and accompanied by an expansive catalog with contributions by the artist herself and several scholars.
Phyllida Barlow: Frontier will be on display at Haus der Kunst in Munich until 25 July 2021.
Featured image: Phyllida Barlow - Untitled: 11 awnings, 2013. Collection of the artist, London. All images courtesy Haus der Kunst.