Taking inspiration from urban and industrial forms, Mexico City-based artist Pia Camil reinterprets them as handmade objects to rearrange the relationship between the artist, the city and the public space as such. Pia Camil art pieces are coming back to Blum and Poe for her second solo exhibition at the gallery as a part of the show entitled Slats, skins and shop fittings. First working with photographs of her native city, she moved on towards textile-based pieces and sculptural works where she reduced urban images to colours and geometric forms. Previously exhibited at the Cincinnati Arts Center, the new body of work shows her extended interest in the aesthetic of commerce, performance and viewer participation.
Channeling Frank Stella
Taking her inspiration from the display structures of low-end downtown Mexico City commercial spaces, Camil's wall pieces are created out of the material of slat paneling from dollar stores and department stores. Following the stylistic traditions of American Minimalism, she channels Frank Stella's Copper Paintings that are famous for his first use of tape to form repetitive striped patterns emphasizing the objecthood of the painting. Using Stella's iconic series as a starting point, she generates new meaning. Her pieces are composed of found objects imbued with cultural and social implications - plywood slats and recovered fabrics from factory castoff. Made out of the most affordable and mass-produced material, these slats form panel sculptures that serve as structures for displaying textile cloaks made out of these reused fabrics. The painterly effect created by unplanned dye patterns the artist describes as a mechanical abstract expressionism.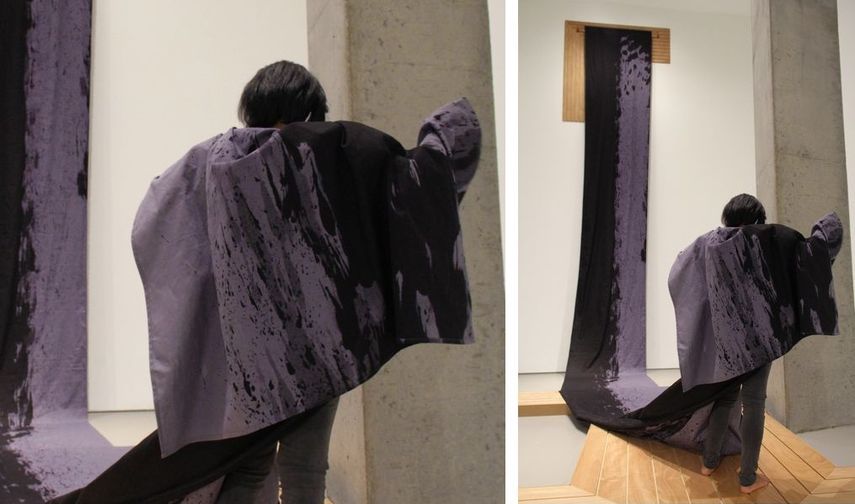 The Notion of the Persona
Drawing from Carl Jung's idea of the 'persona', Camil's Bust Masks stand for a symbolic mask an individual wears in a society. The physical manifestation of this idea is based on the aesthetics of jewelry display busts and primitive ritual masks. Since these jewelry busts are modeled after the female body, the female identity is another issue evoked in this body of work alongside politics of consumerism and commercial aesthetics. Exploring the point where the art and life meet, as well as the art's potential and power to initiate a social change, her pieces could be compared to Lygia Clark or Helio Oitica's wearable art pieces also known as 'habitable paintings'.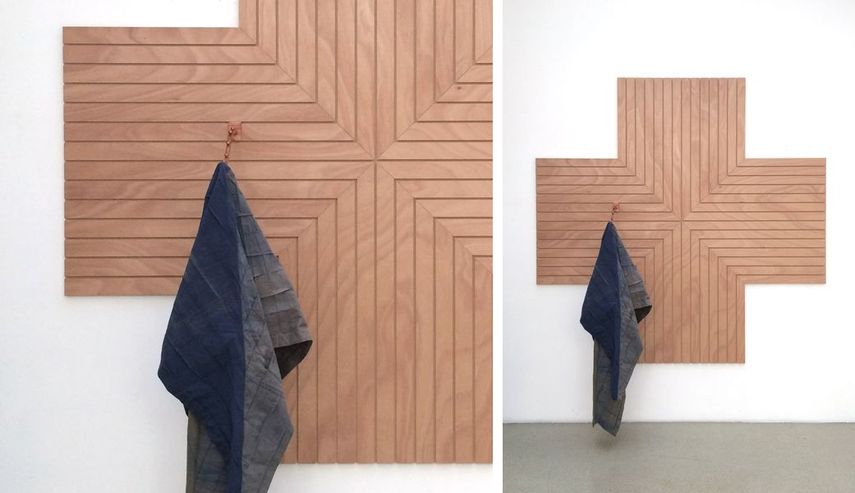 Pia Camil Art Show at Blum and Poe
The work of Pia Camil has been a subject of numerous exhibitions all around the world. Her recent solo exhibitions include A Pot for a Latch at the New Museum in New York, Skins at Contemporary Arts Center in Cincinnati, The Little Dog Laughed at Blum and Poe in Los Angeles and Cuadrado Negro at Basque Museum Centre for Contemporary Art in Victoria-Gasteiz, Spain. The exhibition Slats, skins and shop fittings will be on show at Blum and Poe in New York from July 7th until August 12th, 2016. The opening reception will be held on Thursday, July 7th from 6pm to 8pm.
Featured image: Pia Camil - Ouraz interior, 2015 (detail). All images courtesy of the artist and Blum & Poe, Los Angeles/New York/Tokyo