Ceramics were mostly new to Pablo Picasso when he began working with the medium in 1947, but he immediately saw the hidden modern art potential of this traditional craft.
The artist, who was in his late 60s at that point, mastered the ceramic technique rather swiftly, introducing it to his remarkable resourcefulness and characteristic spontaneity.
Picasso began by producing decorated utilitarian objects like plates and bowls, but later produced more complex forms such as pitchers and vases which turned out to be the most representative pieces of Picasso ceramics.
Ultimately, the malleability of the ceramicists' medium managed to match Picasso's imagination and meet all the creative demands the artist placed before it - the Spaniard completed 633 different ceramic editions between 1947 and 1971, resulting in marvelous plates, vases and plaques.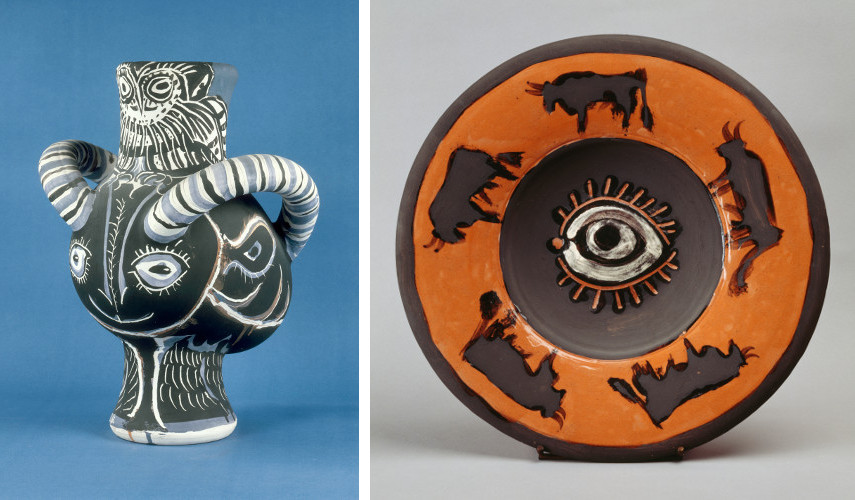 Picasso - Discovering the Ceramic Art
Pablo Picasso was spending the summer of 1946 at Golfe-Juan in the south of France. By that time, he was already widely considered to be a living legend of the avant-garde world, but his passion for new artistic challenges was as strong as it had been fourty years prior.
Towards the end of the summer, he went to an exhibition in Vallauris, an area known far and wide for its ceramics workshops. Little did he know that this experience will ultimately prove to be a decisive turning-point for his career - fascinated by what the ceramicists of Vallauris were able to accomplish, Picasso immediately plunged into experimenting with various ceramic materials.
Decades after Picasso and Georges Braque established the basis of Cubism, Pablo Picasso was enthralled by the ceramic processes and techniques. He particularly enjoyed the unpredictable elements in the actual firing process that made the colors hard to control.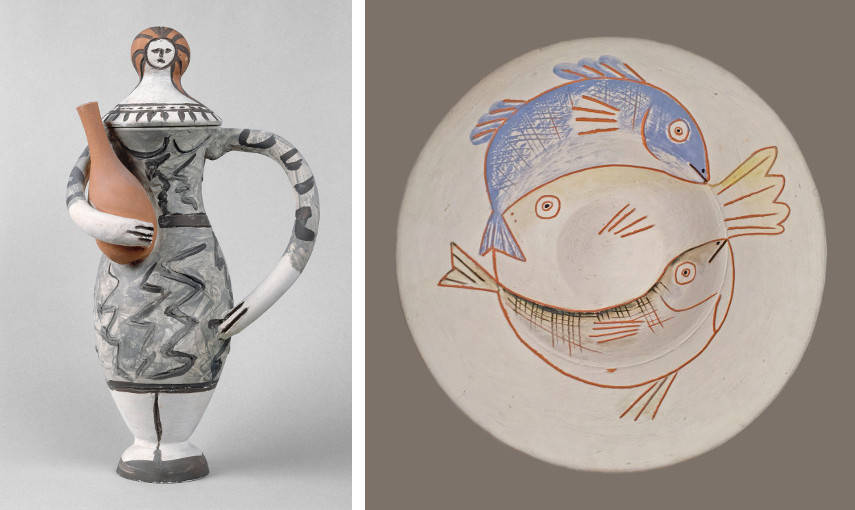 Works Picasso Created at the Madoura Workshop
In 1948, Picasso found a place at the Madoura workshop and decided to move permanently to the south of France in order to continue his experiments with ceramic art. Soon, he met Suzanne and Georges Ramié, founders of the Madoura Pottery studio in Vallauris who welcomed him into their workshop and gave him access to all the tools and resources he needed.
In exchange for allowing him to practice his ceramic skill at their studio, the Ramié family would sell his ceramic work - eventually, this collaboration with the local ceramicists spanned for over 25 years.
While he was in the Madoura workshop, Picasso produced about 4000 ceramic objects. Some of these involved the painting and reworking of plates and dishes while others could be better characterized as sculptural figures of animals and female figures.
The bright Mediterranean landscape that defined Pablo's art during this period of his life was heavily reflected in these ceramic works.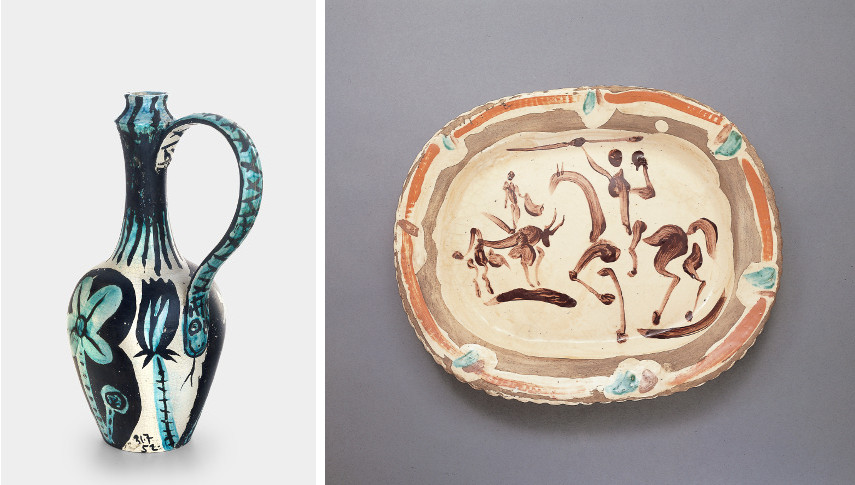 Pablo Picasso and His Late Obsession With Ceramic Creation
After he arguably perfected modern art's take on ceramics, Pablo never really lost his desire to work with clay. He went on to create pieces using the material throughout the last years of his life, dedicating a lot of his time to this traditional craft.
What initially appeared to be just a relaxing summer hobby of decorating simple utilitarian objects turned out to be a life-long preoccupation and a useful respite from the more grueling demands of painting.
During the early 1970s, the Picasso ceramics proceeded to evolve as the Spaniard continued to create more ambitious forms. The themes of these ceramic artworks, created toward the end of the artist's life, were always very creative and playful, including such subjects as Greek mythological figures, animal shapes, corrida scenes and face motifs, among others.
Working with clay also turned out to be a success for Picasso's personal life as he met Jacqueline Roque at the Madoura factory in 1953. She became the artist's second wife in 1961 and his last enigmatic muse.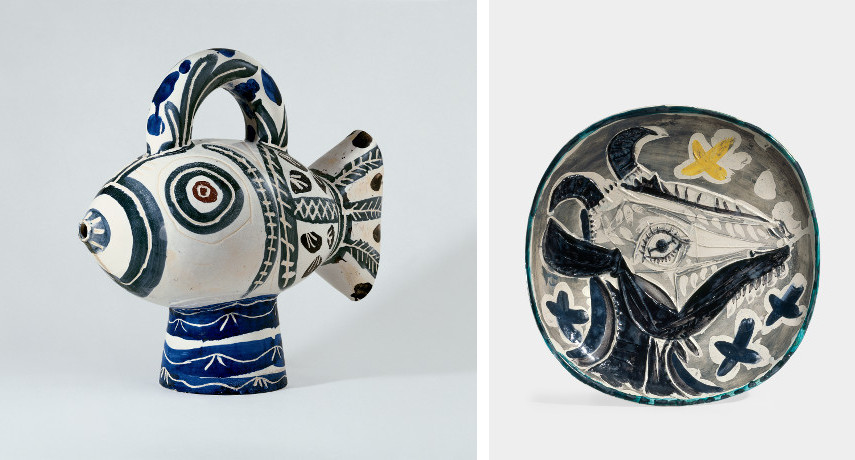 Placing Picasso's Lesser-Known Pottery Artworks Under the Spotlight
Historically speaking, Pablo Picasso is certainly an artist greatly appreciated at Louisiana Museum of Modern Art in Denmark - several exhibitions of the master's works have been shown over the years and they always focused on special periods or themes in his oeuvre.
Now, the time has come for Picasso ceramics to find themselves under the spotlight.
This less well-known area of his oeuvre will be the main subject of an upcoming show appropriately titled Picasso Ceramics. It will feature Picasso's original ceramic works who were not previously presented in Scandinavia in any major exhibition, a fact Louisiana Museum of Modern Art wishes to remedy.
Picasso Ceramics will be showing more than 150 works, focusing primarily on ceramic artworks created between the years of 1947 and 1964.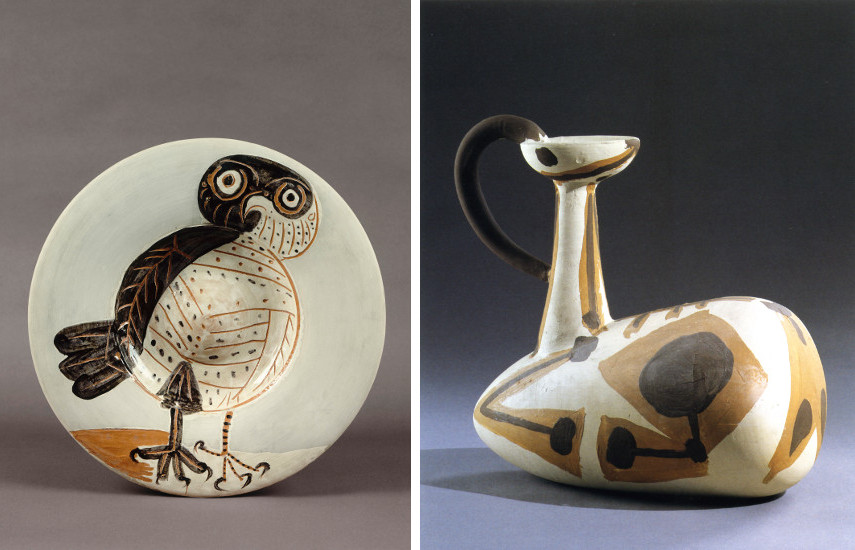 Pablo Picasso Best Ceramics Art Exhibition at Louisiana Museum of Modern Art in Humlebaek
The upcoming Picasso Ceramics show hopes to ride the wave, so to speak, of the recently renewed interest in ceramics that can be noticed on an international level. It will also be yet another indicator of the museum's excellent relationship with the Picasso family.
With the strong support of the Spaniard's heirs and the Picasso museums in Paris, Antibes and Barcelona, the upcoming show will prove that it's possible to gather and assemble complete thematic selections of an artist's prolific production.
Supported by Augustinus Fonden, the Picasso Ceramics exhibition will be held between the 1st of February and the 27th of May 2018 at Louisiana Museum of Modern Art in Humlebaek, Denmark.
 Editors' Tip: Ceramics of Picasso

The potter who was Picasso's collaborator offers an examination of the different phases of the renowned artist's work, follows Picasso's evolution in the medium, and views Picasso's ceramic output as a whole.
Featured images: Pablo Picasso works on the plate "Picador et torrero" at the Madoura pottery in Vallauris, Photo by Edward Quinn; Pablo Picasso – Hirondelle, 1947. Museu Picasso, Barcelona. Gift of Jacqueline Picasso, 1982. Photo Gasull Fotografia. All images © Succession Picasso / VISDA 2018.