Known for its goldsmith excellence, the workshop Atelier Hugo in the South of France (Aix en Provence) is steeped in history. The first artist who asked François Hugo to work as his goldsmith was Pablo Picasso. Together, they found the perfect method for producing an original relief in precious metal, working with terracotta plates of around 40 centimeters in diameter.
The fruits of the collaboration between Picasso and the celebrated Ateliers Hugo, which has never been publicly exhibited before in the United Kingdom, will now go on view at Masterpiece Art. Titled PICASSO/HUGO Agents d'Argent et d'Or, the exhibition will present a rarely seen full-set of twenty-four limited edition silver platters. Each of the limited-edition works features a different design, which draws upon three recurring themes in the Spanish artist's oeuvre - bullfighting, Jacqueline Roque and Henri Matisse.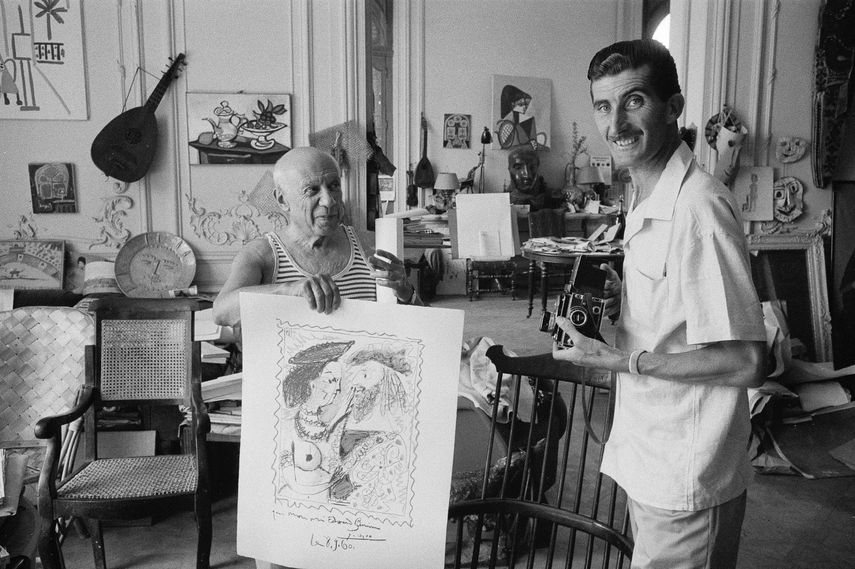 The Rare Silver Platters
A painter, sculptor, ceramicist and even stage designer, Pablo Picasso changed the course of modern art in so many ways. A prolific innovator, he worked with an endless variety of subjects and motifs across mediums and artistic style.
Ceramic works are an integral part of Picasso's artistic output, who mastered the technique rather swiftly and introduced it to his remarkable resourcefulness and characteristic spontaneity. The malleability of the medium managed to match Picasso's imagination and meet all the creative demands the artist placed before it.
While his ceramics oeuvre is prolific, the artist created silver platters in only 24 designs throughout his entire career, designing an even smaller number of pieces in gold. With a clear vision of the finished work, Picasso commissioned François Hugo to execute a series of platters, dishes, medallions and statuettes in precious metal after the artist's designs first conceived in ceramic, trusting his varied skillset and ingenuity to tackle the practical issues around his demands.
Conceived between 1956 and 1961, all works were handmade in the repoussé technique by François and his son Pierre Hugo.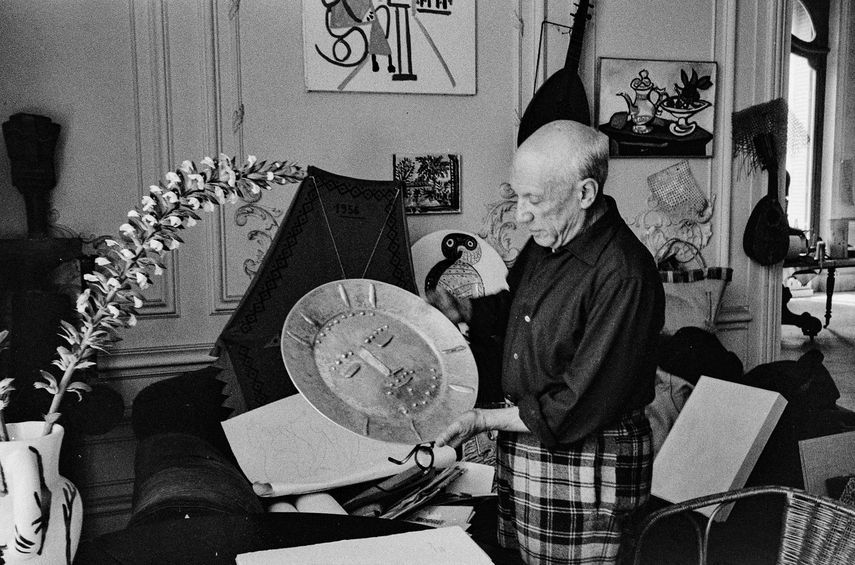 Works on View
The public remained largely unaware of the existence of these works before the dedicated solo exhibition Picasso – 19 plats en argent par François et Pierre Hugo, 1977, at London's Lever Galleries and Paris's Galerie Matignon. As the Executive Gallery Manager and Sales Director, Alex Cousens, this collaboration was very important to the artist.
He took a deep interest in the creation of these platters, the problem-solving nature of the collaboration and this challenging new medium.
The gallery now brings together an entire edition of these sublime artworks, along with many other rarities. The display includes an incredibly important twenty-fifth platter, a "progenitor" platter that once belonged to Picasso, gold medallions and a full-size gold platter from the collaboration, a set of 13 gold bijoux by Jean Cocteau and François Hugo, comparative ceramic platters, archival materials, as well as photographs of Picasso by the famed Irish photographer, Edward Quinn.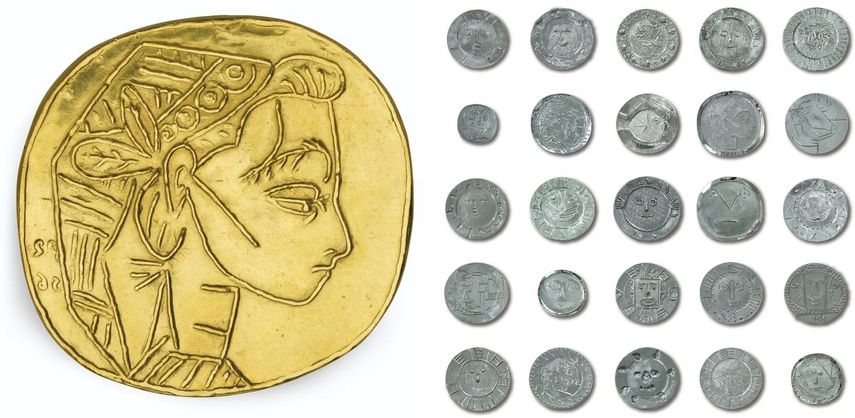 Picasso and Atelier Hugo at Masterpiece Art
The exhibition PICASSO/HUGO Agents d'Argent et d'Or will be on view at Masterpiece Art in London from November 19, 2020 until February 20, 2021.
Due to the restrictions imposed by Covid-19, the exhibition can be previewed digitally via a 3-D walkthrough from November 19th. On December 2nd, when the lockdown is scheduled to end, the gallery will re-open. Preview dates will be announced in early December.
Featured image: Edward Quinn - Pablo Picasso and Jacqueline with silver platter 'Visage aux feuilles'. La Californie, Cannes 1957. Photo Edward Quinn, © edwardquinn.com / © Succession Picasso 2020. All images courtesy of Masterpiece Art.