The French art scene of the mid-1970s and early 1980s was saturated with the echoes of the 1968 student protests and the burgeoning New Wave aesthetic. Paris was still the inviolable capital of culture where visual arts, fashion, and music became entangled in a burst of unfettered creativity. Being queer or representing camp was in vogue more than ever before, and there came a new generation of prolific artists led among others by the duo Pierre et Gilles.
The two men practically continued the frenzy of 1960s American queer counterculture mostly represented through films and tableaux vivants by Steven F. Arnold, a prolific artist who was a protégé of Salvador Dalí. Namely, Pierre et Gilles practice a more sophisticated approach rooted in music, mythology, decadence, kitsch, and sensual ecstasy, with a pinch of fashion.
Currently on display at the Philharmonie de Paris is an exhibition titled Factory of Idols that functions as a sort of the artists' survey, since it features a selection of their works since the 1980s until the more recent ones.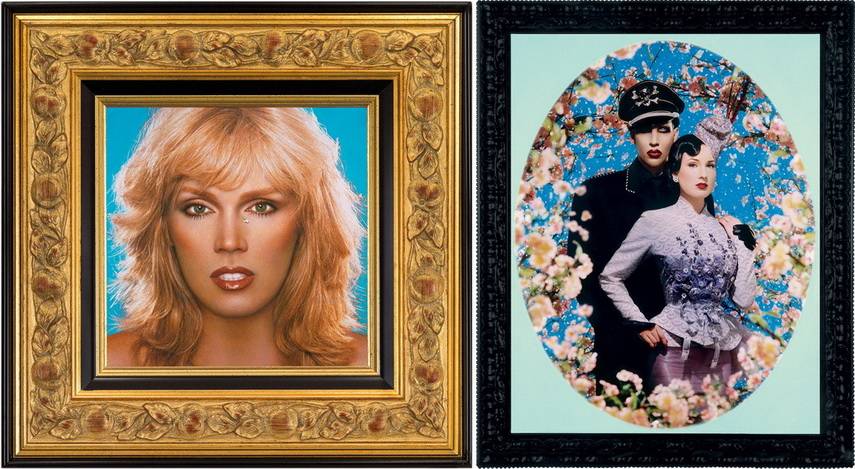 The Lasting Collaboration
Pierre et Gilles started living together in 1976 and that is when they also started developing a specific kind of practice based on the intersection of painting (Gilles being the painter) and photography (Pierre being the photographer). Gradually, they developed a peculiar and rather authentic approach by staging their models in elaborate sets in their studio, photographing them, painting the print, and framing it.
Since 1980s, Pierre et Gilles have been attracting many prolific actresses, musicians, and other celebrities, and have made iconic magazine and music album covers by constantly pushing the boundaries in regards to themes and motifs while keeping their signature style well-articulated and polished.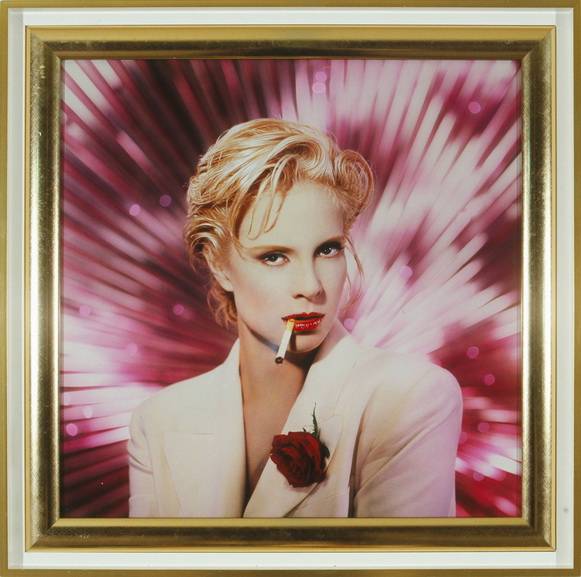 The Installment
The show in Paris presents one hundred and ten works and two new installations revolving around the theme of music through three segments - mythology, partying and dreamscapes, and three colors blue, gold, and red.
Mythology is explored through a selection of rare early works produced in the late 1970s and 1980s in a rather kaleidoscopic fashion. The music production (pop, disco, indie rock, and chanson) of the time resonates with the work, the majority of them used as the album and maxi-single covers. This selection also encompasses works that evoke the atmosphere of the famous club Le Palace opened in 1978 which offered outstanding music performances by the likes of Grace Jones and quickly became an epicenter of Parisian nightlife and crucial space for gay culture. On display is also an installation Altar of music inspired by the decor of the artists' studio.
The following segment shows Pierre et Gilles' fascination with Christianity and classical painting, and the way duo perceives the iconic status of a saint or a pop star. On display is also a new installation produced for this exhibition which is an homage Sylvie Vartan, who was one of the most emblematic teen idols in 1960s France, and is the artists' favorite. Following up on the theme of adoration and divinities are other works inspired by other mythologies and the trips to Morocco and India. It features iconic images of Boy George as Lord Krishna, Nina Hagen as Kali, the Indian goddess of destruction, and Madonna as Japanese warrior Ushiwaka.
The last segment features a selection of works exploring dreams and nightmares. Alongside their campiness, Pierre et Gilles are known for being humorous as well and that is most apparent in their treatment of the stereotypes associated with different music genres.
Pierre et Gilles: Factory of Idols at Philharmonie de Paris
Pierre et Gilles at Philharmonie de Paris
The exhibition curated by an art historian and curator Milan Garcin will underline different layers of Pierre et Gilles' four decades-long practice and will show how swiftly they moved thematically through a dizzying array of fascinations while being triggered by the music.
Pierre et Gilles: Factory of Idols will be on display at Philharmonie de Paris until 23 February 2020.
Featured image: Pierre et Gilles - Les deux marins - autoportrait, 1993. © Pierre et Gilles. All images courtesy Philharmonie de Paris.