What's it like for a person to compose a personal vision of reality from fragments of information they receive on a daily basis? The fascination with our surrounding and the truth behind it will be the topic of a new exhibition of Pippa Young, whose works will be on view at Edinburgh's Arusha Gallery for the first time. Entitled A Shifting Uncertainty - Drawings, it will be the first out of two shows dedicated to the works of this talented and exceptionally brilliant artist, while the second, focusing on a collection of her oil paintings, will be held in October 2016.
A Shifting Uncertainty of Modern Life
For Pippa Young, the perception of the outside world is the backbone of our experiences as human beings, the notion which shapes our behaviours, reactions, even consciousness. Hence, the way we receive the knowledge of the world around us is of high importance, because our understandings of it are beautifully different and personal. What do these impulses get triggered by? What are they influenced by? How does this ambiguity interact with our predisposed thoughts, opinions, emotions? Through a series of drawings, Pippa Young explores the fragility of human condition, the nature of reality, the connectivity between the inside and the outside in the most relative of ways.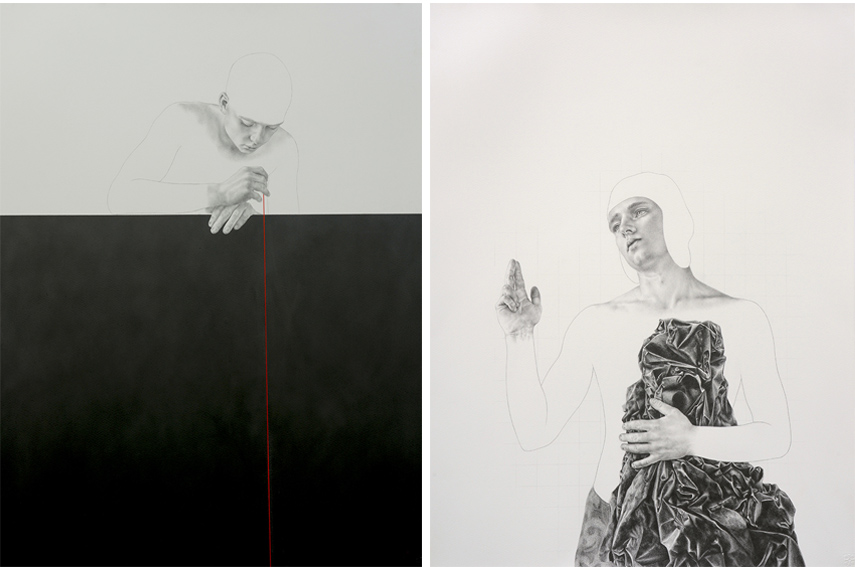 Drawings of Perceptions
In her remarkable drawings, Pippa Young studies new scenarios and possibilities of life through intriguing compositions, traces of symbolism and an array of visual languages. The result is a series of contextual narratives, left open for interpretation to anyone who sees them, perplexed by their ambiguity and mystery. By relying on universal themes, such as the complexity of human state of mind and the transience of life, Pippa Young depicts surreal portraits which could be attributed any personality, any face, any story that could be understood in so many different ways. Their vagueness and truth entwine before our very eyes in an almost elusive way, giving us just enough time to reflect on our own beings, thoughts, goals and existence.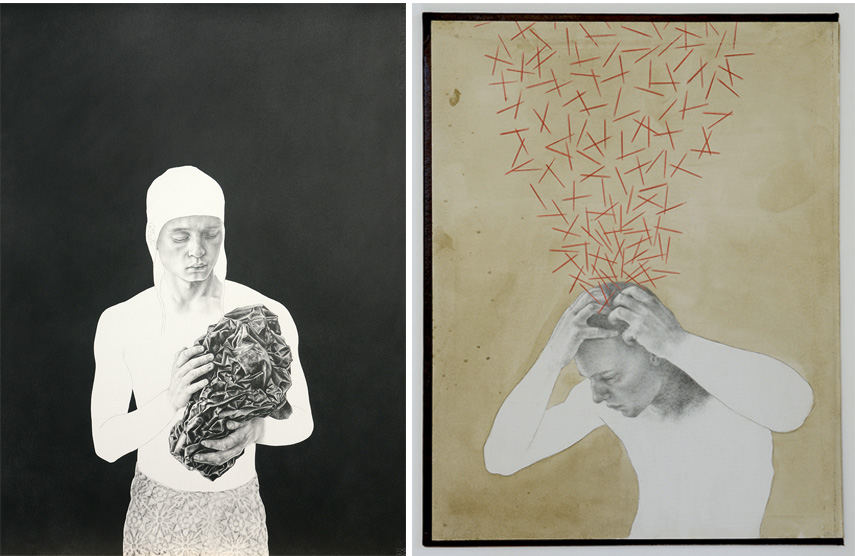 Pippa Young Exhibition at Arusha Gallery
With drawings as a primary medium in her artistic oeuvre, Pippa Young works mostly with pencil and silverpoint, although her skills also reach the fields of printmaking, painting and book cover drawing. What remains the focus of her visions is the conceptual, almost abstract storytelling, accompanied by great technical skills which only fulfil this unique artistic experience.
A Shifting Uncertainty - Drawings, the first solo exhibition by artist Pippa Young, will be held from October 16th until November 4th 2015 at Arusha Gallery in Edinburgh, Scotland. The private view is scheduled for October 15th, from 6pm to 9pm.
Create your free Widewalls profile today and enjoy all the upcoming events!
Featured image:
Pippa Young - Sleeper V, detail
All images courtesy of Arusha Gallery