An Amsterdam-based duo, Pipsqueak Was Here!!! focus on tackling controversial, current matters of the humankind. Making their strong views visual, they deal with the complexity of the by-products of human existence.
In their latest exhibition at Vertical Gallery, the duo brings new urgency, clarity and purpose to their signature style. Titled It's All Wrong, It's Allright..., the show puts on display more than 30 pieces stenciled on canvas and reclaimed wood, depicting environmental issues and youthful resolve.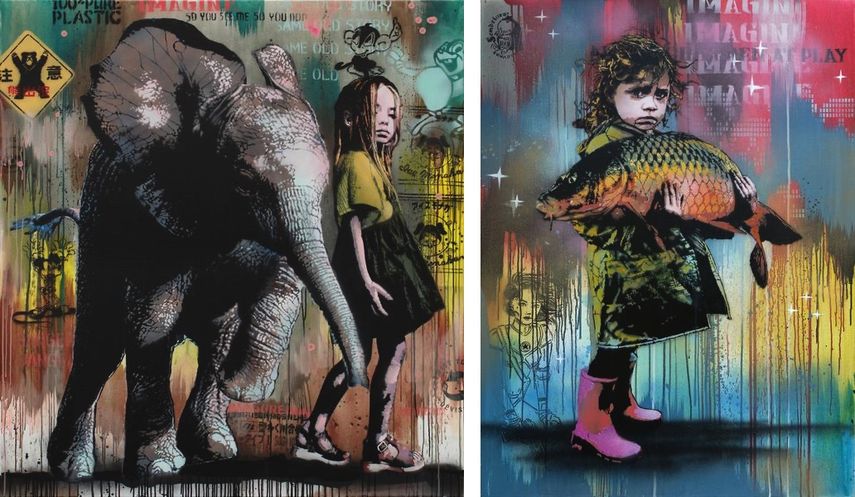 The Socially Aware Practice of Pipsqueak Was Here!!!
Drawing inspiration from everything around them, Pipsqueak Was Here!!! seek to create their own twisted vision on all big and small issues that seem to demand their attention. Through their practice, they aim to encourage a discussion about the world today and the way we humans treat the globe we call home.
Reusing and recycling materials, such as wood, vintage magazines and comic books, as well as their own and found photos, the artists draw their visions by hand and turn them into stencils. As they explain, they use stencils "like words in a language and have built a huge collection of them over the years."
Like in a sentence, these 'words' can be used in all kinds of different contexts, and therefore they hardly ever grow stale on us. The stencils become symbols allowing us to spin our tales.
Once again, the duo grapples with a world in crisis, highlighting the unprecedented instability of our times as well as the survival skills and coping mechanisms that enable humankind to compartmentalize its struggles and push forward.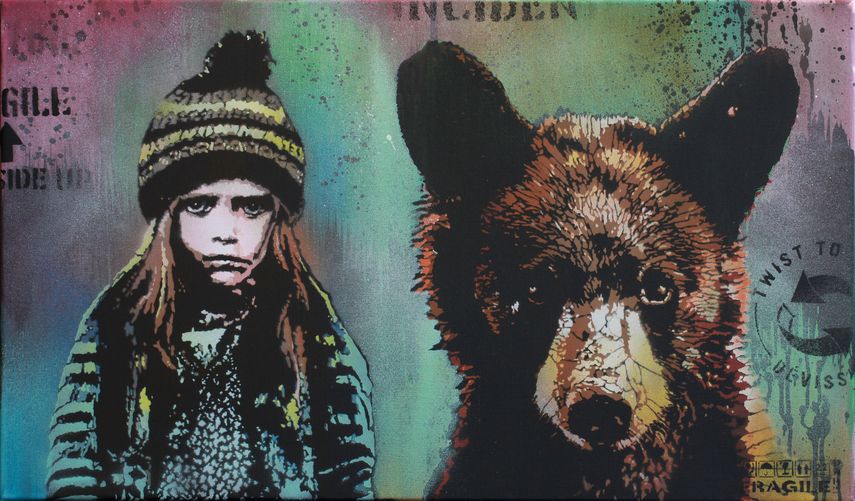 Children as Protagonists
In most of their works, children and animals are the protagonists. Their trademark "Pipsqueak Girl" is a tough but tender figure whose future hinges on whether humanity finally accepts responsibility for protecting the planet from further damage and neglect.
The paintings of Pipsqueak Was Here!!! feature anywhere from 70 to 80 manipulated characters in all, each gravitating to specifically soulful, stubborn children oblivious to their own beauty, charm and strength. Most of their children look you straight into the eye. As they explained, they were inspired by the philosopher Levinas, who said that by looking straight into the eyes, two people are notifying each other of their existence and becoming responsible for one another.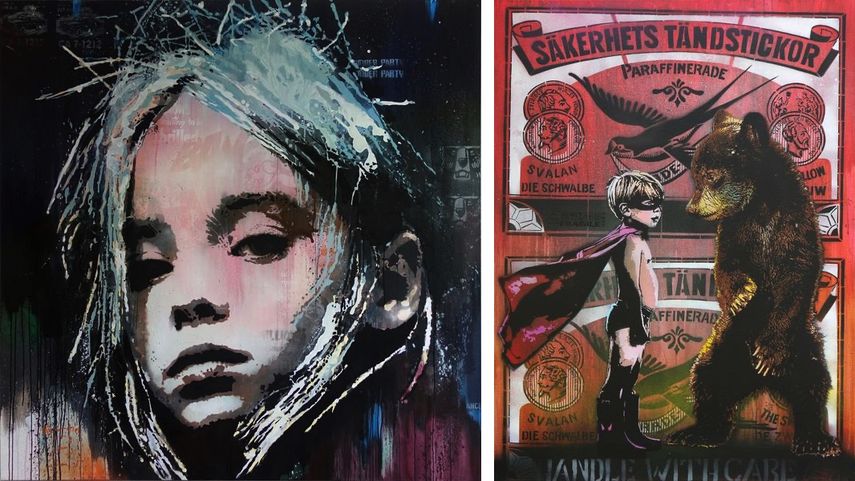 Pipsqueak Was Here!!! at Vertical Gallery
The exhibition It's All Wrong, It's Allright... will be on view at Vertical Gallery in Chicago from October 3 through 24, 2020. The opening is scheduled for October 3rd, 11:00 am to 6:00 pm; face masks and standard social distancing guidelines will be enforced.
Featured image: Pipsqueak Was Here!!! - Getting chummy, 2020. All images courtesy Vertical Gallery.