A prolific Amsterdam-based duo, Pipsqueak Was Here!!! tries to make their thoughts visual, inspired by their idiosyncratic view on what most people experience as everyday life and consider normal. In their bold and colorful works, they deal with the complexity of the by-products of human existence.
Their latest body of work will soon be on view at Vertical Gallery. Titled Caution Children at Play, the debuting USA solo exhibition of this talented Dutch duo will show their latest stencil work.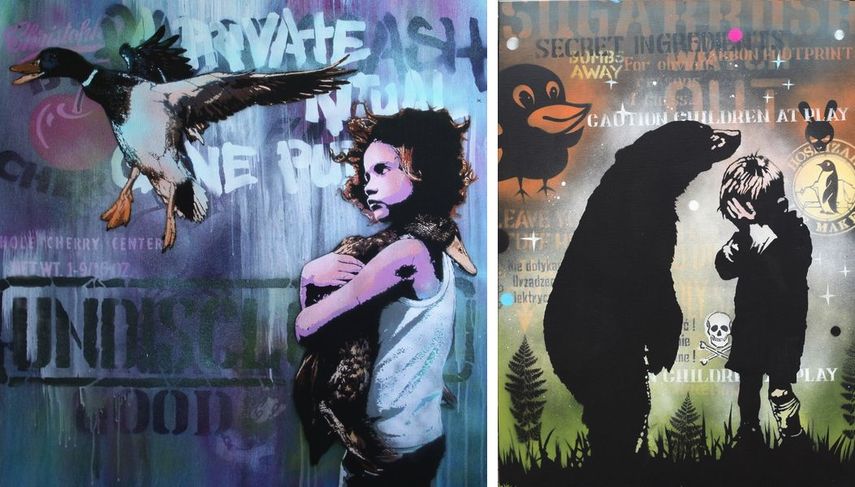 The Practice of Pipsqueak Was Here!!!
Working as a duo for 25 years, Pipsqueak Was Here!!! is focusing their work on tackling controversial, current matters of the humankind. Influenced by everything they see, hear or feel, they create their own twisted version on all big and small issues that seem to demand their attention.
Their bold, colorful and meaningful art features children and animals, attempting to raise awareness of the tender relationship that exists between nature and humans. Through their practice, they aim to encourage a discussion on the world today and the way we humans treat the globe we call home. The prevailing theme is an interdependence of every being since, without each other, the natural balance in the ecosystem would be disrupted.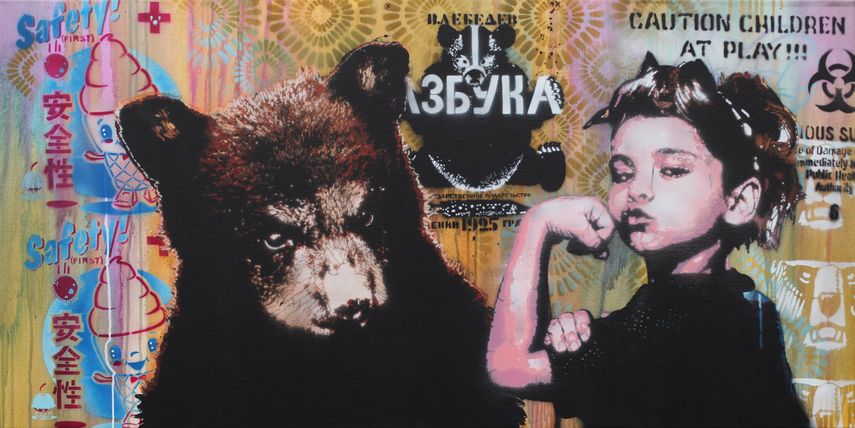 Children at Play
Initially working under the name Plusminus Produkties, the duo adopted the name Pipsqueak Was Here!!! around 2008. Chosen deliberately, Pipsqueak is a small, unimportant person no one pays attention to. By adding 'was here!!!', the pipsqueak earns new importance in all of his insignificance.
Their logo features a girl and a bear, acting as a metaphor between mankind and nature. It is drawn from a warning sign "Caution children at play" from the fifties, which they encountered during a visit to Maui, and remains a recurring theme in their work.
The work of Pipsqueak Was Here!!! ranges from miniatures to murals covering whole sides of buildings. In their work, they use a wide range of materials such as canvas, recycled wood and neon, but also skateboards, cars, scooters and viaducts are adorned with the most beautiful creations. They work with stencils, paint with brushes or rollers, but also collage and solvent transfer.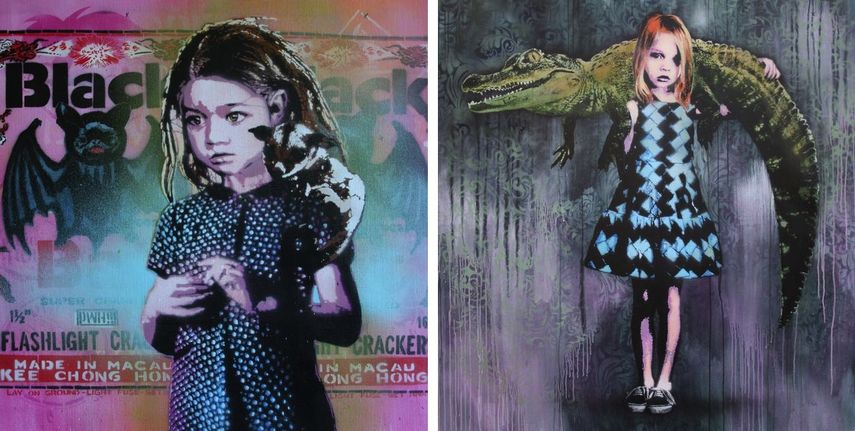 Pipsqueak Was Here!!! Exhibition at Vertical Gallery
With their murals popping up all around the world and shows which are completely sold out, this exhibition will be a truly special opportunity to experience the work of Pipsqueak Was Here!!! in the United States.
The exhibition Caution Children at Play will be on view at Vertical Gallery in Chicago from September 1st until September 22nd, 2018. The opening reception will be held on Saturday, September 1st, from 6 to 10 p.m.
Featured image: Pipsqueak Was Here!!! - Concealed Carry (detail), 2018. All images courtesy of Vertical Gallery.