It seems that we are witnessing a big cultural shift when it comes to the representation of female body within contemporary photography practices. Of course, it does not mean that there are not (and there won't be) photographers whose practice involves the representation of naked female body. But, we see new trends, particularly in the field of more popular photography, that's not exclusively related with contemporary art. For example, in October Playboy announced it would end nudity in its pages. And now, as Pirelli Calendar for 2016 is presented in London, on Monday, November 30, we see something completely different – there are no nude models in it. The 43rd edition of the Pirelli calendar was created by famous photographer Annie Leibovitz and it has introduced quite big changes.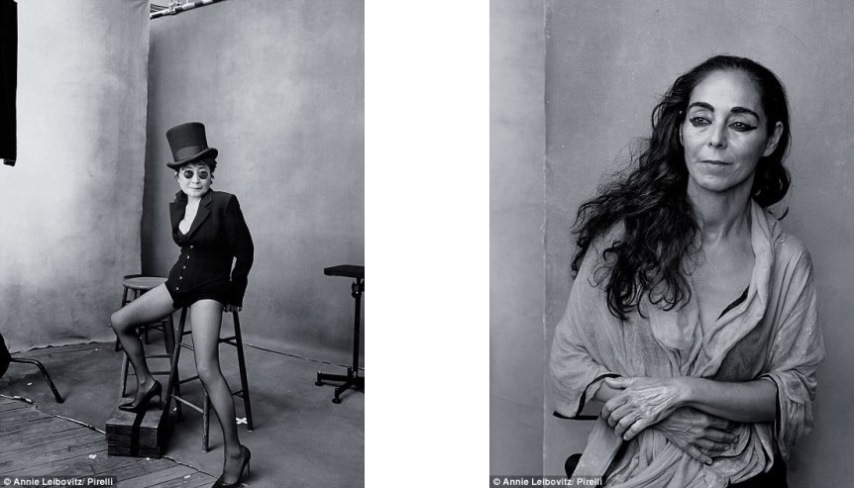 Pirelli Calendar for 2016 without Nude Models
The Pirelli Calendar - an annual limited edition "art item" released by the Italian tire company, looks completely different in its 2016 edition. Even Annie Leibovitz stated that it is "completely different" from previous editions. Why? Usually, if we write about Pirelli Calendar, we would have to put the article into our Provoke! section. To put it simple, Pirelli Calendar usually featured photographs of nude female models. However, for its 2016 edition, its creator, Annie Leibovitz, created 12 studio portraits of women who are renowned for their achievements in different fields – sports, art, philanthropy and comedy. And only three photographs are exceptions to the fully-dressed rule – the photographs of Serena Williams (pictured topless), Amy Schumer, and philanthropist Natalia Vodianova.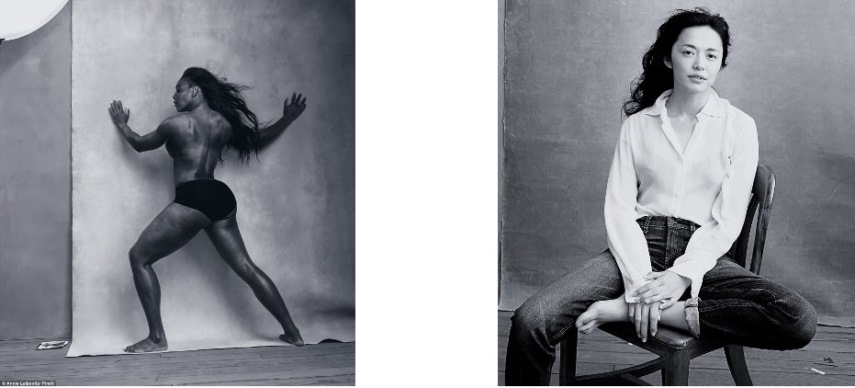 Who posed for Annie Leibovitz ?
So, let us see who posed for Annie Leibovitz for Pirelli Calendar for 2016! All women who are photographed are renowned and successful. The 2016 Pirelli Calendar features 13 women of outstanding professional, social, cultural, sporting and artistic accomplishment: actress Yao Chen, the first Chinese UNHCR Goodwill Ambassador; Russian top model Natalia Vodianova, founder of the charity Naked Heart Russia; producer Kathleen Kennedy, the Chairperson of Lucasfilm and one of the most influential figures in Hollywood; art collector and patroness Agnes Gund (with her granddaughter Sadie Rain Hope-Gund), President Emerita of the Museum of Modern Art in New York; tennis player Serena Williams, number one in the world; opinion leader, critic and writer Fran Lebowitz; the President of Ariel Investments, Mellody Hobson, who supports charity projects in Chicago; film director Ava DuVernay, whose films include Selma, which was nominated for an Academy Award for Best Picture in 2015; blogger Tavi Gevinson, founder of Style Rookie and online magazine Rookie; Iranian visual artist Shirin Neshat; artist, musician and performer Yoko Ono; singer Patti Smith, one of the top rock stars of all time; and the actress and stand-up comedian Amy Schumer.
Pirelli Calendar 2016 - Behind the Scenes Video
The Big Cultural Shift ?
The very fact that the majority of accomplished women who were photographed are not models speaks about the big difference Pirelli Calendar introduced in its 2016 edition (just take a look at the book entitled Pirelli – The Calendar, 50 Years and More, celebrating the 50th anniversary of the Pirelli Calendar, and you will see the difference). It's not only about Annie Leibovitz's decision to photograph strong, powerful women who are not models – the famous photographer was the author of Pirelli Calendar for 2000 – these pictures were the first set of nudes of her career. In addition, Leibovitz is the only woman—aside from husband-and-wife duo Inez and Vinoodh, in 2007—to have photographed the calendar in over 25 years. This is also a notable departure from the Pirelli norm. So, is this shift caused by cultural developments? Is it about political correctness? Or, is it simply about economy and money? Maybe the perfect explanation gave Jennifer Zimmerman, the global chief strategy officer for the McGarryBowen advertising agency, to The New York Times: Between the first credible woman presidential candidate, all the powerful female characters on television from 'Supergirl' to 'Madam Secretary' to 'Scandal,' the pressure for parity in pay, it is impossible to ignore the empowerment of women. Besides, who uses a calendar anymore? It has to stand for something else.
We would like to hear your opinion. Please comment on our Facebook page!
Featured Images: Natalia Vodianova, Pirelli Calendar 2016, detail; Presentation of Pirelli Calendar 2016. All Images via Daily Mail. Images are used for illustrative purposes only.