The Poetics of Democracy: Images and Counter-Images from the Spanish Transition at the Museo Nacional Centro de Arte Reina Sofía in Madrid, will close on November 25, 2019. This date marks forty-four years since the death of Spanish dictator, Francisco Franco who ruled from 1939 until November 20, 1975.
The exhibition originates from research undertaken in 2008 by the Museo Reina Sofía's Department of Collections. The mission was to expose artistic expression that had been excluded from the institutional discourses of Spanish art during the 1970's. On the one hand, there was the anti-fascist voice that was a favored theme at the 1974 Venice Biennale. However, certain artists (some of whom were well known) were excluded because the selection committee seemed to prefer artists whose work was objective and left-wing avant-garde.
During this time, a less popular voice emerged: the youth counter-culture, aimed to free itself from any ideological constructs such as shifts from church to factory and political party to consumer society. There was a need to include more artists from the Basque region, female and gay artists and feminist themes. The counter-culture network spread through bars, festivals, safe houses, and cultural associations, crossing neighborhoods, plazas, and green spaces to transform relations between the public and the private and reclaim the collective right to the city.
The Poetics of Democracy is a large exhibition of paintings and sculptures made during the period of transition, plus works of other mediums that arose from this movement such as comics, collages, magazines, cinema and plastic arts.
Here are some highlights.
Ronda de Noche con Porras by Eduardo Arroyo (Madrid, 1937)
Eduardo Arroyo was born during the Civil War and educated in Madrid, but would live in exile in France until after Franco's death. His work is representative of the avant-garde movement of the thirties alongside significant Spanish artists such as Pablo Picasso and Joan Miró.
Ronda de Noche con Porras/Night Watch with Cudgels (1975) was created near the end of the exile period of Arroyo's career 1958-1976. In this replica of Rembrandt's painting, Arroyo analyzes and denounces the relationship between art and power. Although initially the same dimensions of the original, Arroyo's version had to be cut on both sides to fit into an exhibition in Amsterdam. He would later add on two ends with scenes of Madrid at sunrise.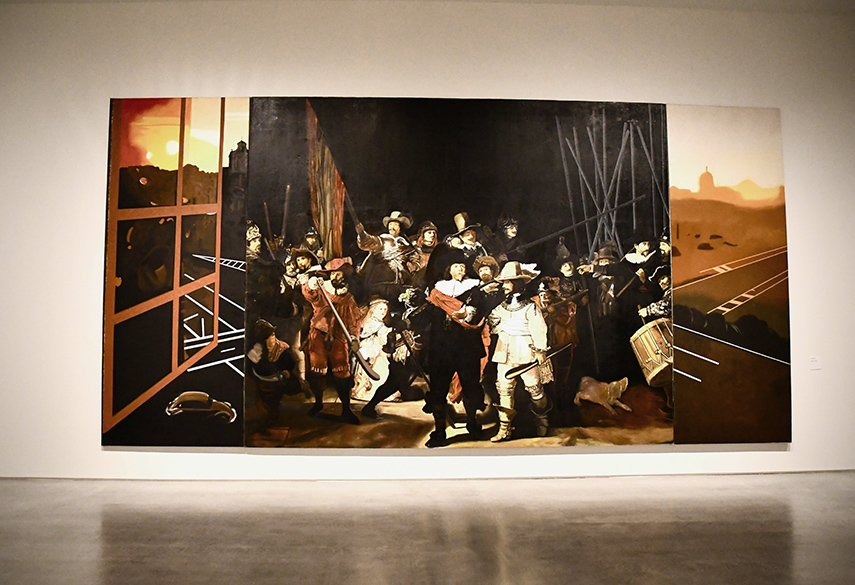 Dos Pueblos, Dos Voces by Andreu Alfaro (Valencia, 1929 - Rocafort, 2012)
Andreu Alfaro is a self-taught sculptor who had his first solo exhibition in 1957, participated in the Venice Biennale in 1966, 1976 and 1995 and other major international art fairs and exhibitions. He also created a significant number of monumental sculptures for public spaces.
Dos Pueblos, Doc Voces/Two Peoples, Two Voices (1964) was presented at the Venice Biennale in 1976 and this sculpture as do many of his works, comments on totalitarian culture. His work from this period does not have any single point of view and Alfaro is form evolves from the relationship between the parts.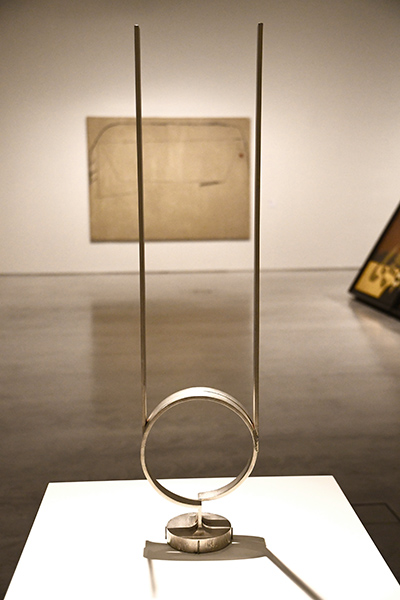 Ballerina de la Margarita by Julio González (Barcelona, 1876 – Arcueil, France 1942)
Julio González chose iron as his metal of choice because of his objection to its use for ammunition and for society's mechanized, scientific environment. He wished to transform iron into evocative forms and welds unrelated or scrap pieces into forms of beauty and defiance.
Ballerina de la Margarita/Dancer with Daisy (ca. 1937) was made in a period of his career where there was a shift to linear and abstract forms with reference to the human figure. González was also influenced by his friendship with Picasso and besides his own work assisted Picasso with some of his own iron constructions.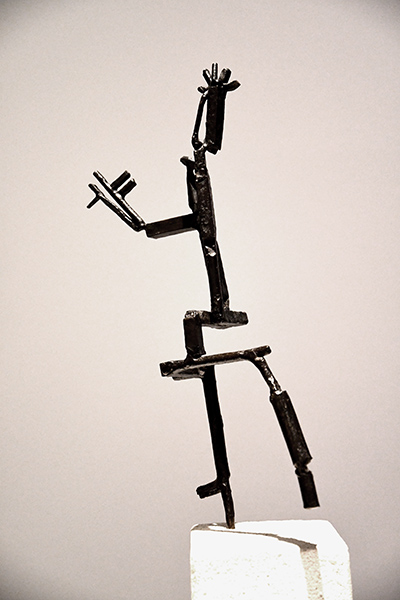 Guernica Cortado by Equipo Crónica (Valencia, Spain, 1964 – 1981)
Equipo Crónica was first set up in 1964 by three artists from Valencia: Rafael Solbes, Manuel Valdés, and Juan Antonio Toledo, although the Toledo left shortly after the formation of the group. Solbes and Valdés remained active until 1981, the year Solbes died. Equipo Crónica was highly regarded in contemporary art in both Spain and other countries in Europe. The group's objective was to convey a highly understood style that referenced everyday life.
Guernica Cortado/Guernica Cut Up (1974) references Pablo Picasso's iconic work that is permanently housed in the Reina Sofia. From the series The Subversion of Signs, it criticizes Spain's academism. (Picasso's Guernica (1937) did not return to Spain until 1981.)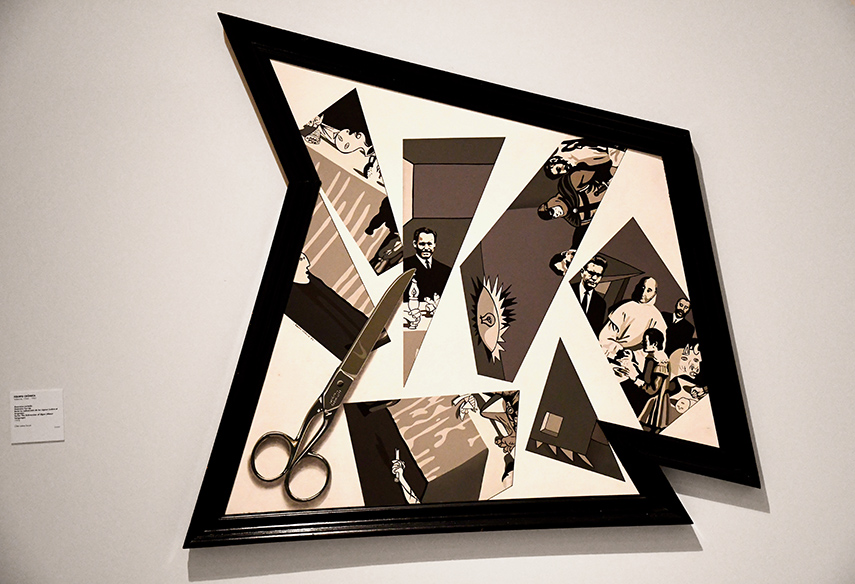 Sin título (Untitled) by Raimundo Patiño (Coruña, 1936-1985)
In 1953, Raimundo Patiño began his career in painting in a style of expressionism and surrealism mixed with the avant-garde and traditional Galician forms. Later on his career he sought new forms and worked closer to the comic pop art style. Patiño was also influenced by Mexican muralists Orozco and Sequeiros.
Sin título/Untitled (1972) is made of acrylic, enamel and marker on chipboard. The youth counter-culture defied Francoism used fashion, music, drugs and sexuality in a new form of artistic expression and Patiño's works created near the dawn of transition epitomized cultural persecution and man's own manhunt.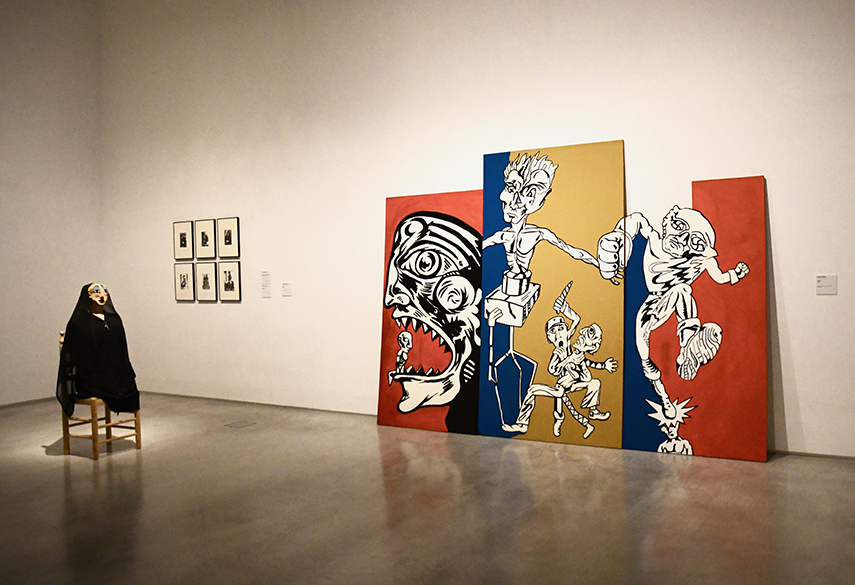 Plañidera/Mourner by José Pérez Ocaña (Barcelona, 1947-1983)
Performer, activist and painter, José Pérez Ocaña was a key figure in one of Barcelona's most vibrant and creative periods. The early eighties signaled a drastic move towards libertarian culture, the sexual revolution, experimental literature and theatre, progressive rock.
From a small town in Andalusia, Ocaña would eventually move to Barcelona where he would embrace the new urban counter-culture. Ocaña was also a performance artist and would walk the Rambla expressing his freedom and sexuality. He said, "I am not a transvestite. I am a theatre and my stage is the Rambla."
Plañidera/Mourner (1977) is made from Papier-mâché. Ocaña art mixes tradition and folklore drawing from his own childhood memories: fiestas (parties,) baptism, funeral rituals and cemeteries.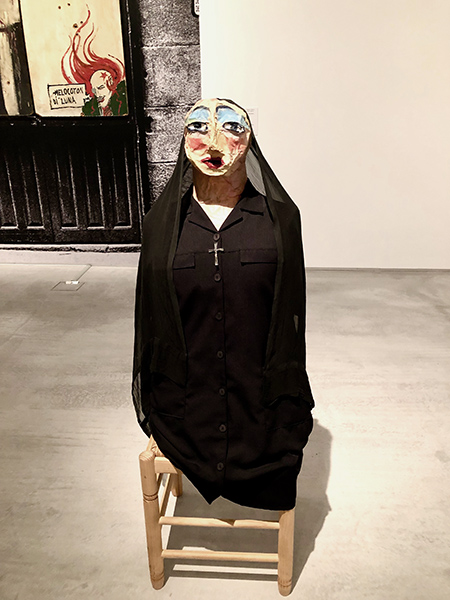 The Poetics of Democracy at Museo Reina Sofia
There is a universal connection and call to continue the conversations that result from The Poetics of Democracy. Alongside the exhibition, the Museo Reina Sofía presented seminars and lectures and published a series of publications called Carta(s) which seeks to broaden the editorial format of the debates that unfold in the institution and beyond.
Now almost forty-five years past the transition period to democracy, The Poetics of Democracy: Images and Counter-Images from the Spanish Transition brings history viewed through the artistic lens out of the shadows. As populism and its impact on democracy is still a relevant and ongoing discussion, art will continue to provide alternative voice, free from the institutions that impede it.
All images courtesy the author.