In a world where nearly everyone has a cellphone camera capable of taking countless instant photos, it can be a challenge to remember just how special and transformative Polaroid photo was in its day, and the beauty and banality of film that develops in the palm of your hand can be difficult to relate to. The definition of instant photography has certainly come a long way since then. In a digital era, the phrase "instant photograph" seems almost redundant, but at the turn of the 20th century, it simply referred to the faster emulsions and shutter speeds that allowed one to stop motion. For decades, this phrase stood for Polaroid. When the first instant camera was invented, photography was still vying for recognition as a "high art". Developing and delivering a picture so instantly, Polaroid's introduction to the mainstream collapsed the production and consumption of photography into one action. There is still something magical for those of us who recall waiting for a Polaroid picture to develop. Yet, Polaroid is not just an object of nostalgia, it is a catalyst undeniably linked to the massive changes we've seen in social rituals and imaging technology in our lifetime. Often dismissed as a toy, Polaroid has encouraged photographic play as well as new forms of artistic practice.[1]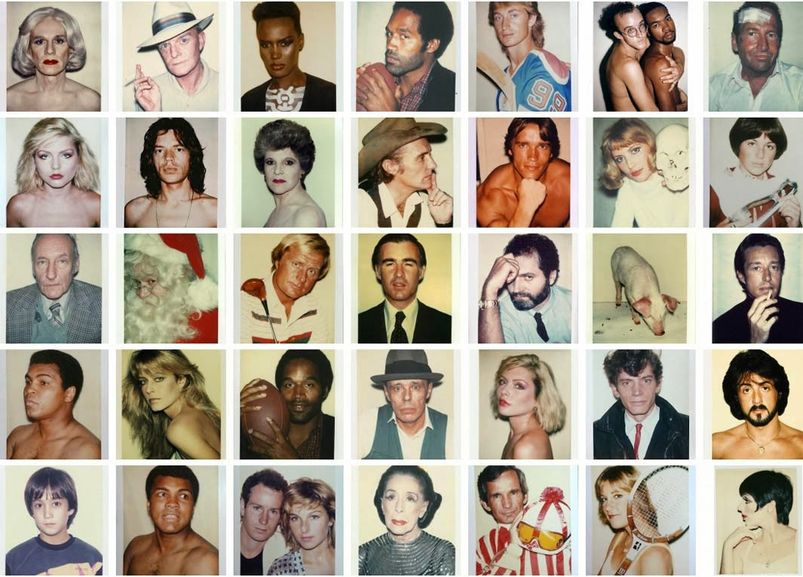 The Birth of the Instant Polaroid Photo
Polaroid was invented by the scientist and inventor Edwin Land in 1948. "Photography will never be the same", Land remarked on his discovery. And he was right. After developing his pioneering technology for the Polaroid Corporation, he presented the world a remarkable new process that allowed anyone to immediately develop and print photographs without a darkroom and using a single apparatus. Polaroid functioned both as a camera and a dark room. Early Polaroid advertisements marketed the novelty of instantaneity: "Just drop the film in your Polaroid 'Picture-in-a-minute' Camera and you're ready to shoot the best pictures you've ever taken." Millions of enthusiasts worldwide took the plunge. The original pack film was constantly updated and eventually transformed into what Land termed integral film, a self-contained package of negative, developer and an opaque chemical shield that would turn transparent as soon as the photograph was ready to be seen. In April 1972, Polaroid took a step forward in both form and function when it released its sleek SX-70. "Don't undertake a project, unless it is manifestly important and nearly impossible," said Land at the time. Regarded as the most sophisticated and innovative consumer product of its time, the immediacy provided by a lack of peel-apart film made it the digital camera of its day. Land, who had dropped out of Harvard, saw the SX-70 as the ideal way to remove the barriers between the photographer and his subject.[2]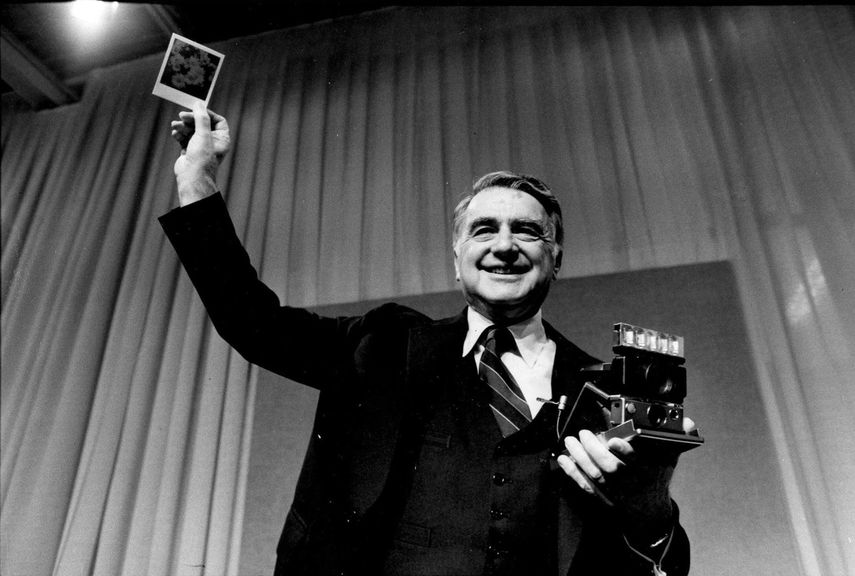 Polaroid's Artistic Potential
Despite the reception, instant cameras were in the beginning widely viewed by professionals as an amateur's gadget and nothing more. In order to change this, Land had started collaborating with Ansel Adams in 1949, enlisting the photographer as a consultant for $100 a month. Adams talked up the brand to his art-world connections, and soon many other luminaries started experimenting with the technology. The instant camera was photography's ticket into the avant-garde movement, the medium's answer to painting's conceptual art. Land even developed and Artist Support System in the 1960s, in which artists would receive free equipment in return for artworks donated to Polaroid. Whereas 1960s photography was deeply mired in aesthetic conservatism, in the 1970s, many artists began to break with convention and look beyond the gelatin silver print to other forms of mechanical reproduction. As a result, a tradition of experimentation with Polaroid took hold, and artists turned to instant photography to create a remarkably diverse and innovative body of work that collectively left an indelible mark on the history of the photograph.  The intimacy of the technology - point, shoot, and print - ushered new freedom and allowed experimentation, and that was also part of its draw. But in spite, or because of, the amateurish instant gratification of the Polaroid camera, it became an important medium for many well-known artists.[3]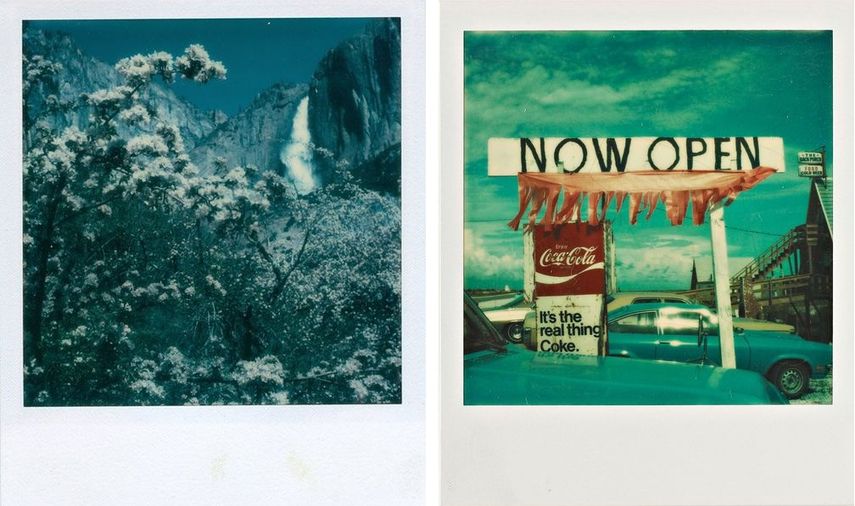 Famous Artists Experimenting With a Polaroid Photo Camera
First serving as a Polaroid consultant who tested new films and equipment, Ansel Adams continued using the process for the rest of his career, believing that Polaroids produced tones that were not possible to recreate through other formats. Famous for his large-scale black-and-white photographs of the American West and a highly methodical approach to photography, Adams was still able to manage a sense of grandeur with his SX-70 and create equally stunning landscapes, such as the Yosemite Falls created in 1979. In his autobiography, the artist wrote: "Many of my most successful photographs from the 1950's onward have been made on Polaroid film. One look at the tonal quality of the print I have achieved should convince the uninitiated of the truly superior quality of Polaroid film." Walker Evans, a documentary photographer best known for his images of the Great Depression during the 1930s, was given an unlimited supply of Polaroid film in 1973. He produced over 2,500 Polaroids, typically choosing to photograph signs and people. Believing that only an experienced photographer could get the desired results, he famously proclaimed that "nobody should touch a Polaroid until he's over 60". After the death of his wife, the photographer André Kertész allegedly consoled himself by taking up a new camera, the Polaroid SX-70. He created beautiful, colorful compositions of the world around him. Following his interest in disposable celebrity culture and mass-produced art, Andy Warhol found the Polaroid camera ideally suited for experimentation. "There is something about the camera that makes the person look just right. I take at least 200 pictures and then I choose. Sometimes I take half a picture and a lip from another picture", he stated. Early extensive diaristic experiments with a Polaroid were key to the development of Robert Mapplethorpe's style. Created between 1970 and 1975, his Polaroids range from vulnerable and intimate to tough and violent. The artist David Hockney experimented with new ways of seeing, by piecing multiple viewpoints together using a Polaroid to create photocollages, which he called "joiners". Made through traditional photographic processes, his images overlap each other to create the final image. Other artists who created compelling works using a Polaroid include Lucas Samaras, who manipulated the colored dyes on the ejected drying photographs, Minor White, who was drawn by the idea of "the immediate image", Christopher Makos, who taught Warhol to use a camera, Helmut Newton, who called it "a wonderful sketchpad", and David Levinthal, who successfully blurred the line between reality and make-believe.[4]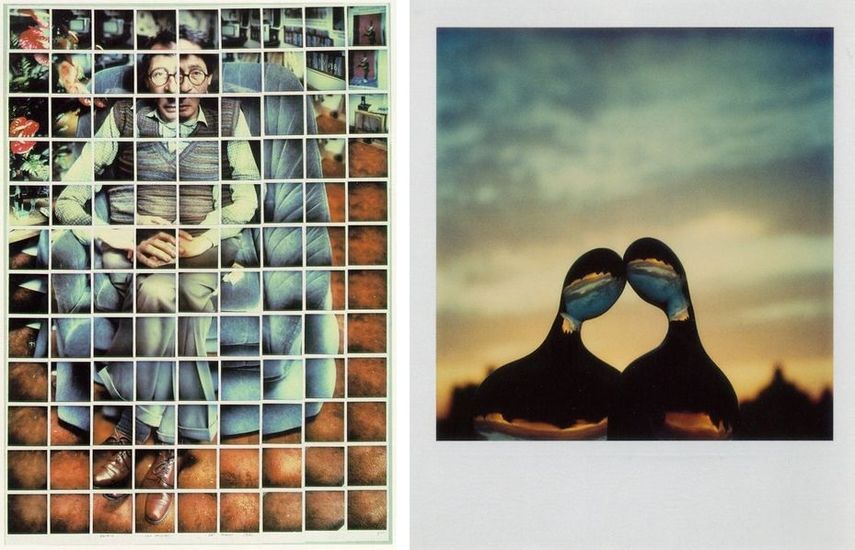 The Legacy of the Polaroid
In 2008, the Polaroid Corporation went bankrupt and officially ended all production of instant photography products - leading to an outcry from artists who traditionally have used the camera in their creative process. Yet, a small group of Polaroid employees launched the Impossible Project in 2010, an endeavor that claims to have saved analog instant photography from extinction. Today, analog instant photography enjoys a legion of passionate followers and artists still avidly use it in their work. The artist Jeremy Kost creates campy collages of Hollywood types and drag queens. Using a Polaroid as his medium, he tirelessly chronicles gender, sexuality, and nightlife. The artist Dash Snow uses a Polaroid to document his drug-fuelled underground lifestyle in New York. Using his Polaroids as a diaristic record of the many 'nights before' he couldn't remember, his snapshots piece together a fragmented portrait of peripheral existence. The Canadian artist Kyler Zeleny recently started a project Found Polaroids, showcasing his collection of over 6000 found Polaroids online. In order to find new meaning to these found images, that once meant something to someone but ended up abandoned, he allowed the audience to create new narratives for them. Despite the advent of digital photography, it seems that Polaroid has become an art world mainstay. Though it is no longer looked to as the height of invention, its legacy of experimentation, manipulation, and instant photography as artistic practice is still an inspiration for many artists today.
Editors' Tip: The Polaroid Years: Instant Photography and Experimentation by Mary-Kay Lombino
Filled with images from a trove of artists from Ansel Adams to Andy Warhol, this is the first volume to explore the Polaroid camera's indelible influence on the history of photography. From its inception in 1947, the Polaroid system inspired artists to experiment--to dazzling effect--with the cameras' unique technologies. This fascinating journey through the Polaroid era documents the evolution of instant photography. Hundreds of color images celebrate the myriad ways Polaroid photographs have been used and ingeniously manipulated by Walker Evans, David Hockney, Barbara Kasten, Robert Mapplethorpe, Lucas Samaras, and others. The book features essays addressing the unique technology of instant photography and the marketing genius of the Polaroid Corporation. A variety of artist statements reveal how Polaroids affected and, in many instances, forever changed the way they captured the world around them.
References:
Buse, P. Camera Does the Rest: How Polaroid Changed Photography. University of Chicago Press, 2016
Stelfox, D. (2012) Polaroid instantly changed photography, and its legacy lives on. The National
Cooper, A. (2013) An Instant History of the Polaroid. Art Space
Sposato, B. (2005) Camera Ready: Artists Play With Polaroid. Art News
Featured image: Polaroids, via mortalmuses.com. All images used for illustrative purposes.