Color is the key element in Polly Apfelbaum's work, both visually and structurally. For the past thirty years, she has been filling galleries, museums, and public spaces with a splash of colors, urging the viewers towards indulging in the pure aesthetic joy her work provides. Inspired by Outsider Art, feminism, everyday life, and the expressive qualities of color, she has been fusing painting, craft and installation, dissolving spatial, plastic and temporal boundaries. Her latest body of work will soon be on view at Alexander Gray Associates as the artist's first exhibition at the Gallery. Titled Polly Apfelbaum: The Potential of Women, the exhibition will feature all new work, including gouache drawings, hand-woven rugs, and wall-mounted ceramics. The key visual motif comes from the 1963 book, The Potential of Woman, published in conjunction with a symposium of the same name.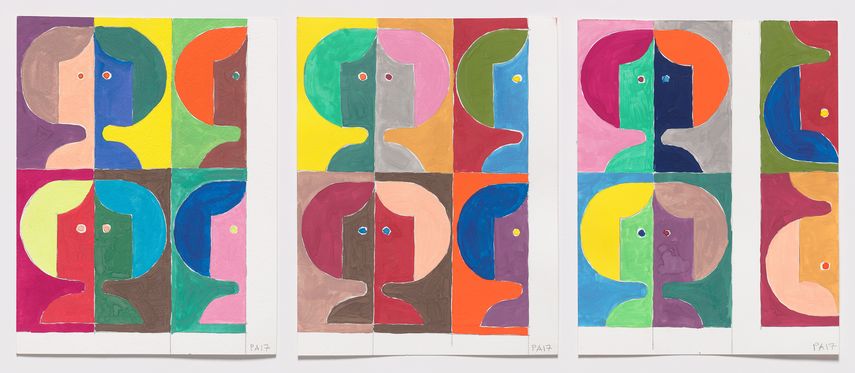 The Potential of Women
The sensibility of Polly Apfelbaum is informed by an encyclopedic knowledge of the applied arts, fine art history, and popular culture. The inspiration for the latest series is drawn from graphic designer Ridolph deHarek's cover design for The Potential of Woman, featuring a flattened stylized view of female figure's head. Consistent with this ongoing interest in applied design and popular culture, she has chosen the image as an icon and appropriated it. Imagining a future in which women might be useful contributors, the book and its related symposium carry a provocative and ultimately patronizing message. On the other hand, Apfelbaum chose to reflect the desire for a broader appreciation and empowerment of legions of capable women in the present, at the same time changing the word "woman" into "women" to reinforce an inclusive communal narrative around feminism.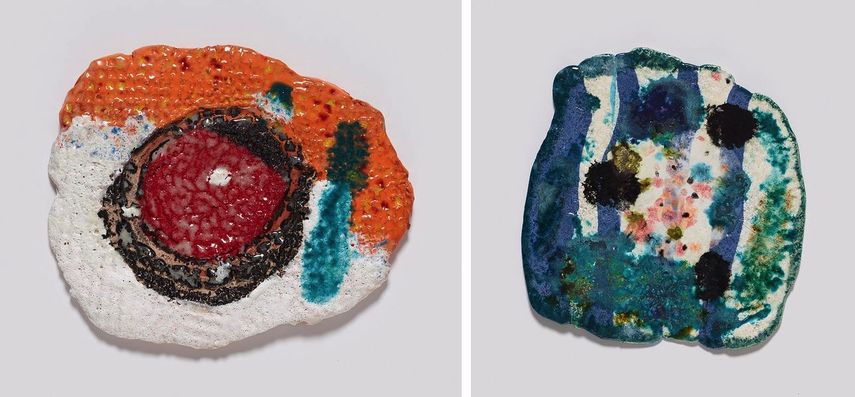 An Immersive Environment
The entire space of the second-floor gallery has been transformed into an immersive environment filled with four rugs, painted walls and dozens of wall-mounted ceramics. Woven in Oaxaca by Zapotec artisans indigenous to the region using their traditional weaving and dying methods, rugs deploy deHarek's design in orange, pink, tan, and black. Matching these tones, the walls of the gallery are also painted in large horizontal stripes of orange, pink and white. Abstract ceramic portraits hung around the walls are supposed to mimic a participatory audience for the work. Another crowd of women is depicted in polychromatic gouache drawings installed on the ground floor of the gallery. Using a vibrant dense pigment as a tribute to Josef Albers' landmark book on color theory, Interaction of Color, she has rendered the face from deHarek's book cover in a variety of sizes and color spectrums.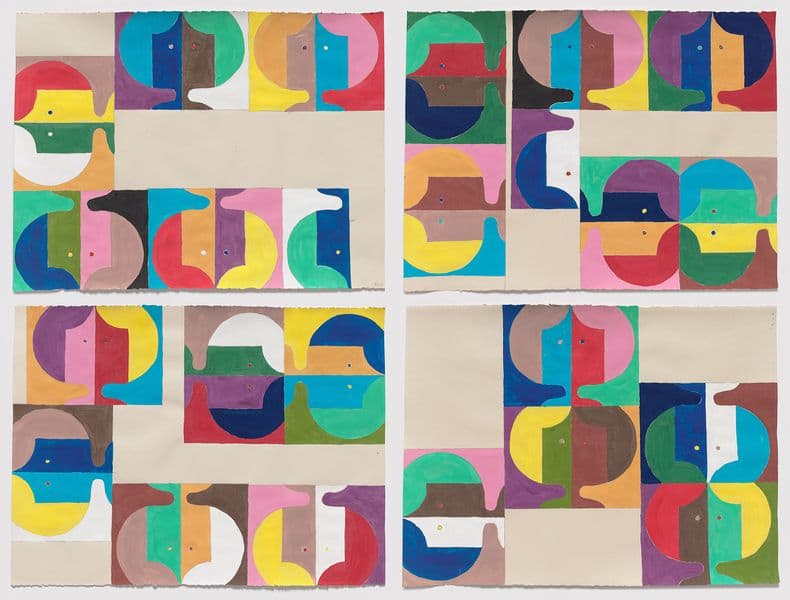 Polly Apfelbaum Art Exhibition at Alexander Gray Associates
With her latest work, Polly Apfelbaum expands the visuals of the political landscapes surrounding the 2017 election and its resulting activism. At the same time, these works also pay homage to the recent resurgent prominence of women's marches, at the same time enforcing the power of community, collective action and activism. The exhibition Polly Apfelbaum: The Potential of Women will be on view at Alexander Gray Associates in New York from September 7th until October 21st, 2017. The opening reception will be held on Thursday, September 7th, from 6 to 8 p.m.
Featured image: Polly Apfelbaum: The Potential of Women, installation view, Alexander Gray Associates (2017); Polly Apfelbaum - Terence, n.d. Ceramic and glaze 12.50h x 14.25w; Polly Apfelbaum - Pae, n.d Ceramic and glaze 10h x 11.50w; Polly Apfelbaum - Mona, n.d. Ceramic and glaze 13.13h x 19.50w; Polly Apfelbaum - Magnus, n.d. Ceramic and glaze 13.25h x 14.25w; Polly Apfelbaum  - Dona, n.d. Ceramic and glaze 7.44h x 8.44w; Polly Apfelbaum - Darla, n.d. Ceramic and glaze 9.50h x 10.75w. All images courtesy Alexander Gray Associates, New York © 2017 Polly Apfelbaum/Artists Rights Society (ARS), New York; All images via Alexander Gray Associates.