For his first solo exhibition at Celal Gallery, the Spanish street artist Kenor develops a work that presents itself as the summary of all previous visual plastic directions. His research on aesthetics or his musical inclinations and his discoveries in plastics take turns to create a series of paintings, sculptures and ceramics, at the same time light and straightforward. Titled "Polyrythmic Beats", the show is an updated version of Kenor's experimental evolution, which runs from the late eighties to now. Over the years, he experimented gradually the dynamics of the line drawn by aerosol - the line used as transfiguration of rhythm and movement.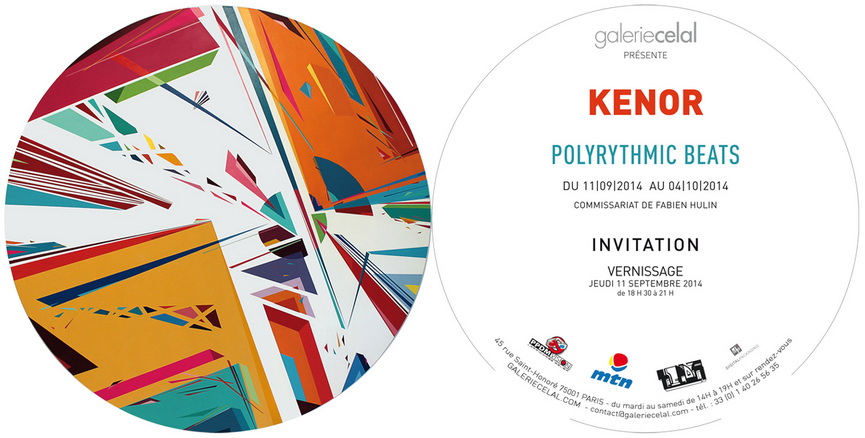 A New Audiovisual Proposal
Dance and music always accompany Kenor's work and one could say that his work is a constant quest for the best possible translation of the moment. Color is another essential engine of his work. His geometric forms pulse with vibrant colors. Kenor paints rhythms creating a new audiovisual proposal, a melody. He transforms each rhythm in a unique pictorial language that resonates with energy and movement.

"Polyrythmic Beats" is a fusion of all the styles that I have developed over the past decade: geometric abstraction, deconstruction, perspective and movement. The whole concept was made ​​from "point", creating infinite points from a continuous and indefinite succession that defragments the line on the plane into multiple fragments in a single dimension, Kenor explains. An effective translation for his extensive mural work!
"Polyrythmic Beats" opens on September 11 and will remain on view until October 4. The exhibition catalog was published on the occasion of the exhibition.