Perhaps he is not as famed as the other two main figures of Pop art, Andy Warhol and Roy Lichtenstein, but James Rosenquist certainly helped define this movement as one of the most revolutionary ones of the 20th century. It is great sadness that we mourn his loss, after his wife Mimi Thompson confirmed the artist died at his home after a long illness, at the age of 83. He was known for the strong graphic style he started developing in the 1960s, merging into the concepts and aesthetics of Pop artists who used objects from popular culture and mass media to create consumerist critics and praises alike.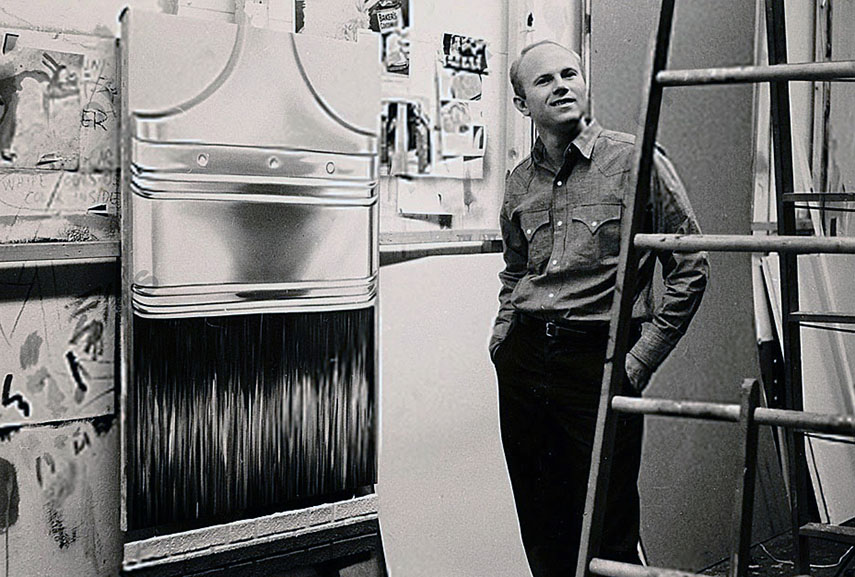 The Journey of a Sign Painter
James Albert Rosenquist was born in 1933 in North Dakota. His interest in art probably came from his mother, Ruth, who was also an amateur painted. After being encouraged by her, he won a scholarship to study at the Minneapolis Institute of Arts when he was in high school. During his time at the University of Minnesota in the early 1950s, he started working for a contractor, painting gas station signs, storage tanks and grain silos. From there, James Rosenquist went on to work for a billboard company painting advertisements for movies, soft drinks and liquor. These experiences were perhaps crucial in his future visions as an artist; in 1955, he moved to New York for a one-year scholarship at the Art Students League, where he continued to paint signs. This doing of commercial art, most notably the immense movie billboards above Times Square and a Hebrew National sign in Brooklyn, shaped his practice as a Pop artist, which he officially become after quitting his "day job" in 1960.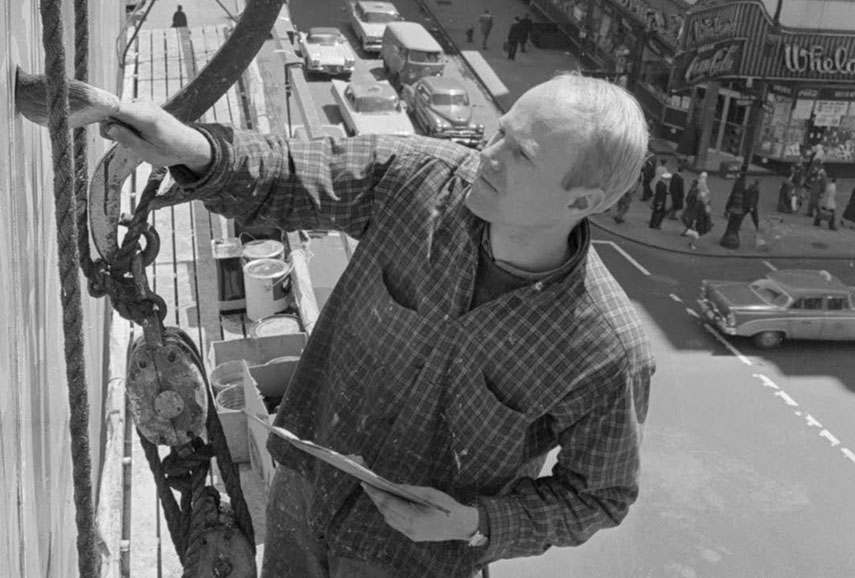 A Pop Art Pioneer
In New York City, James Rosenquist began frequenting the Cedar Tavern in Greenwich Village, where he would run into Willem de Kooning and Franz Kline, among others. In the meantime, he had also got to know Robert Rauschenberg and Jasper Johns, who also came to influence his artistic style. He began painting and creating fields of brushmarks, in the spirit of Abstract Expressionism which had ruled the arts world at the time , but after meeting the two artists, he started incorporating that very first skill of his - sign painting. From then on, James Rosenquist immersed himself in Pop art, although he never considered himself a Pop artist (once, he even admitted he didn't know what Pop art is anyway). During his entire life, he experimented with sculptural assemblage and environmental installations, sometimes even adding three-dimensional objects to his paintings.
His oeuvre could be characterized as representational, inspired by fine art, semiotics, Surrealist collage, contemporary advertising, the juxtaposition of imagery that very rarely had the aim to be political. Perhaps the only example of such artwork is the 1964/65 - F-111, featuring an image of a modern fighter plane stretching across 51 canvas and aluminum panels and being interrupted by images of a beach umbrella, a mushroom cloud, spaghetti and tomato sauce, a colossal tire, and much more. James Rosenquist's aim was to sell all pieces separately, but collector Robert Scull bought the whole artwork and kept it like that. It is now a part of the collection of the Museum of Modern Art in New York.
The critic Robert Hughes discusses James Rosenquist and his painting F-111
James Rosenquist Dead at 83
In 2003, James Rosenquist was honored with a full retrospective at the Guggenheim Museum in New York, and in 2009, he lost some of his artworks and a huge mural commissioned by the French government, in a brush fire which got his home in South Florida. His art can probably be best described by the artist himself, who once said that the size of his works "gave steroids to pop art." He also said he was never concerned with logos or brand names or movie stars. "[Unlike Roy Lichtenstein] I wasn't interested in ironic simulations of pop media; I wanted to make mysterious pictures." Indeed, looking at some of his most iconic pieces, we can't help but feel intrigue, and awe, and an interested that will keep on lasting even after these sad days.
Commenting on the death of Mr. Rosenquist, critic Jerry Saltz wrote: "Whatever he did, Rosenquist work appeared brand new back then as it does now. He influenced several generations of artists who looked to popular culture and employed other-than-art techniques."
Featured image: James Rosenquist in front of his artwork "Joan Crawford Says..." (1964). Image via Manoocher Deghati Agence France-Presse. All images used for illustrative purposes only.