Serene female subjects, saturated colors, flowers, skulls and butterflies will turn Haven Gallery into a magical place. The New Gustavo Rimada exhibition brings us everything we love about him – and some more. This time, it seems like his portraits are not so grim – but all the features of his style are still there. Gustavo Rimada is an artist whose work you'll find both in galleries and at tattoo conventions. His unique style is a perfect postmodern blend of influences and references, fitting perfectly into the (art) world of today.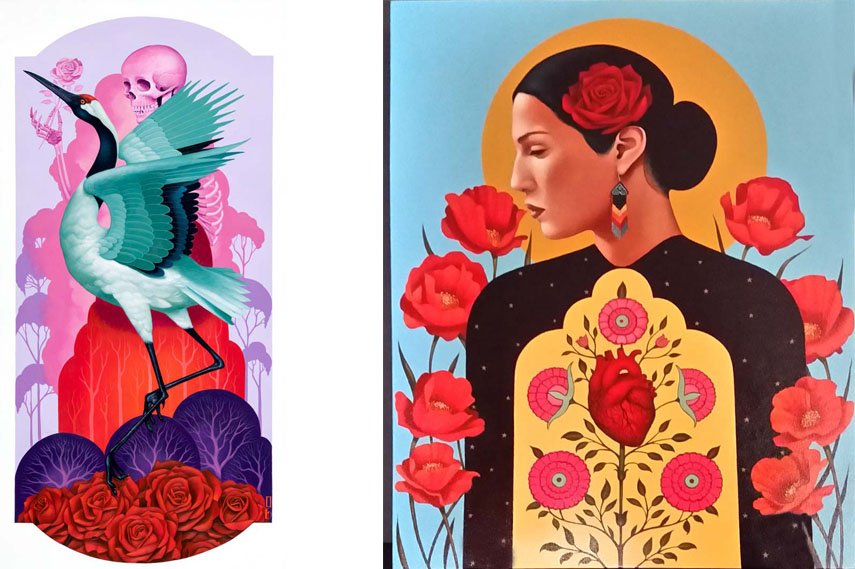 The Artist Who Makes Art Nouveau Go Pop!
The art of Gustavo Rimada bears an eclectic but highly appealing (and slightly spooky) style. Studying to be an animator, he got disillusioned after the 9/11 and joined the army. Several years later, he returned to art by painting pinup girls and working in a tattoo parlor.  His outlines are solid and the colors are saturated (as you would expect from tattoo art), but his subjects are elegant and the presentation is highly detailed. Yes, there tends to be a lot going on in his paintings, but don't worry: Rimada's compositions and colors will unequivocally guide your eyes. The subjects of his art – he did paint a beautifully morbid portrait of Lana del Rey back in 2014 – make Rimada a contemporary pop artist, his compositions make him a surreal painter, and lush floral motifs and curved lines in his paintings bring us back to the beginning of the 20th century.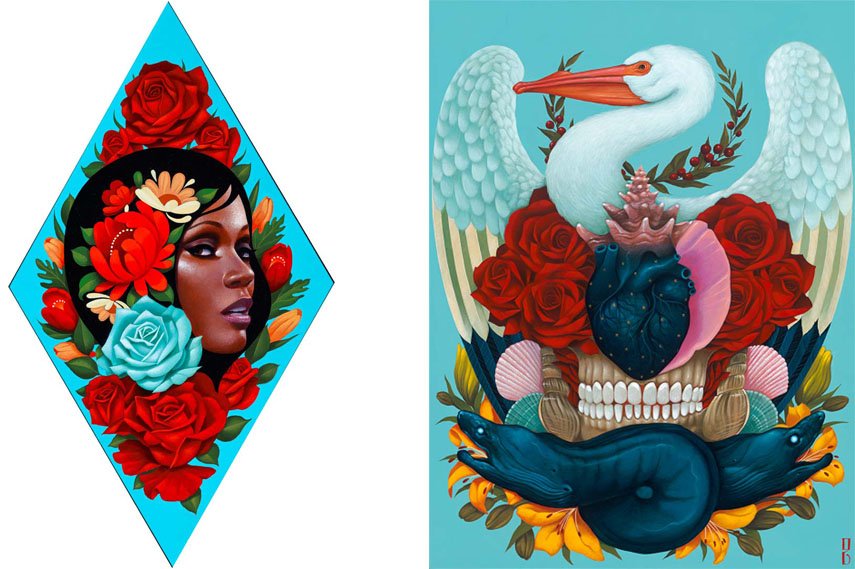 Women of Grace and the Old Cartoons
The artist himself is known to define his style as a contemporary, surreal style of Art Nouveau. And, although it's a mouthful, we probably couldn't explain Rimada's style better if we tried. The title of the exhibition is Regal, which means Royal in Spanish. Rimada painted statuesque women – the ones with dignity and grace. Many of them look to the side. The images are, therefore, not as grim as some of the artist's previous works, but appear more fairy-tale like. As a matter of fact, Rimada's color palettes are based on the ones of old Disney movies, like Sleeping Beauty and Alice in Wonderland. The somewhat raw pin-up aesthetic made way for a bit of serenity while not diminishing the usual vibrancy of Gustavo Rimada's pop surrealism.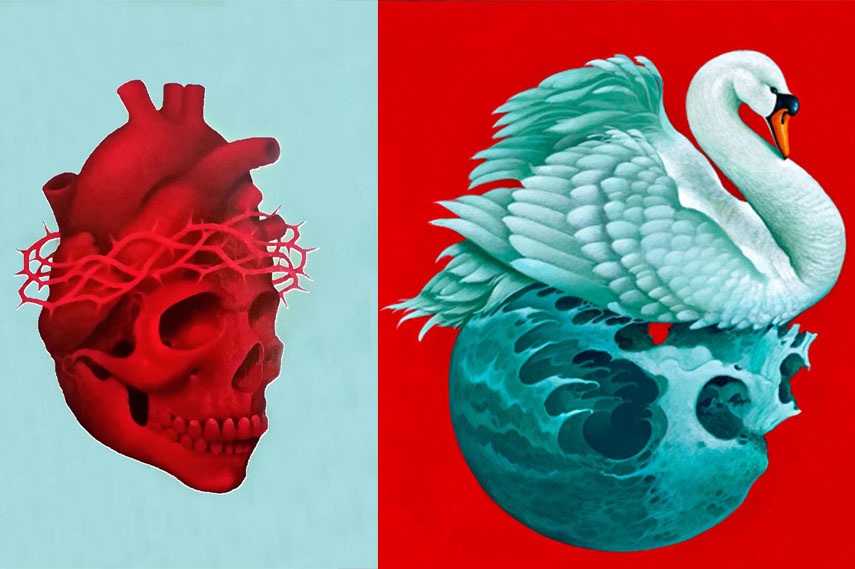 Gustavo Rimada at Haven Gallery in Long Island
The artist cites Alphonse Mucha as his most notable influence. Mucha's lush floral backdrops and rich ornamental backgdrops have certainly influenced Rimada to create his own spin on Art Nouveau. And as Mucha saw himself as, first and foremost, a Czech artist, Rimada's style, among other visual codes it incorporates, also retains a trace of the painter's Mexican heritage. This creates bolds and colorful visual that resonate with the viewers on a multitude of levels. Regal by Gustavo Rimada will be on view from Saturday, February 20 to Sunday, March 27, 2016, at Haven Gallery in Northport, New York. The opening reception is happening on the 20th of February from 6 to 8 p.m.
Featured images: Left: Gustavo Rimada - The Falconer / Right: Gustavo Rimada - The Royal Deer; Gustavo Rimada - Illuminate; Left: Gustavo Rimada - Reina Del Bosque / Right: Gustavo Rimada - Free Bird - detail; Gustavo Rimada - Transcend. All images courtesy of Haven Gallery.