What do you think about art rooted in underground comix, hot rod cars and punk music? How would you imagine this kind of art? If you wouldn't even call it art, then you are in line with some critics excluding this so called Lowbrow art that led to Pop Surrealism from "legitimate" art movements. Perhaps they are right. I mean, underground comix are cool for a lot of people, and so is punk music, but would you hang something like that in your apartment? On the other hand, many collectors are totally OK with collecting this kind of art, and some of the artists that took their art to the new level, to Pop Surrealism, are also OK with everything people say about their art, because who wouldn't be OK when he or she receives six figures for an artwork?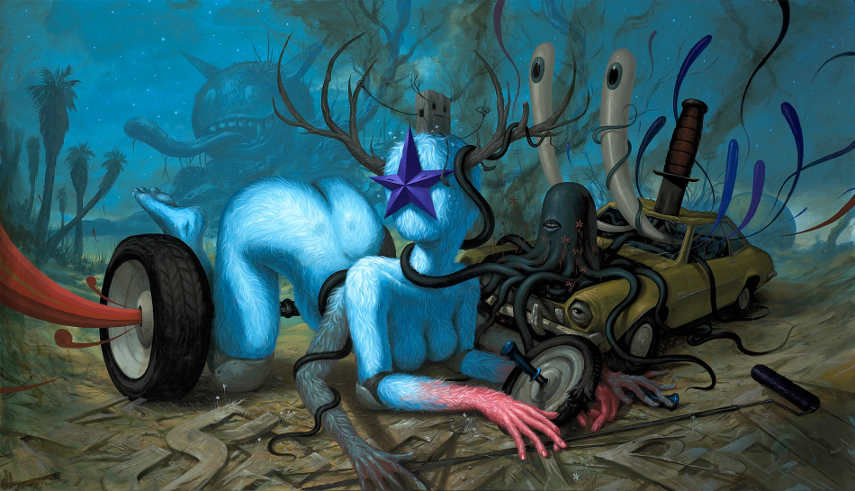 Lowbrow Origins
Merriam-Webster dictionary definesthe word "lowbrow" as "not interested in serious art, literature or ideas' and 'relating to or intended for people who are not interested in serious art, literature or ideas". So, you get the idea. It was the late 1970s when Lowbrow started to emerge on the West Coast, particularly in Los Angeles. Some authors point out that Lowbrow movement has its roots in art movements from the beginning of the 20th century - movements such as Dadaism, Surrealism, and Fauvism; some say that even the development of Lowbrow is similar to the development of aforementioned movements, as were the reactions of traditional art critics on the appearance of these new forms of art, back then.
Since Lowbrow is connected to underground comix, tattoo, illustration and street art, among other things, many Lowbrow artists are not artists by their education - they are self-taught, far away from anything that could be considered and called fine art. These are the reasons why art critics, museums and art galleries have their doubts about the whole Lowbrow movement and Lowbrow art - it's simply not their world and people that are creating Lowbrow art couldn't be further away from the milieu of gallery curators and art schools. Formally speaking, Robert Williams, the American painter and cartoonist, took credit for the creation of the term Lowbrow art. About 10 years ago, in his famous magazine Juxtapoz, he said that, back in 1979, it was expected of him to give the title of a book that featured his paintings. He named it The Lowbrow Art of Robert Williams (as opposed to "highbrow"), and explained that "no authorized art institution would recognize his type of art".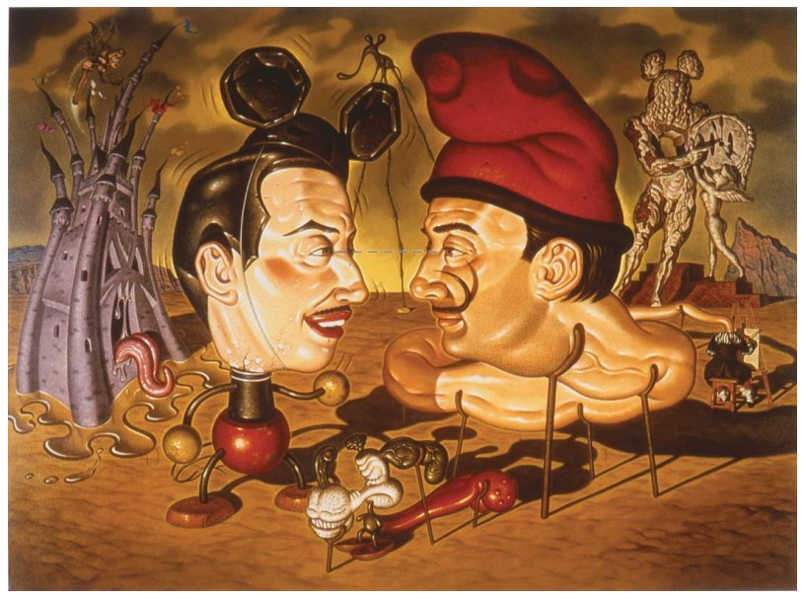 The Transformation
In its beginnings, Lowbrow art was completely underground, like we have seen. But, as did so many movements before, Lowbrow started to gain some popularity - that mentioned Juxtapoz magazine, as well as Hi Fructose magazine, popularized Lowbrow and helped it to be more visible. The result was that the number of individuals that are using Lowbrow style started to grow. However, the other result was that, with this enlargement of Lowbrow artists, some of them have started to go beyond Lowbrow style - raw, unpolished and simple - and to change it towards more sophisticated and refined one. A complete new sub-scene has showed up, consisted of classically and formally trained professionals that ruled the painting skills, but were still attached to Lowbrow's inherent characteristics and motifs. In other words, we've got some creatives that were able to produce truly wonderful and beautiful paintings, with underground comix and punk rock motifs within. This style became known as Pop Surrealism, and some consider the artist Kenny Scharf to be the "godfather" of its name. "Surrealism is about the unconscious, and I feel my work is about the unconscious. The images come from the unconscious except that my unconscious is filled with pop imagery. My unconscious is pop, therefore the art would be Pop Surrealism" - that's how Kenny Scharf described his art.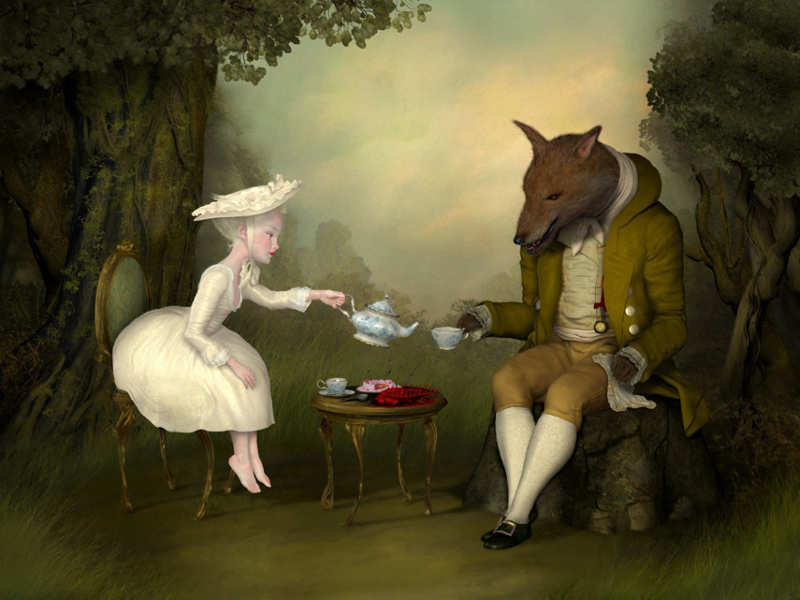 Pop Surrealism
Another consequence of the creation of the movement was the acceptance by the world of so-called high art, or fine art. With the emergence of Pop Surrealism, the line between Lowbrow and Highbrow art was blurred and became indistinguishable. This new style helped Lowbrow achieve some validation and approval of the fine art world, and, at the same time, these new creatives have brought fine art closer to Lowbrow admirers - their style was so polished that it could have passed easily as something from the Old Masters tradition; however, their inspiration was drawn from counter-cultural icons: this way, Pop Surrealists brought both to high and low art something they've missed up until then. Pop Surrealism also had a warm reception and a big welcome from regular, average citizens - for those who were not interested, let alone educated, in high art and its history, or anything even remotely linked to it, but who were at the same time totally into pop culture and its icons. The typical and a bit subversive characteristic of the movement and its artists was to use pop icons, such as Marilyn Monroe or Disney's characters in order to pass their political or social messages, and at the same time, they've used painting style that referenced on Picasso or Van Gogh. One of the most popular artists, who has made the most successful across over between the high and the low art is Mark Ryden. Not only had he influenced many others, such as Ray Caesar and Jeff Soto, but he was also someone whose works have entered the world of the biggest auction houses on the planet and were able to fetch six-figure prices without a problem. Another good example is Yoshimoto Nara who sold seven of his artworks in the price range of $1-$5 million at auctions in 2015 alone.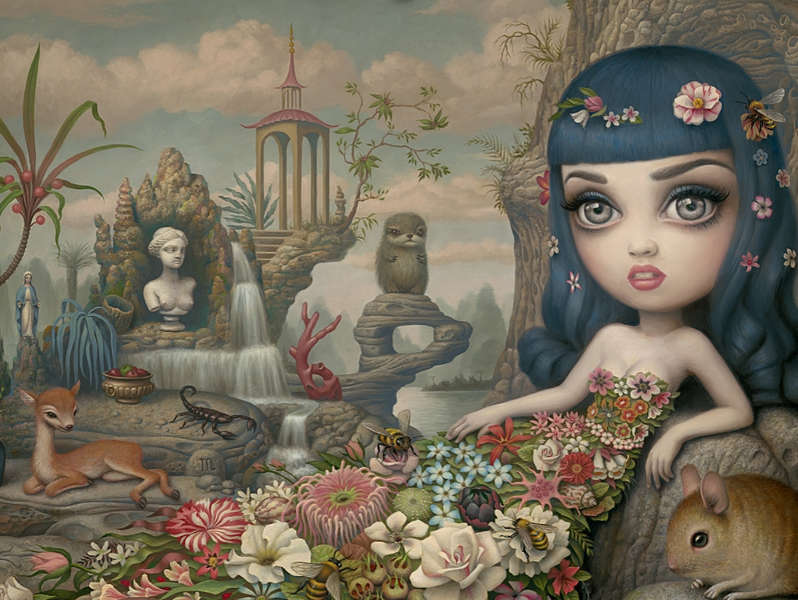 The Variations
Let's see now some of the variations in style through the work by some of the most prominent members of the movement. Todd Schorr has combined two of his loves, Old Master paintings and comic book art, and created a recognizable style. He began his career as an illustrator, but got bored, gave up and completely went into fine art painting, where he implemented characters of his imagination with some Old Master painting technique. Another well-known name is Victor Castillo, who's been famous for his long-nosed characters, that were inspired by cartoons of his childhood in Chile. Alex Gross uses Lowbrow motifs to allegorically highlight some phenomena in the society that surrounds him, while Jeff Soto is a true crossover from Pop Surrealism to Street art, and vice-versa. He started as a street artist during his teens, and has graduallyhe evolved into a respected artist that uses imaginary creatures in a retro-futuristic manner to open up the questions about man's relationship with nature. Finally, as the time has changed, Pop Surrealism has changed as well - as everything went digital after the beginning of 2000's, so did the movement. Artists started to use and experiment Photoshop and 3D modeling programs like Maya, and a true master of this domain is Ray Caesar - you may think of his work that is something created several centuries ago, and then, all out of a sudden, you find out that some of the characters in his paintings have a bionic limb, or a machine inside of their chests.
So, as we've seen, Lowbrow art has gone a long way, from not being recognized as art at all, to a respectable and acclaimed style of Pop Surrealism. It had also changed over the years, transforming its style from rough, raw and uncultivated to polished and beautiful. As a true child of its time, it even followed transformation to the digital world of today. What a ride it was, from an unwanted and unloved infant to multi-million dollars sales in the biggest auction houses and galleries of the world!

 Editors' Tip: Pop Surrealism: The Rise of Underground Art
In the Pop Surrealism: The Rise of Underground Art, you can find many images from the movement's twenty-three top artists including: Anthony Ausgang, Glenn Barr, Tim Biskup, Kalynn Campbell, The Clayton Brothers, Joe Coleman, Camille Rose Garcia, Alex Gross, Charles Krafft, Liz McGrath, Scott Musgrove, Niagara, The Pizz, Lisa Petrucci, Mark Ryden, Isabel Samaras, Todd Schorr, Shag, Robert Williams, and Eric White. It is the first comprehensive survey of the Pop Surrealism/Lowbrow art movement. With its origins in 1960's hot rod culture and underground comics, Pop Surrealism has evolved into a vilified, vital, and exciting art movement. The volume also includes informative essays by art luminaries Robert Williams, Carlo McCormick, and Larry Reid, as well as a forward by author Kirsten Anderson.
Featured image: Mark Ryden - Katy Perry, detail. All images used for illustrative purposes only.