Haven Gallery from Northport, New York organizes two great pop surrealism shows in the week to come. They are taking place at the same time, in the same place; the first one is the exhibition of Dilka Bear titled Full Moon Children, while the second one will present works by Ukrainian-born artist Rain and is entitled Songs of Maldoror. Both artists create surrealist paintings, but using different motifs. While Rain looks to her own dreams for inspiration, Dilka Bear creates paintings where subjects are young figures interacting harmoniously with animals and creatures in the landscape. However, pop surrealism is what connects these two extraordinary artists.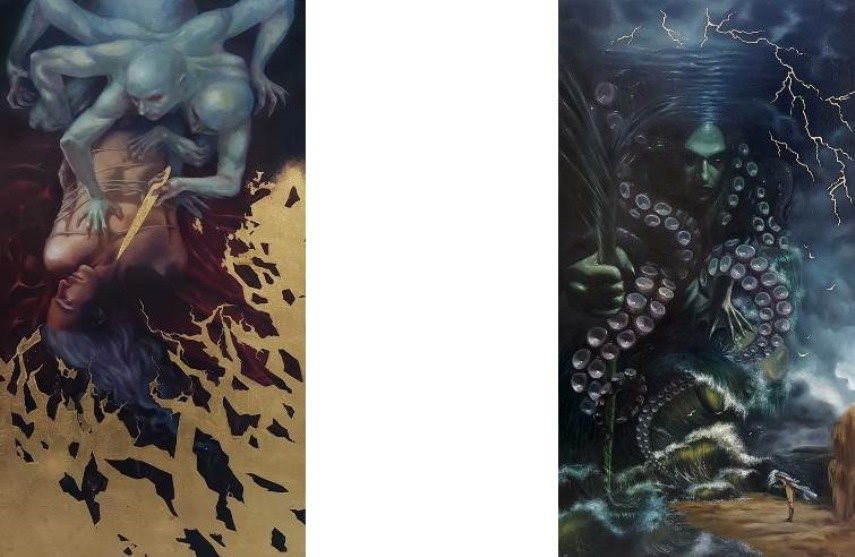 Dilka Bear – Full Moon Children
Dilka Bear studied Architecture at the Almaty University of Arts, in Kazakhstan. Today, she lives and works in Italy. Before moving to this country in 2005, she worked as an illustrator and a graphic designer for companies in Central Asia. After 2005, she devoted herself to painting. Her approach is influenced by Grand Masters such as Bruegel and Bosch, as well as by the Italian Renaissance. The artist is best-known for painting emotive children usually placed in rural settings amongst wildlife of a surrealistic nature. Almost all painting are dreamlike – the products of children's imagination. Bear imposes a symbiotic balance of life that can be identified in natural interactions present between animals and humans. There is a certain level of balance in compositions – balance between melancholic feelings that can be seen on children's faces and echoes of death that present darker themes of reality. However, these frightening images are faced with a sense of knowingness that is identified in each of girl's gazes which make a viewer contemplate about the relationship between humans and their environment.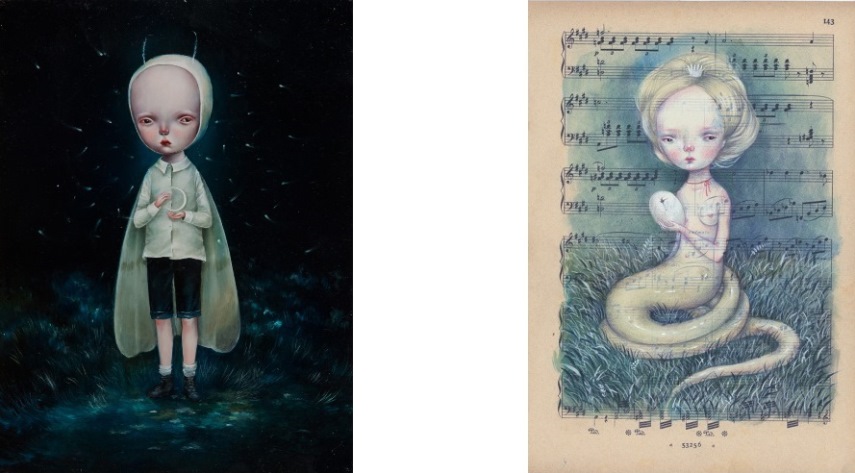 Rain – Songs of Maldoror
Rain was born in 1987, in Ukraine. She is a surrealist painter known for blending illustrative tendencies with prominent works of literature and academic ideas, forming a cohesive narrative typical of old master canons that raise universal questions. Her new paintings will be exhibited in the show titled Songs of Maldoror - title borrowed from the novel originally written in French as Les Chants de Maldoror, by writer Comte de Lautreamont. The artist illustrated the parts from the novel that represent a myriad of moments of contemplation and action by the main character, anti-hero, Maldoror. As the main character of the novel and of the Rain's paintings is an anti-hero, the artist's works echo nihilism that was adopted by many famous Surrealist artists, such as Salvador Dali, René Magritte and Max Ernst. As Rain explains: This body of work aims to shake convention and reincarnate Comte de Lautreamont's antagonist through the anarchistic corners of my own subconscious. I am Maldoror, and largely he is a part of everyone. The raw, impulsive, and very human shadows that lurk behind what we think and what we say are illuminated in this series. Lautreamont's bizarre genius is portrayed at the expense of sanctions by the literary masses and my interpretation of his only novel is a tribute to the father of Surrealism.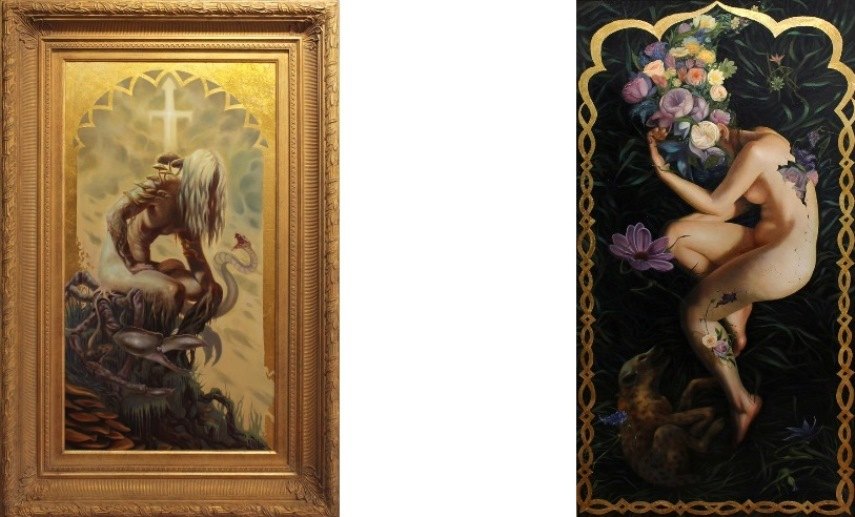 Pop Surrealism Shows at Haven Gallery
Exciting days at Haven Gallery in the weeks to come – two shows by two great artists. During the exhibition of Dilka Bear Full Moon Children, 13 new paintings by the artist will be presented. Rain's exhibition titled Songs of Maldoror will feature 10 artist's paintings. Both shows will be on view from September 17 until October 23, 2016 at Haven Gallery, Northport, NY. The opening receptions are scheduled for Saturday, September 17, 6-8pm.
Featured Images: Dilka Bear - Shurale, detail,  oil on wood, 18 x 21.8 inches, 21.5 x 25.4 inches framed; Dilka Bear - Death of the fish king (framed), oil on wood, 11.8 x 15.7 inches (oval), vintage frame. All Imagess courtesy of Haven Gallery.