The New York art scene of the 1980s was thriving and various individuals sought to find new ways to express themselves creatively by articulating their own identity. Such an urge was an effect of a society saturated with various layers of social and class injustice. The artists of color in particular found themselves endangered by the pressure of being segregated and often exposed to violence.
A prolific performance-based artist belonging to this generation was William Pope.L, better known as just Pope.L. His interventions in the public space made a difference; by employing various media, this figure raised his voice to critically examine the oppressive mechanisms of the American every day as well as the very notion of art. In brief, throughout his career, Pope.L dealt with issues ranging from language to gender, race, social struggle, and community.
Now, the four decades of his art-making will be thoroughly examined and presented in an outstanding survey titled Pope.L: Instigation, Aspiration, Perspiration taking place in three major institutions across New York - The Whitney Museum of American Art, The Museum of Modern Art, and Public Art Fund.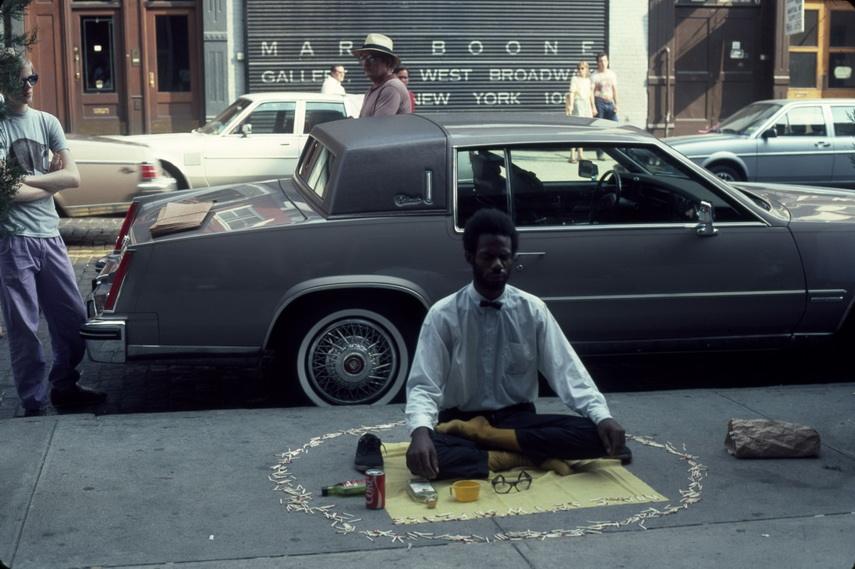 The Exhibitions
The Whitney part of the grand presentation is organized by a curatorial duo consisting of Christopher Y. Lew, Nancy, and Fred Poses Curator, and Ambika Trasi, curatorial assistant, and will feature a new installation titled Choir. The one taking place at the MoMA organized by Stuart Comer, Chief Curator, Department of Media and Performance Art, and Danielle A. Jackson, Curatorial Assistant, Department of Media and Performance Art, and it will consist of thirteen early performances made by the artist in between 1978–2001 in a typical retrospective manner.
The Public Art Fund will host the artist's new performance piece titled Conquest inspired by his decades-long crawl series. Namely, in previous editions, Pope.L dragged his own body across the New York cityscape, while this new commission will be participative to communicate the potentials of the collective effort. This performance will be curated by Nicholas Baume, Public Art Fund Director, and Chief Curator.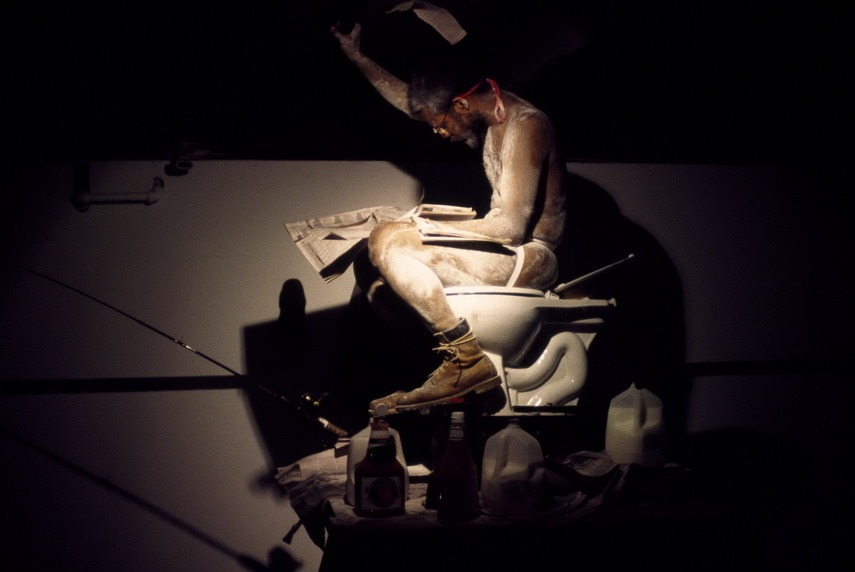 The Works
The central overview of Pope.L's practice at MoMA will feature the key performances through a combination of archival videos, photographs, ephemera, sculptural elements, and live actions. On view will be the famous street interventions such as Thunderbird Immolation a.k.a. Meditation Square Piece (1978), Times Square Crawl a.k.a. Meditation Square Piece (1978), Tompkins Square Crawl a.k.a. How Much Is That Nigger in the Window (1991), and a few others, along with the works based on experimental theater, such as Egg Eating Contest (1990), Aunt Jenny Chronicles (1991), and Eracism (2000). These works will shed a light on the role performance had in Pope.L's practice, how it developed and made him an influential figure of the contemporary art scene.
A new installation Choir to be presented at the Whitney is a manifestation of Pope.L's receipt of the 2017 Bucksbaum Award. At the heart of this piece will be the artist's ongoing exploration and use of water; Choir will reflect his fascination with the fountain, the public arena, and John Cage's conception of music and sound.
The scheduled performance Conquest at Public Art Fund will be Pope.L's largest mass performance ever since it will encompass a large group of participants on the streets of Downtown Manhattan. Their movement through the city should tackle the reconsideration of their own social and political advantage, a comical happening aimed to unravel the layers of vulnerability in regards to the exposure in public space.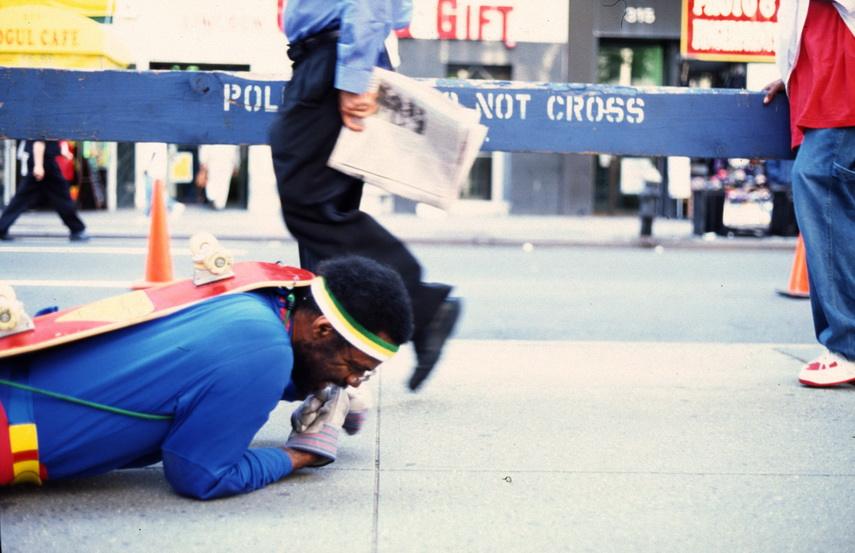 The Extensive Presentation of Pope.L.
The upcoming events will help the audience to better understand the urgency of Pope.L.'s performative activity in the city throughout the decades, and mark his innovation in regards to the art currents of yesterday and tomorrow.
The performance Conquest will be presented by the artist at Public Art Fund on 21 September 2019, while the exhibitions Pope.L: Choir at the Whitney Museum of American Art and member: Pope.L, 1978–2001 at MoMA from 21 October 2019 until January 2020.
Featured image: Pope.L - How Much is that Nigger in the Window a.k.a Tompkins Square Crawl. New York, NY 1991. Digital c-print on gold fiber silk paper. 10 by 15 in. 25.4 by 38.1 cm. © Pope.L. Courtesy of the artists and Mitchell – Innes & Nash, New York.