Coinciding with the time when Jim Darbu was developing and growing as a young artist, certain cultural barriers have begun to come down. Up until recently, comic books, cartoons and computer games were considered mere child's play. In the 21st century, their influence has spread above and beyond anything anyone could have expected. Starting as simple entertainment some four decades ago, games in particular have come a long way, from simple arcades to almost cinematic spectacles with multifaceted stories, intertwining plots and complex characters. What in the 19th century were the books of Charles Dickens, in the 20th the films of Cecil B. DeMille, are now the epic fantasy sagas and sci-fi spectacles on our computer screens. It was only a matter of time when this world would pour over into our museum spaces, creating yet another bridge between "high art" and that of the masses in the manner of Pop art. The work of Norwegian artist Jim Darbu is of the new generation, of the new millennium, of the internet age.

Jim Darbu's Take on Nerd Culture
A common setback the young generation may be experiencing is the oversaturration of the senses, the enormous amount of information that needs to be processed - this endless chain of stimulating impulses that either get noticed only superficially, mentally classified and spam and discarded, or that simply leave the individual craving for more. A restless mind with a constant need of being entertained can only sustain a very short attention span which, in turn, can make it difficult for a person to focus their creative energies. This seems to be no issue for Jim Darbu. Even though he can get easily tired of old project, his inquisitive mind is bursting with ideas, giving him a constant urge to create new pieces of sculpture - to reinvent himself and push the limits of his chosen medium. A master of the visually grotesque and abnormal, he expresses himself in a comic-like manner, making a connection between the culture of modern self-professed nerds and that of pop art.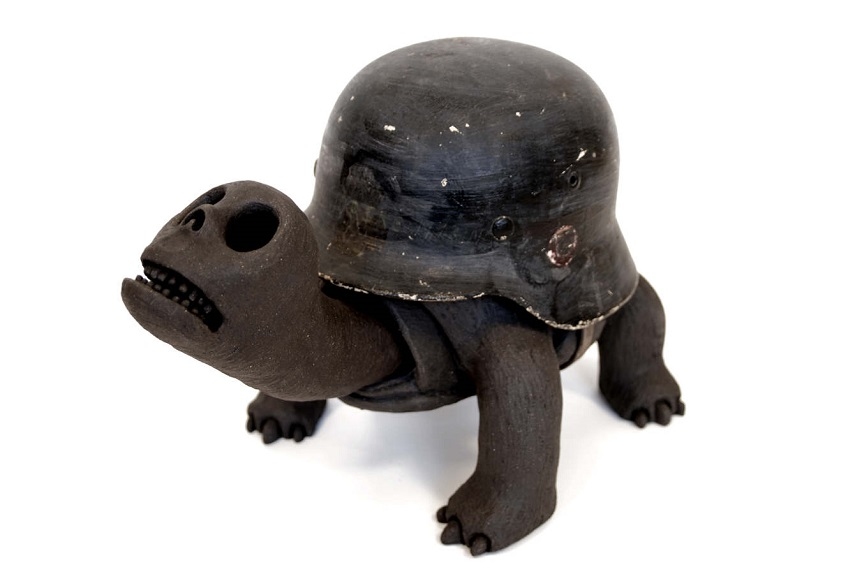 Recycled Waste of the Entertainment Industry
Oslo-based visual artist Jim Darbu initially earned his master's degree in ceramics in 2009 and this has, for the most part, remained the technique he works in to this day. His inspiration however is a bit less traditional. The gateway towards the arts for him has always been through cartoons, comic books and video games. "During the last years it's become clear to me that my sculptures are recycled waste of the entertainment industry." openly claims Darbu. His response to the endless impulses the games and the cartoons offer is to create, like a broken mirror, to reflect the fragments of popular culture and turn them into sculptures. Through an organic process of intuitive drawing, mixing impressions and influences, Darbu develops ideas for his ceramic sculptures which have, so far, earned him enough recognition for his work to be included in the collections of such presitigious institutions as the Bergen Art Museum, Akershus County and Hå old vicarage in his native Norway.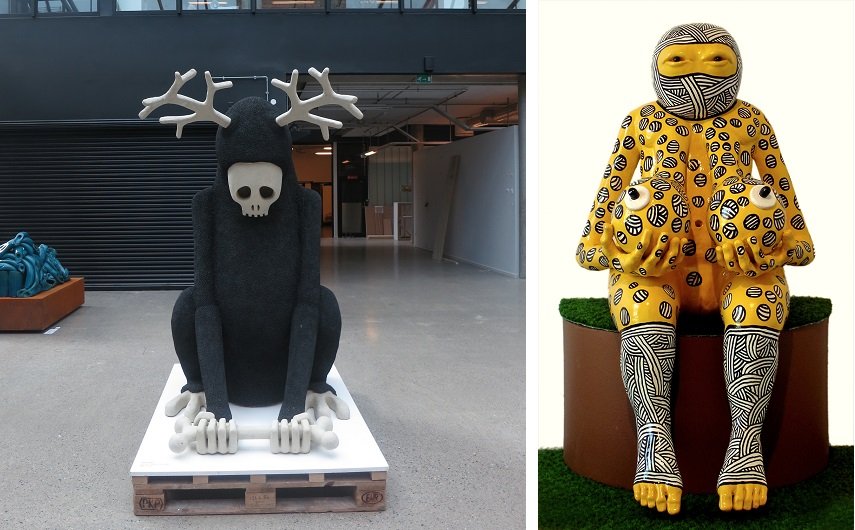 Exhibition at the Galleri GEO
Located on Christian Michelsensgate 7, in the heart of Bergen, Norway, Galleri GEO is an exhibition venue showcasing works by artists from the street and contemporary art scene. Dedicated to promoting work of superb quality, the next exhibition at the gallery will be that of sculptor Jim Darbu. This is Forever will open at 6pm, on October 8, 2016 and will run for a month.
Featured images: Jim Darbu - The Hanging Tits of Norway, The Brainless Tribe Of Men (full installation and detail) ; All images courtesy of Galleri GEO.