When it comes to Post Impressionism art, we cannot call it a result of a proper artistic movement, although it is surely considered to be one of the most important parts in the history of arts. Rather, it was an assembly of different styles, techniques and even approaches to painting, adopted by a new generation of artists working roughly between 1885 and 1910 - or between the last Impressionist exhibition and the birth of Fauvism. Although each of these creatives went their own way, and even hated and criticized each other, they were all bound by the same guiding idea - to reject the limitations of Impressionist art and to use only the basic visual concepts of their predecessors in order to take their artistry to the next level.
The term "post impressionism art", however, wasn't introduced until 1906, and then 1910, by English artist and critic Roger Fry, even though this form of painting was more than established by that time. As such, this period has even managed to form the strongest roots of modern art for the next eighty years.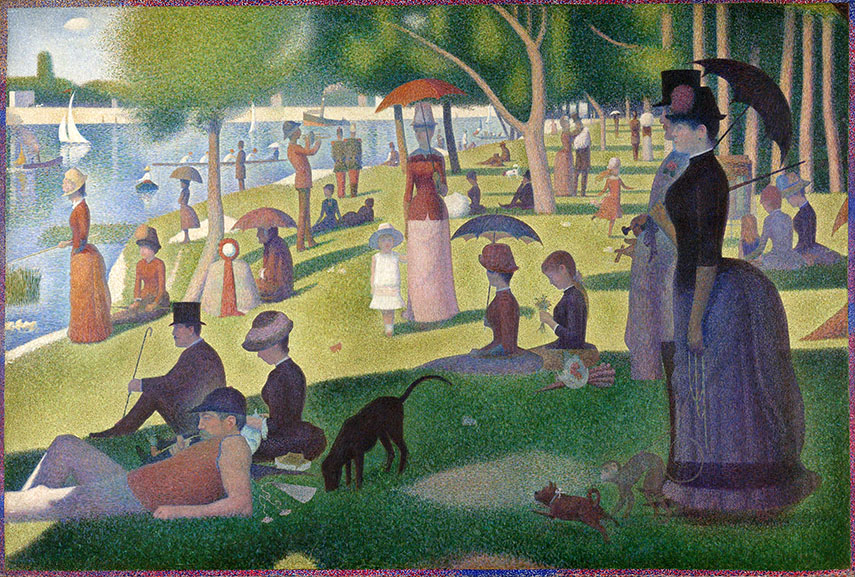 Impressionism vs Post Impressionism Art
The fact that new directions in art come to life as a response to some other direction represents the very backbone of the creation of avant-garde movements of the late 19th and almost all of the 20th century; we can perhaps even say that it all started with the advent of Modernism and these two tendencies. If the painters of Impressionism such as Claude Monet, Eugéne Delacroix, Pierre-Auguste Renoir and J.M.W. Turner strived to record nature in terms of the fugitive effects of light and color, Post Impressionists like Georges Seurat, Paul Gauguin, Paul Cézanne, Henri de Toulouse-Lautrec and Vincent van Gogh wanted to extend these boundaries.
The Impressionists, indeed, mastered the approach of transmitting the way light dissolves into water surface to the utmost accuracy, but the Post Impressionists felt this technique, ironically, overshadowed the subjects of many of these paintings, thus causing them to lose structure. In turn, their own colors were still bold and intense, yet more expressive and less idyllic, as their scenery broke away from the celebrated naturalism and focused on other themes like real-life and personal subject matter, which subsequently added more perspective and shapes to it all.
A Word on Post Impressionism
Post-Impressionist Examples and Styles
Post Impressionism art introduced a number of stylistic innovations that have revolutionized the medium of painting itself and paved the way for many movements to come. The first to do so was Georges Seurat, who developed an entire science of color. Now known as Pointillism, it is a style of painting in which the artist systematically painted small, distinct dots of pure color, thus extending the Impressionism's interest in optics. When seen from afar, these dots blend before the viewer creating a clearer, wider image. Probably the most famous example of Georges Seurat's Pointillism technique is the 1884-86 A Sunday Afternoon on the Island of La Grande Jatte, which had also inspired fellow Post-Impressionist Paul Signac to dive into similar explorations.
Paul Cézanne, previously a dedicated Impressionist, became known for being very "orderly". The coherence and permanence of his still lifes, landscapes and portraits were monumental and structured, reducing objects to their basic shapes while retaining the saturated colors of Impressionism. "Treat nature in terms of the cylinder, the sphere, the cone," Paul Cézanne once wrote, perhaps announcing himself as a bridge to Cubism and Abstract art while painting a new kind of depth of field using geometric shapes. His masterpiece The Large Bathers is the carrier of such visual effect, in which the foreground merges with the background simultaneously and consecutively.
Terms like Cloissonnism, Synthetism and Symbolism, for instance, were all linked to the works of Paul Gauguin. In his 1889 The Yellow Christ, the artist intended to simplify the shapes and amplify the pure colors and strong lines, leading two-dimensionality to evoke an emotional impact of a kind. Many of these artworks are labeled Cloissonist, coined by the critic Edouard Dujardin and referring to the jewelry technique of inlaying metal surfaces with "cloisonné" enamel colors. Many of Paul Gauguin's paintings depicted scenery and personalities from literature, religion and mythology.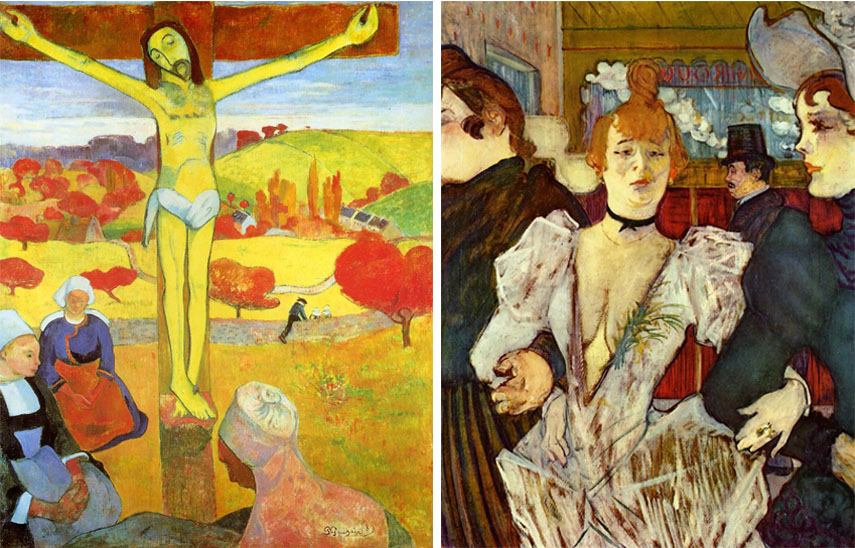 The Art of Vincent van Gogh
Post Impressionism art was also highly personal, mostly thanks to Vincent van Gogh and his powerful depictions of inner turmoil, driven by mental illness. A crucial part of all history of art, the Dutch painter contributed to the period with his remarkable, broad, swirly brushstrokes and vivid colors, which were sometimes inspired by the Japanese woodblock prints, also known as ukiyo-e. Not only did he give his all for his art, but van Gogh also spent all his time doing it as well; even though he only painted for the last ten years of his life, he painted nearly 900 paintings, which amounts to at least once every four days. No artist has ever managed to convey personal feelings of what he saw as strong and as emotionally as him, despite the fact he thought very little of himself and never got to see the success he and his marvelous paintings were going to become.
Van Gogh's oeuvre depicts his moods very accurately and passionately - from the illustrations of his darkest hour, like in the 1885 Potato Eaters and the ominous blackbirds in the 1890 Wheatfield with Crows to the strongly optimistic Sunflowers series, followed by the gnarled twisted branches in The Olive Pickers from 1889. The great master inspired entire generations of artists to express feelings through purposely distorted form and color, whatever their mood might be. Let us just think of the famous Starry Night, one of the most recognizable paintings in the world and arguably the finest example of Post Impressionism's breakaway from Impressionism: it depicts quite an ordinary view in a quite extraordinary way, but what makes this artwork so remarkable is the fact that it was the view from the painter's window of his asylum room at Saint-Rémy-de-Provence, to which he voluntarily checked in after the self-mutilation of his ear. As he did with many of his paintings, van Gogh referred to it as a "failure" and cared very little for it.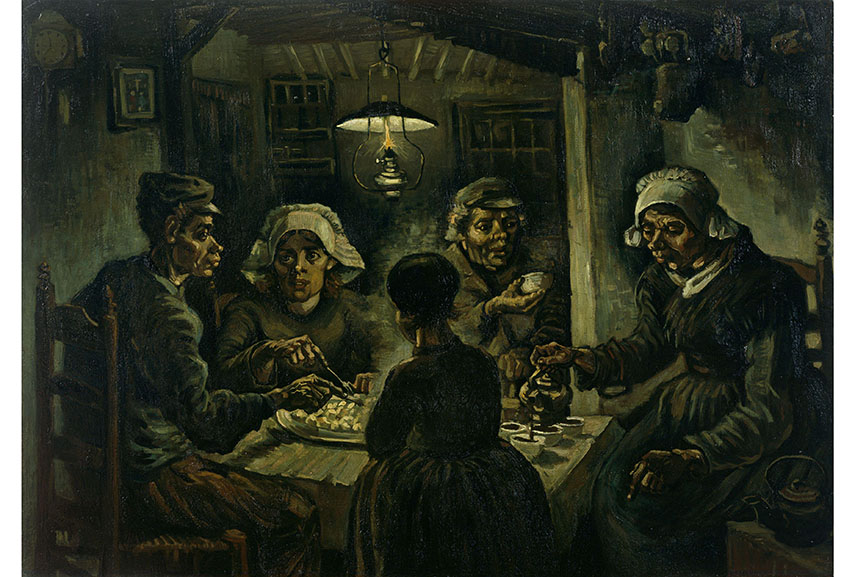 Post Impressionism on a Global Scale - Key International Groups
Although Post Impressionism was described by the aforementioned Roger Fry as the development of French art since Monet at the 1910 exhibition he organized himself, the movement evolved beyond Paris as well. The French capital was indeed the true hub of many international artists who sought inspiration and fame of all kinds, but the ideas and styles kept evolving and appearing in other cities in France, as well as other countries in Europe, and the world. Think about how a small, rural village of Worspswede near Bremen was colonized by a group of painters in the early 1890s, including Paula Modersohn-Becker, Hans am Ende and Fritz Mackensen. These individuals introduced Post Impressionism to Germany, and although it was not as influential as in France, its approach was widely accepted in the absence of a strong tradition of Impressionism.
Going back to the French soil, Post Impressionism had a strong influence on other creative fields, like Poster art and Graphic design. Poster art, as the ultimate form of decorative art, flourished with the development of printing processes and walked hand-in-hand with another important movement, Art Nouveau, donning the artwork by Henri de Toulouse-Lautrec and Alphonse Mucha. In Paris, there was also a famous group of Post-Impressionist artists and illustrators called Les Nabis, which was very impactful in the area of graphic art. Here, we have noted painters and designers like Pierre Bonnard, Paul Serusier and Edouard Vuillard, the latter being perhaps the most famous among them. Vuillard was known for his intimist styles of flickering color as seen in Woman Sewing Before a Garden (1895) or 1894-95 In The Garden.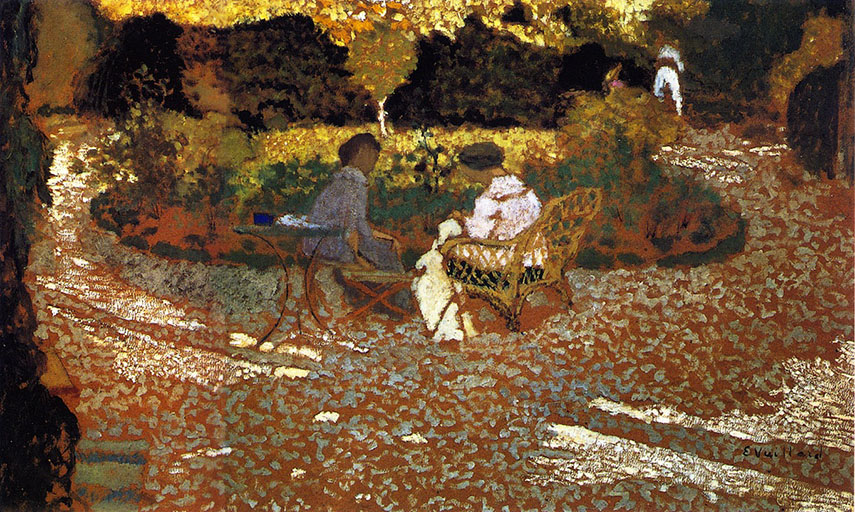 In Scandinavia
Surely when we think about Post Impressionism in Scandinavia, we think of Edvard Munch and his 1895 The Scream, which now stands among the most expensive and the most famous paintings in the world. His originality is widely recognized as one of the main sources of the movement in general. In his homeland of Norway, another highly respectable painter was Peder Severin Kroyer, who was associated with a group of more realistic "painters of light" known as the Skagen colony. In Denmark, Vilhelm Hammershoi was an important figure as well, famous for his genre-paintings of quiet interiors. His art is also infused with Symbolism and Realism.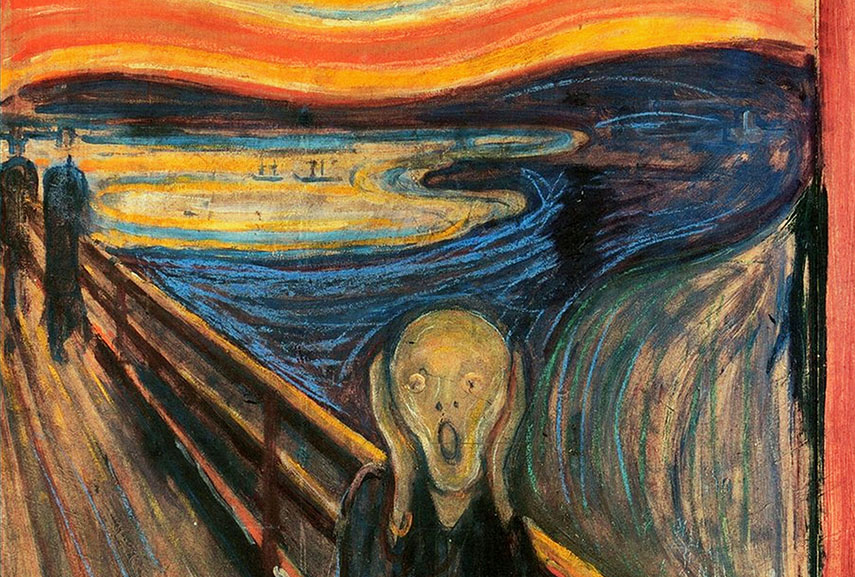 Worldwide
The ideas and approaches of Post Impressionism continued to spread throughout the continent. In Belgium, a group of progressive Brussels-based sculptors, writers and painters came to prominence under the name Les Vingt (The Twenty), promoting the latest international developments in decorative design. Founder members included James Ensor, Theo van Rysselberghe, Alfred Finch and Fernand Khnopff. Italy, on the other hand, saw the birth of Divisionism, inspired by George Seurat's Pointillism and the Belgian art journals it was featured in. Artists like Vittore Grubicy De Dragon, who was the founder, along with Angelo Morbidelli, Giovanni Segantini and Giovanni Sottocornola, mostly depicted landscapes and scenery of rural life. In 1911, Walter Sickert created the famous Camden Town Group in London, which specialized in painting realist scenes using a wide range of Post-Impressionist styles. It was preceded by the more famous Glasgow School of Painting and the Scottish Colourists, who came to be strongly influenced by Matisse and the Fauves, for instance. Coming in later, in the 1920s, was the Canadian Group of Seven, which included Tom Thomson, Franklin Carmichael, Lionel Fitzgerald and Arthur Lismer, all of whom created lush landscapes that often hid symbolic meanings.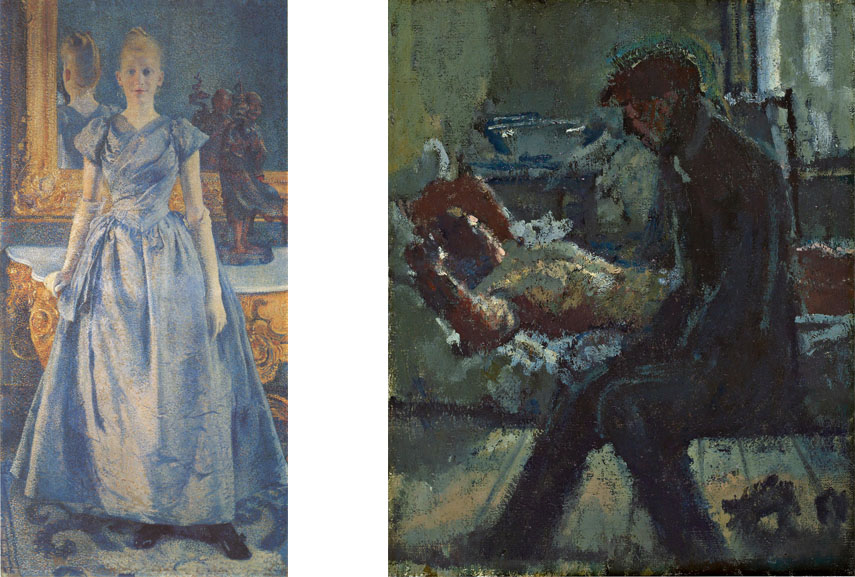 An Influence on Fauvism and Cubism
Fauvism and Cubism, as two major artistic movements which superseded Post Impressionism, were very influenced by its approach in almost every way. The Fauves, as the artists called themselves, either knew personally or even intimately the work of Post-Impressionists, incorporating the constructive color planes of Cezanne, for instance, Gauguin's Cloissonism or the pure, bright colors of van Gogh. Furthermore, Matisse credited both Georges Seurat and Paul Signac as those who helped him discover his inner "wild beast". In fact, Matisse worked feverishly to capture the color possibilities, through numerous studies and, most notably, his 1905 work Luxe, Calme et Volupte. Post-Impressionism had a great impact on Cubism as well, particularly the work of George Braque and Pablo Picasso, who famously referred to Cezanne as "the father of us all". Cubism was concerned primarily with depicting the structure of objects, mostly through thick blocks of color and strong lining.
Post-Impressionism and Fauvism & Expressionism
Post-Impressionism Art - Why Do We Love It?
Is it because it was the first true rebel of Modern art? Or because it influenced many Modernist movements, such as Fauvism, Expressionism, Cubism, Surrealism and even Abstract art to an extent? Maybe because it gave us masters like van Gogh, Toulouse-Lautrec, Munch and Cézanne. Or perhaps because of that unique feeling we get while we observe these stunning works of art? Post Impressionism art is all of the above and more. Its painters ventured into uncharted domains, each from their own designated, original path, so they could assign their work with emotions and symbolic meaning. It marked the turn of the last century by making turns in art, and its importance and influence are bound to last well beyond that point.
  Editors' Tip: Masterpieces of Impressionism and Post-Impressionism: The Annenberg Collection
A revised and expanded edition of the 1989 publication Masterpieces of Impressionism and Post-Impressionism: The Annenberg Collection, this handsome volume presents more than fifty masterworks by such luminaries as Manet, Degas, Morisot, Renoir, Monet, Cézanne, Gauguin, Van Gogh, Picasso, and Matisse, accompanied by elucidating texts and a wealth of comparative illustrations. The Walter and Leonore Annenberg Collection of Impressionist and Post-Impressionist paintings, watercolors, and drawings constitute one of the most remarkable groupings of avant-garde works of art from the mid-19th to the early 20th century ever given to The Metropolitan Museum of Art.
Featured image: Vincent van Gogh - The Starry Night, 1889, detail; Paul Cézanne - The Large Bathers, 1906, detail; Henri Rousseau - The Dream, 1910. Images via wikimedia. Used for illustrative purposes only.